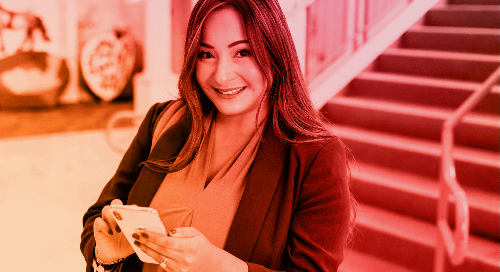 As a result of recent events, learning is increasingly mobile and the definition of success ever-changing. To keep pace, institutions are becoming agile.

Both students and faculty feel the biggest academic factor to student success is quality of faculty. Even still, our global survey found only approximately half of institutions offer their faculty periodic workshops and technology training.

When investing in professional development to increase student engagement and success, the following question arises: What type of training should higher education institutions prioritize? These six professional development strategies ensure your campus stays nimble amid the evolving educational landscape.

1. Close the college to career gap

Because students expect institutions to prepare them for careers, professional development should have a clear focus on vocational goals. Your team can stay abreast of your student body's unique career needs by encouraging collaboration between your campus career center and faculty. Training professors to embed career prep into curriculum can accelerate student success—strategies include listing career competencies in course objectives, transitioning away from testing toward work products to assess learning (ex: executive summary, marketing brochure, or elevator pitch), and inviting employers to speak to students on what they look for in hiring.

2. Prioritize skills over subjects

In today's rapidly changing job market, skills speak louder than diplomas. Consider partnering with corporations to assess workforce needs and incorporate those skills into course curriculum. Leveraging online badging and certificates to assess student learning will help students showcase those newly minted skills. Expand your reach beyond the traditional four-year student to include current workers looking to reskill or upskill. Of course, using workplace software (ex: Tableau, Slack, Asana) in courses trains students in tangible communication skills.

3. Replace lectures with active learning

Colleges are no longer the gatekeepers of knowledge. Instead, classrooms should be a hub for knowledge creation and student-teacher connection. Rethink the passive lecture and train faculty in active learning best practices. Role-playing, simulations, and project-based learning mimic a workplace environment in which students solve real-world problems.

4. Iterate online learning design

Today's students expect fluid, multimodal learning (think: hyflex courses). Faculty need consistent professional development to ensure their teaching engages students from afar. Train professors on the intentional use of technology in their classroom. Survey students on learning preferences and adjust design accordingly. Hint: it's highly mobile and multimedia-rich.

5. Innovate through collaboration
Online learning trends are outpacing traditional training resources. Sometimes the most innovative teaching happens just across campus. Offering faculty open forums and regular workshops allow your in-house experts to share ideas for effective pedagogy.

6. Invest in easy-to-use technology and on-demand training

Choose learning technologies that are easy to implement and use. Seamless technology adoption allows professors' skills to shine. Ensure staff are continually supported with their technology integration—from day-to-day tech support to broader strategizing. Learning takes place anywhere, so should professional development. On-demand training ensures faculty keep up to speed with changing technologies and trends—without limiting training to mere monthly webinars.

To further explore what higher education institutions need to be successful in today's educational environment, explore ways to build a strong data culture on campus.

Related Content
MeasuringWhatMattersSOA.png

StrikingtheRightBalance.png

WhatisAndragogyThe AdultLearningTheory.jpg