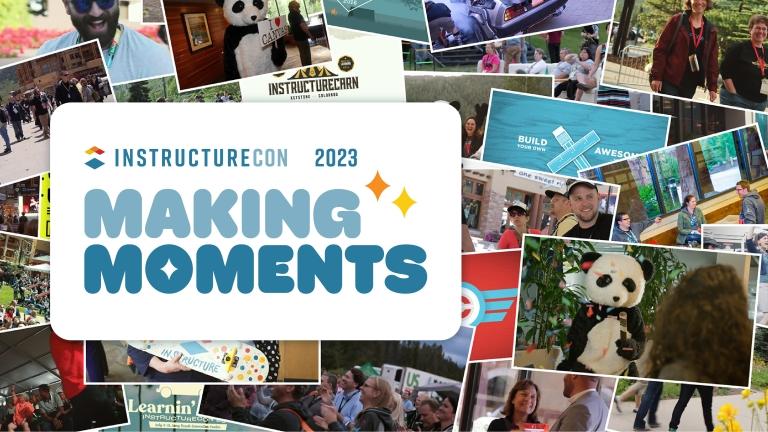 What to Expect at InstructureCon 23 Lets Make the Best of Every Moment.jpg
Are you ready?! InstructureCon 2023 is back in person! This year we are excited to meet face-to-face again with the brightest in education and edtech. 
This year's theme is Making Moments. We can't wait to celebrate the #CanvasFam moments of the past, make some memorable moments in Denver, and look to the bright moments of the future. For those who are venturing to the Gaylord Rockies Resort in Colorado this July, we can't wait to see you! 
Here's what to expect for InstructureCon '23:
Moments of Learning
There is a lot to learn! Over the past year, education has continued to evolve, bringing new changes, developments, and even challenges to edtech. Our learning sessions will discuss some of the leading topics and trends, keeping you up-to-date with industry knowledge. Hear best practices from your peers, Instructure folks, and edtech industry experts. With dozens of options, you can attend learning sessions based on your educational interest and specialization, personalizing your InstructureCon experience. 
Moments of Inspiration
We have prepared an impressive lineup of keynote speakers to inspire and share ideas - because that is what education is all about!
Meet our featured speakers:
Deepak Chopra, MD - A world-renowned pioneer in integrative medicine and personal transformation, Chopra is the founder of The Chopra Foundation, a non-profit entity for research on well-being and humanitarianism, and Chopra Global, a modern-day health company at the intersection of science and spirituality.
He is the author of over 90 books translated into over forty-three languages, including numerous New York Times bestsellers. For the last thirty years, Chopra has been at the forefront of the meditation revolution. - FOUNDER, THE CHOPRA FOUNDATION
Arianna Huffington - Huffington is the founder and CEO of Thrive Global, a leading behavior change tech company with the mission of changing the way we work and live by ending the collective delusion that burnout is the price we must pay for success.
She is also the founder of The Huffington Post, one of the most widely-read and frequently-cited media brands on the Internet. Her last two books, Thrive: The Third Metric to Redefining Success and Creating a Life of Well-Being, Wisdom and Wonder and The Sleep Revolution: Transforming Your Life, One Night at a Time, both became instant international bestsellers. - FOUNDER & CEO, THRIVE
Jordan Nguyen, PhD - A leading Australian engineer, award-winning documentary presenter, inventor, and author of the book A Human's Guide to the Future, Nguyen is committed to improving as many lives as possible and being a driving force behind both human and technological evolution.
As the founder of the social business Psykinetic, he designs life-changing inclusive technology for people with disability, for aged-care and beyond. As a documentary presenter, he's witnessed some of the greatest advancements of our time, and he believes our young generations are the changemakers of tomorrow with the potential to create solutions to the world's biggest challenges. - FOUNDER, PSYKINETIC
Moments of Connection
We are excited to catch up with familiar faces and welcome newcomers to our awe-inspiring community. Building relationships is a core Instructure value and the heart of our annual InstrutureCon events. Celebrate coming together with the best in education, creating lifelong personal and professional connections. 
We invite you to network and engage with us, our partners, and your peers. 
The Instructure Learning Platform continues to grow, providing enhanced learning experiences for both educators and students. With the support of our partners, Instucture's mission to increase and expand educational opportunities becomes a reality. See how our partners add to the Instructure ecosystem with their commitment to innovation, technology, and academic success. 
Network with some of our leading partners and discover products that are making advancements in education:
AWS is one of this year's diamond partners. They are excited to meet you and share their role in edtech innovations and solutions. Prepare to learn more about AWS services and the future of AI cloud integration.
K-16 is another diamond partner ready to connect with you and share their insights on content migration, data archiving, and AI Identification.
Also, check in with our platinum partners! Learn about tech integration for the virtual classroom with Class. And learn how to create unique and engaging learning experiences with Lincoln Learning.
Those are just a few of our featured partners; other valuable partners are joining us at InstructureCon '23. Prepare to make meaningful connections and find our partners in the exhibitor hall.
Moments of Fun
Wait, there's more! Additional activities are offered, providing more opportunities for networking. Get into wellness with morning yoga, including professional instruction from Apple fitness trainer Jonelle Lewis. Bond over great food for breakfast, lunch, and dinner in the Aurora Exhibit Hall. Dance and party with us at our InstructureCon Party, featuring Grammy-award-winning KC and the Sunshine Band. Collect cool swag, and remember to look out for pandas!
InstructureCon '23 is Your Moment
Make the most of your InstructureCon experience! Enjoy this exciting moment with other educators and edtech enthusiasts. Whether your expertise is in K-12 or higher education, you can find interest-specific information and discover the newest educational innovations.  
To get the most out of this experience, we suggest registering for your desired session and selecting your interests. Personalize your InstructureCon '23 experience. 
For further assistance, email us at instructurecon@instructure.com and check out the detailed InstructureCon '23 overview.
Share your experience with LinkedIn, Instagram, and other social media using our official hashtags #INSTCon23 and #MakingMoments.
Related Content
MeasuringWhatMattersSOA.png

StrikingtheRightBalance.png

WhatisAndragogyThe AdultLearningTheory.jpg