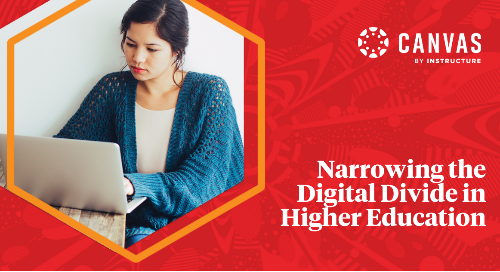 The digital divide is an issue that has long plagued higher education—but closing the digital divide isn't just about providing access to the internet; it's also about giving students access to the learning resources and devices they need to succeed.
With half of all college students enrolled in at least one virtual class, the upward trend in online and hybrid learning in higher education continues to highlight the importance of creating flexible and equitable learning environments.
What is digital education equity?
Digital education equity is the idea that all students should have access to the technology and devices critical to online learning and the training necessary to navigate these tools.
In higher education, disparities exist between students who may or may not have access to computers or other devices such as tablets, smartphones, and laptops; those who have reliable access to the internet at home; and those with other disabilities or socioeconomic factors that may inhibit access to various technology resources.
Why is digital equity important in education?
A recent EDUCAUSE QuickPoll found that technological barriers have tangible impacts on coursework, which add to the digital divide and amplify student stress. 61% of students recorded experiencing at least one tangible impact on their coursework due to technical issues, with over a third indicating that they lost connectivity to the internet during a class session, exam, or other synchronous activity.
Being a digital minority can have crippling effects: digitally excluded students are less likely to graduate, participate in extracurricular activities, or be as academically engaged as their counterparts.
To combat this issue, universities need to think about how they can meet students where they are and help them get the most out of their education.
Bridging the digital divide
First, it's important to identify the basic barriers to success that students may be facing. For example, are they accessing learning resources? Are they having trouble learning because they don't have an internet connection? Are they lacking devices that can help them succeed?
Once you've identified your students' needs, universities can adapt their policies to provide extra support for those who need it most. Some ways that universities can help bridge the digital equity gap and ensure that all students have access to digital learning opportunities include:
Offer downloadable resources for students who don't have reliable access to the internet, so they can download and view materials at their convenience–all while still getting their work done.
Offer flexible schedules so students with limited time or resources can maintain a healthy academic schedule without sacrificing their mental health or well-being.
Use native mobile applications to meet students where they are ​​on their phones. Centralize campus communications, facilitate student-faculty engagement, and provide digital ID cards, orientation sessions, and classroom supplements, all from the palm of your student's hands.
While there are no easy answers to closing the digital divide in higher education, there are many ways to get started focusing on digital equity on your campus today. The first step is recognizing digital inequity and understanding what it means for your organization's goals and students' success.
To learn how Palo Alto College provides essential access to education through the Canvas Mobile App, click here.
Related Content
MeasuringWhatMattersSOA.png

StrikingtheRightBalance.png

WhatisAndragogyThe AdultLearningTheory.jpg