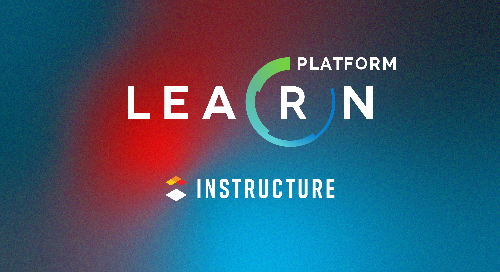 We're so excited to announce that LearnPlatform is joining the Instructure family.
As I've met with many of our customers over the past year (schools, higher ed, and globally), one of the top concerns everywhere is how to manage and understand the learning impact of all the applications being used across every classroom.
Did you know that, on average, K-12 school districts across the U.S. use over 1,400 edtech products every month?!
Without help, there is simply no way to keep track of all of that while ensuring the right tools are being used - safely, equitably, and for the right students at the right times.
Teachers, administrators, and all those charged with overseeing the educational technology applications in our schools and universities have an enormous challenge with the sprawling landscape. This can often be overwhelming as they work tirelessly to protect student data, mitigate cybersecurity risks, and ensure compliance with federal and state regulations. Additionally, educators need support in vetting the thousands of potential learning applications they could use. LearnPlatform helps solve both of these issues by giving insights into the tools in use and applying research to show which applications are proven to actually improve student outcomes.
The addition of LearnPlatform to Instructure has so many exciting benefits for all our amazing customers and partners. Our missions are well-aligned, with both focused on driving student success, powering effective teaching, and supporting improved learning outcomes for all. All education institutions - from K-12 to Higher Ed - need an efficient, research-based solution for gaining insight into selecting and managing the ever-expanding number of learning solutions deployed across their institutions. The combination of LearnPlatform and Instructure will enable all of our customers to better understand and manage their technology investments - ensuring they are helping educators and students succeed.
We chose LearnPlatform because bringing their capabilities to Instructure demonstrates and strengthens our commitment to building the education industry's most open, transparent, and integrated teaching and learning platform. LearnPlatform adds a unique set of products and services to our portfolio, which, when coupled with Impact by Instructure and many of our other offerings, genuinely helps educators address one of their biggest challenges.
Likewise, LearnPlatform chose to join Instructure because together, we can do more for educators and for education more quickly than we can apart by accelerating the generation, availability, and use of evidence for decision-making.
We're also thrilled about what this acquisition means for our Instructure partners. We've worked to build a vibrant partner program, which provides real value to the edtech community. LearnPlatform works with a growing number of solution providers to build, show and share evidence of their products' effectiveness. Together, we will grow the impact each of our partners can have and add even more opportunities for our customers.
Our acquisition of LearnPlatform continues our focus on adding new capabilities that matter for customers… where they matter most - at the center of teaching and learning. We remain committed to building the most integrated platform for teaching and learning. Please reach out to your CSM to explore how LearnPlatform and Instructure, together, can benefit your institution. Stay tuned for more information!

Related Content
MeasuringWhatMattersSOA.png

StrikingtheRightBalance.png

WhatisAndragogyThe AdultLearningTheory.jpg