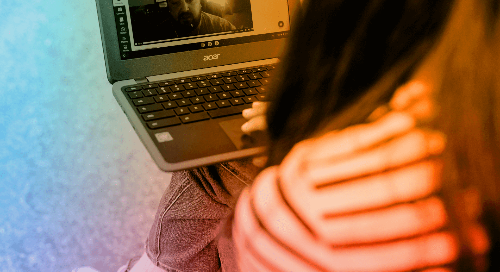 In many ways, education has evolved and given way to a more thoughtful approach to intentionally designed digital learning. This paradigm shift has reinforced the idea that technology can and should serve as the foundation for schools and districts to scale upon, as it provides equitable access to quality teaching and learning. But true equity is achieved when students can learn at their own pace and educators have the tools and instructional methods to support personalized learning. To achieve this, educators must have access to tools to provide a consistent, familiar "digital classroom" that is accessible whenever, wherever students are ready to learn.
Here are three tips for using technology to supercharge your instructional strategy:
Tip #1: Align Learning Goals with Instructional Objectives
The truth is, equity looks different for everyone. But when all students have access to the same technology and you're answering the fundamental five, success becomes easier to visualize and achieve—whatever that may mean for each student. It just means being proactive, putting some smart systems in place, and communicating clearly, wherever and however learning happens.
An LMS (Learning Management System) will support you in centralizing learning resources for all students. Here are a few tips for establishing clear expectations using an LMS:
Have a homepage.
Keep everyone on the same page: A Canvas homepage. Include a detailed schedule of activities, assignments, and readings with clear requirements. Better yet, make it a district-wide expectation that every teacher includes the same core information on each class's homepage.
Create guided learning paths.
Modules keep everyone moving in the right direction. Use them to organize course content by weeks or units. And, you can even use them to create personalized learning plans for specific groups of students that might need additional support or re-teaching. 
Be flexible with the format.
With the right tools, learning can take place both in and outside the classroom, allowing students to show you what they know in multiple ways. Provide students with clear options for a given assignment, whether that includes a vlog, a brochure, or a good old-fashioned essay. When students get to choose, you get to see their learning in its best light.
Tip #2: Gauge Student Understanding in Real-Time
Grades are inevitable, but feedback is personal— and learning should be personal for every student. 
Here are a few tips for making assessment both part of the instructional strategy and learning experience:
Use data to inform instruction.
Once assessment data is collected and teachers have a clear understanding of individual student needs, that data can be brought to life with learning tools like an LMS that allow teachers to personalize the learning cycle and ensure every student is met where they are. 
Zoom in with standards-aligned assessments.
With tightly-aligned formative assessments, teachers can clearly see which standards may need a little extra teaching. Pre-built assessments that provide this type of insight in the moment saves valuable instruction time, making it easy for teachers to adjust lesson plans quickly.
Design targeted interventions.
Thoughtfully-designed interventions take the mystery out of mastery and provide meaningful support to students that may need additional help. The truth is, mastery doesn't always come easily, and a little targeted remediation can go a long way. 
An effective AMS (assessment management system) should make it easier for you to provide both. The right AMS allows educators to conduct ongoing, frequent check-ins with students to gain insight into what they know and adjust instruction to meet their individual needs. 
Tip #3: Collaborate for Collective Success
Teachers, students, parents—we're all in this together. Think of technology as the vehicle that drives communication, promotes engagement, and fosters relationships that ultimately drive student outcomes. Although most schools have returned to the classroom, the concept of hybrid learning is here to stay. The continued use of technology means students stay engaged, parents stay informed and learning can continue, both in and outside the classroom. 
Here are a few ways technology keeps everyone teaching and learning together:
Student-to-student collaboration.
An LMS can be set up for both synchronous (real-time) and asynchronous learning, depending on the needs of your students. The use of both methods keeps the learning flowing in and outside of the classroom, allowing students to exchange feedback with peers on assignments and participate in virtual discussions at their own pace. For example, if a learning objective requires a student to provide and gain peer feedback on a presentation, teachers can share a feedback rubric with each student within the LMS to ensure comments are captured in real-time and revisions/edits can be uploaded in the same place.
Teacher-to-teacher resource sharing.
An edtech ecosystem provides easy-to-use methods for sharing and discovering standards-aligned resources and assessments without reinventing the wheel. When teachers can share best practices, templates, and resources that support learning objectives, they can spend more time doing what they do best—supporting student growth.
Teacher-to-parent communication.
Technology can also aid in teacher-parent communication by helping both parties establish preferred methods of communication. And, with parent-friendly mobile apps, parents can monitor their students' learning from anywhere to ensure their needs are being met.
Technology + Teaching = Measurable Impact
Educators today need intuitive and easy-to-use tools and systems that help them stay organized, streamline administrative tasks, simplify teaching activities, personalize learning, and target instruction while staying in communication with all of the people who impact their students. 
Ready to expand your edtech ecosystem?
Download this guide for six key learning management platform recommendations.
Related Content
MeasuringWhatMattersSOA.png

StrikingtheRightBalance.png

WhatisAndragogyThe AdultLearningTheory.jpg