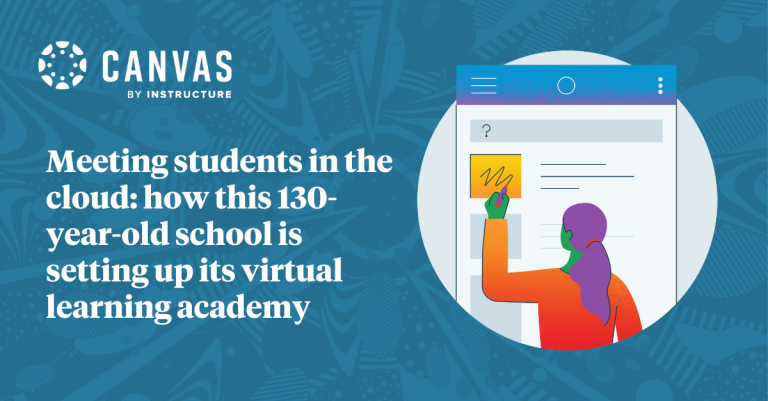 Recently, we've seen disruption on a tectonic scale in K-12 education with digital technologies. This is thanks to the pandemic-induced shifts to online learning. 
Now, Haileybury College, a Melbourne-headquartered Reception to Year 12 school, is building on its 130-year history to open its version of offline learning (known as Pangea).
This virtual academy, open for 2023 enrolments for years 5 to 12, will follow the Victorian syllabus, so it will only be available for students residing in that state. 
While it makes sense to offer virtual learning, given our collective experience over the past three years, how does a school embrace the journey of setting up an online academy? 
Haileybury's Deputy Principal (Teaching and Learning), Anna Severs, and Head of Digital, Michelle Dennis, delved into that at APAC InstructureCon 2022. The process hinged upon careful planning around digital technology, governance and safety.
One school, physical and virtual
To add to the complexity, the academy won't be a satellite campus because Haileybury runs on a one-school model. That means Anna and Michelle's positions work equally across the campuses, as do those of faculty heads. It helps, too, that all students across the campuses take the same course, such as for year 5 science, via the Canvas learning management system.
"We're centralised procedures and processes to create efficiencies and workflow, but that culture of high standards and great outcomes for students permeates all of our campuses and schools in Melbourne, Darwin and Asia. We have a shared sense of purpose to which we anchor ourselves," said Anna. 
The co-educational school has 4,800 students attending its four physical campuses in Melbourne, another 800 students in Darwin, and a further 2,500 in four Asian countries. 
Haileybury isn't the first school in Australia to offer entirely virtual learning – OneSchool Global and Crimson Global Academy got in earlier, as did School of the Air. But Haileybury is touting Pangea as the first virtual private Victorian school. 
So, why now and why virtual?
The impetus to look to the cloud(s)
Offering students more choices about where to learn helps breed "great outcomes", said Anna. 
"We also believe that access to a high-quality education should not have geographic barriers. It also reflects the changes in society, showing the appetite for online learning has definitely increased."
She expects the online student cohort to be diverse and to have significant pathways beyond school.
Underpinning the school's preparation for creating the virtual academy is its five-year-strong digital strategy and implementation. 
Getting governance right
Haileybury's school council has governance oversight over Pangea as it does with the other campuses. Since early 2021, the council has met monthly with a Pangea steering committee to get the project rolling. 
"You need to bring your board and council along for the journey – they need to be invested in the proposition, plus we need clear reporting lines," said Anna. 
The school also tapped into the expertise of Heather Staker, a US-based educational consultant. She's an adjunct researcher for the Christensen Institute and president of Ready to Blend, which runs teacher professional development.
Haileybury had to submit 131 documents comprising more than 4,000 pages for registration. 
Anna said: "Our programs will be based on the Australian curriculum to deliver eight key learning areas in the compulsory school years. It's been a great challenge for us to look at how we can do this without having students sit in front of their computers for eight periods a day."
What 'on class' will look like
So, here's how Haileybury has revamped instruction for the online environment.
Students will attend two to three live lessons per subject each week with complementary self-paced work. They can check in with teachers at set times and days via Microsoft Teams, integrated within the Canvas LMS, using the 'office-hours' model popular in business circles. Teams will be where they can collaborate with peers between classes. Microsoft OneNote is also integrated into the platform to allow for formative assessment.
Students will create their own educational journey and be in classes of less than 10 peers. And they won't have to do all their classes via Pangea, opting for just one through the virtual academy. Students can participate in extra curricula activities and clubs such as in entrepreneurship, debating, mini-UN, robotics, mini MasterChef, future problem solvers, drama, digitech explorers and more.
Pivotal to learning is the world-leading Canvas LMS. 
"We've already developed great resources to support our day classes, but it will become even more important with Pangea. It will be where all those asynchronous materials live that students access between classes because we're using a blended approach," Michelle said.
"It's not just about the technology, but it's about how you use it to support learning, and our wellbeing team is pivotal to the success of this model."
Building guardrails
Haileybury also has to ensure child safety in the online learning space.
"This is even more pivotal as we've had a new ministerial order in Victoria, making it everyone's responsibility," Anna said.
Parents must complete courses through Canvas LMS on:
Child safety

Duty of care, and 

Complete a home learning environment checklist.
That's part of the orientation processes to help ensure the "home learning environment is in good shape and that we have open communication systems with our students and families," said Anna.
While a virtual academy might sound like a seismic shift from Haileybury's current offerings, the school is leveraging a well-honed suite of digital tools and Canvas LMS to make learning in the cloud a reality.

You can view their full 17-min InstructureCon presentation for more information.