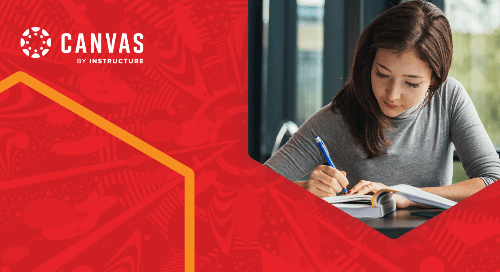 How to build a thriving virtual learning environment ecosystem
Hear that ping in your inbox? You know what it is. 
Educational institutions are bombarded with edtech marketing pitches, like since forever. It can be overwhelming. So, chances are, if you have a technological quandary, you tend to zero in on a single vendor solution. 
It's unlikely a single vendor may have a solution for everything to transform your online instruction, operations and experience, but with the pace of digital disruption, it can be tempting to go the single track. However, if you're on a quest to create an online learning environment ecosystem … something that's greater than the sum of each technological 'part', read on.
You'll know a virtual learning ecosystem when you're in one.
It's a dynamic setting for people, curriculum, digital learning tools and resources, devices, policies, internet connectivity, and accessible places to support rich learning experiences. It hums because each of the software products work pretty much symbiotically for frictionless integration within an online platform.
It's more than just a learning portal that lures educators, learners, employers, supervisors, human resources specialists, workforce professionals, and co-workers. This is an ecosystem where students seamlessly pace through their courses, interact spontaneously and form groups with each other just as organisms within a biological ecosystem. Think the web of life. Having an ecological perspective means you're tipping your hat to the concept of learning experience happening in diverse settings. 
Sound like head in the clouds stuff? Head in the technological cloud, yes, but totally achievable.
Global education provider Kaplan Inc is up there, thanks to taking a technology-agnostic approach to ensure interoperability. It's been simultaneously and serially experimenting with different technological solutions. Kaplan has partnered with several rather than a single digital provider to create an ecosystem or virtual learning environment that drives transformation.
That's been super useful during the pandemic.
Chief Operating Officer for Kaplan Singapore, Mike Christie, has estimated the impact of COVID-19 boosted his organisation's technological transformation by five to 10 years. He spoke at the online EDUtech Asia 2021 Conference recently.
Oh, and one more thing. Technology is key, but it's just a tool, so you have to add inspired and improved leadership into the mix. Another crucial ingredient.
Riding the crest of digital change with pandemic pedagogies
Kaplan offers tertiary, vocational, and professional education. In APAC, it has a presence in Singapore, Malaysia, Taiwan, Hong Kong, China, Korea, Vietnam, Thailand, India, Australia and the UAE. Serving a spread of countries and cultures across the globe means a one-size-fits-all approach for instructional delivery isn't the go for Kaplan, but differentiation is. 
"We have always realised that the teaching and learning experience for our students takes different forms, so have included some blended content," said Christie. 
Drumroll … enter stage left. Pandemic pedagogies.
"But it's not the same as jumping online and doing just as we did in the classroom. It's a different world now."
He acknowledged students' expectations about online learning, particularly in Singapore, changed "very dramatically" during the pandemic.
So, how do you address that?
"The current situation also forced us to look at technology to see if we were getting the most out of it. We had to look at how we were delivering, what online platform was most appropriate and effective, and how we could adjust to meet our students' needs in a different environment," he said.
"It wasn't just about saying we're offering choices; we can throw them all in there and show we're using technology for the sake of it. It was about understanding what worked best. Some of that was trial and error; some of that was leveraging from the best practice we'd already discovered."
In being nimble, they had to embrace guesswork. That's OK.
As well, Kaplan had a decent insight into what could restrict or support technology adoption across its organisation. It's about the conditions in each learning context or contextual conditions, for short.  That's how it assesses and selects technologies to best fit its current needs and ensure they can scale for growth even during uncertainty. And tackle any barriers staff or students may have. 
If the tech isn't intuitive to use, training is offered, snack-size or longer; chew off as much as you'd like online to get up to speed.
Education delivery … reimagined
From early-to-mid 2020, Kaplan worked on reimagining its delivery during the pandemic lockdowns, investing significantly in hardware and people. It's definitely got the gist of blended learning, so is sitting well to maintain and expand that. Think a very significant library of quality asynchronous content to meld with its synchronously delivered curricula.
Christie said Kaplan switched to online learning "very quickly". Within a few months, students volunteered "extremely good feedback".
"The predominant message from students was that they appreciate the value of face-to-face learning but want flexibility. One of the main drivers of that was our working professionals who wanted the convenience of remote learning – that was one of the changing expectations of students."
A lot hinged on the learning management system (LMS) on which Kaplan runs its enterprise. Partnering with Instructure means they're using the Canvas portal. This open LMS supports hundreds of Asia-Pacific institutes within K-12, further education and higher education sectors. Good to know it adapts to and integrates seamlessly with a multitude of tools, such as OneNote, Microsoft and Google, as well as the broader program environment at Kaplan.
But Instructure isn't the only partner, said Christie.
"When you're looking at big digital transformations, there isn't one vendor that provides everything. It's an ecosystem of different parts of the solution which will give the business the outcome it desires," he said.
That's why Kaplan has been integrating a range of technologies into a broader virtual learning environment. 
Typically, these are the building blocks that such a system would comprise:
Learning management system(s)
Assessment management for data collection and analysis
Assessment integrity, such as plagiarism checking software
Productivity and collaboration for staff and students
E-Portfolios for student work
Learning analytics for insights into academic achievement and student engagement
Online course solutions, and 
Digital courseware.
Key considerations in the technology journey
Kaplan has been able to muscle up its guiding principles to manage digital disruption. Here's what that includes now -  these ideas could help your institution:
Understand and meet student preferences
Partner with Canvas LMS for the core of the digital system
Align new technology with existing processes – integrating with the existing LMS
Tap into high-quality implementation methodology with providers, which delivers rich data and intuitive dashboards
Ensure the technology addresses society's and the legal requirements for data handling/standards
Be confident the software will improve over time
Take an active role in short- and long-term planning for the digital systems
Engage with the online Canvas community and share best practices, and
Plug and play, carry out low-cost experiments, and, if successful, scale up; if not, move on to the next idea. 
Christie said these strategies allow Kaplan to adapt to new expectations, an array of educational tools, and learning approaches, all of which continue to evolve.
Predicting disruption
He is quite open about some significant question marks that remain.
"We don't know exactly what technology will be able to do, and exactly how much Kaplan will be able to achieve with that, while still making sure that our students have the best experience and are successful and graduate with us."
That's quite an admission. But consider that Kaplan has been around since 1938, so has buffeted more than eight decades of change. Take Massive Open Online Courses (MOOCs) for one. They were considered a threat to higher education when introduced in about 2008. They offer individual university courses and modules or professional learning online to anyone, often for free or low cost. 
"Everyone thought it would really change and move things across to this type of model, but the completion rates for MOOCs actually turned out to be extremely low. That's despite having many benefits and that they can be effective," said Christie.
MOOCs' completion rates are lucky to achieve 15 per cent, according to the edtech news website, EdSurge. This may be because the content tends to replicate the traditional 'teacher as sage' transmission form of instruction. Inquiry or project-based, self-directed or more interactive learning isn't the norm there. As well, they rarely result in a formal credential, although some universities do offer full degrees through MOOCs.
Christie continues: "Ultimately, in a few years' time, we won't know exactly which tools will be most effective or appropriate and who knows what capability might come out that we're not aware of now."
Why go it alone then?
This is where partnering and leadership come in.
"We're lucky Kaplan can tap into our colleagues around the world and a lot of partners. So, we can either try to transform our offerings ourselves, or we can leverage from other parts of Kaplan, or we can do it with partners, who will make sure we're keeping up to date," said Christie.
Scaling for the future
Kaplan's next move is to roll out its next-generation LMS as part of an even broader virtual learning system. 
Manish Madan, Senior Director, Technology & Innovation at Kaplan Singapore, also spoke at the EDUtech presentation about such a system's three key elements.
"We would like to offer our stakeholders the best-in-class kind collection of system, one of which would be the Canvas LMS. That would provide the core LMS function around teaching, learning, quizzes, assessments, and Gradebook. Add to that collaboration and workflow automation such as through the Microsoft 365 suite. The third part is about the data – reporting and dashboards."
Getting the sense you build upon the LMS platform, layer upon layer? Sounds good enough to eat! 
Madan said: "Our vision is to have a data lake that gets read off by a combination of interactive data visualisation software such as Tableau or Power BI and other tools."
Madan said that's a lot of technology systems to integrate seamlessly for maximum interoperability. 
It might not be obvious, but one of the payoffs is that it can deliver greater personalisation and customisation for learners. Seems to be a war cry in education circles these days.
"One of the main challenges with this is around change management. You have to align the new technology you're introducing around existing processes, plus evolve those to leverage the technology. It's a challenging balance."
Canvas can help address your institution's key issues about student engagement and success. Get in touch with us, so we can find out more about your challenges and help you improve your virtual learning environment ecosystem.