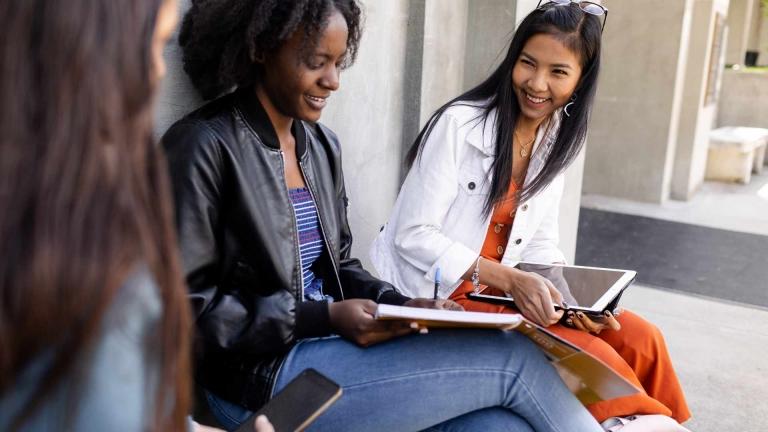 In the latest episode of InstructureCast, Melissa Loble and Ryan Lufkin are joined by Texas A&M University's Dr. Jocelyn Widmer and student Ellie Richter to chat about how important mental health is and how technology can help support teachers and students. Through Richter and Widmer's efforts, Texas A&M students now have access to a mental health button directly within Canvas LMS.
In a 2022 Gallup poll, 44% of American K-12 teachers reported feeling burned out often or always, and 35% of higher education teachers felt the same way. Additionally, the NEA Survey found that 44% of students reported symptoms of depression and 37% said they experienced anxiety.
As Vice President of Academic Affairs, Richter was instrumental in bringing student-driven academic concerns to the university leadership to effect change. Alongside a task force of individuals well-versed in what TAMU is doing to address the growing mental health issue, Richter began thinking about how she could use her role in academics and advocacy to bring attention to mental health. 
The mental health button in Canvas LMS was driven by Richter's passion for linking existing barriers to student success with innovative solutions. Her steadfast leadership that champions student success initiatives has led to transformational changes to academic policies and practices at TAMU that will have lasting impacts on Aggies well into the future. It officially launched in mid-February 2023, and the reception has been incredible.
The numbers speak for themselves—19,623 unique student clicks, with 15% of May clicks coming from academic content. Even during Spring Break, TAMU saw 317 unique clicks, and 13.4% of March clicks on My SSP were related to academic content. Students have requested redundancy of the mental health button, and messaging about the program was sent out through Impact by Instructure.
From a student's perspective, the accessibility and immediacy of the button have made students' lives at TAMU significantly easier. The tone of the Mental Health Resources Button creates a welcoming atmosphere, and its integration into Canvas has been a game-changer. This is a significant step towards greater mental health support for students and hopefully encourages other educational institutions to deploy something similar.
Richter and Widmer have even started collaborating with other universities to share their expertise and resources. Additionally, the personal stories and feedback they've received are heartwarming. Students and faculty have found comfort and assistance in moments of crisis, which is incredibly rewarding for the entire team.
What can we be doing together and individually? And how can we learn from one another as opposed to hiding in our own institutions and trying to work it out on our own? And then, that piece of involving students, who should be driving and leading what this looks like. Not the other way around. Ellie, her peers, and all of the future generations of Ellie are out there saying, I'm important. My health is important, and this is what I expect of you. Institutions help me help you get there.

- Dr. Jocelyn Widmer, Assistant Provost for Academic Innovation and Online Learning at Texas A&M University
Instructure is acutely aware of mental health concerns for both students and educators. That's why we've partnered with TimelyCare, the leading virtual health and well-being solution in higher education, to offer students free and equitable access to mental health and basic needs support through their platform. It's available 24/7 on any device and can be accessed through Canvas LMS for video chat, providing on-demand mental health and emotional support, appointment-based mental health counseling, health coaching, and basic needs assistance.
Texas A&M University's commitment to addressing mental health concerns is commendable. The success of their program and collaboration with partners like TimelyCare highlight the importance of proactive mental health support in educational institutions. This episode sheds light on the groundbreaking work happening at TAMU and the broader efforts to prioritize well-being in academia.
Head over to the InstructureCast Podcast to hear the full episode or watch their InstructureCon 2023 presentation, Mental Health Button in Canvas.
Related Content
MeasuringWhatMattersSOA.png

StrikingtheRightBalance.png

WhatisAndragogyThe AdultLearningTheory.jpg