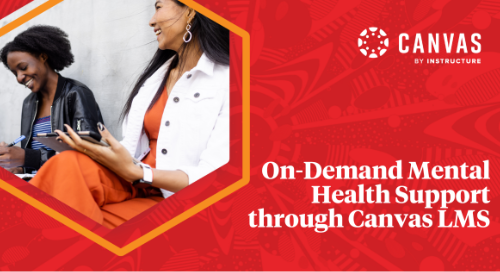 Student mental health and well-being is one of the most pressing issues for higher education institutions nationwide. Studies have repeatedly found that emotional health challenges like stress, anxiety, and depression are the leading impediments to academic success.
As the rush of the new semester becomes routine, it's crucial to ensure students are equipped with the right resources that support their needs, where and when they need them.
How can universities help students when times get tough?
The Clay Center for Young Healthy Minds says that the demand for counseling services has increased five times faster than average student enrollment. Plus, college counseling centers report being overwhelmed with service requests, with many institutions only having one or two clinicians on staff. If someone is anxious, depressed, or under stress, any wait time or barrier to care can cause them not to seek help.
Using technology to provide mental health care is a reliable and cost-effective approach to meeting students where they are, exactly when they need it. Instructure's partnership with TimelyMD provides students with on-demand virtual medical and/or mental health care, enabling institutions to enhance access to in-the-moment care for their students.
On-demand mental health support through Canvas LMS
Students can connect with a mental health professional and receive advice and treatment with the click of the TimelyCare button in Canvas LMS via video chat or phone call. Health and well-being services meet students where they are most connected — online – 24 hours a day, seven days a week, allowing students to seek care within an academic setting.
These on-demand and virtual services make care immediately accessible where students spend time daily, reducing friction and increasing opportunities for care at moments likely to increase stress. Streamlining access keeps the resource top of mind in high-stress situations and removes the need for instructors to add it to their syllabus (where it could be easily overlooked.)
Not only does the integration of TimelyCare within Canvas create a seamless ecosystem for your institution's students that makes accessing the resources they need easier, it also can positively impact the total health and well-being of students, support retention efforts, and empower enrollment growth.
Related Content
sohe_6_trends_thumbnail.png