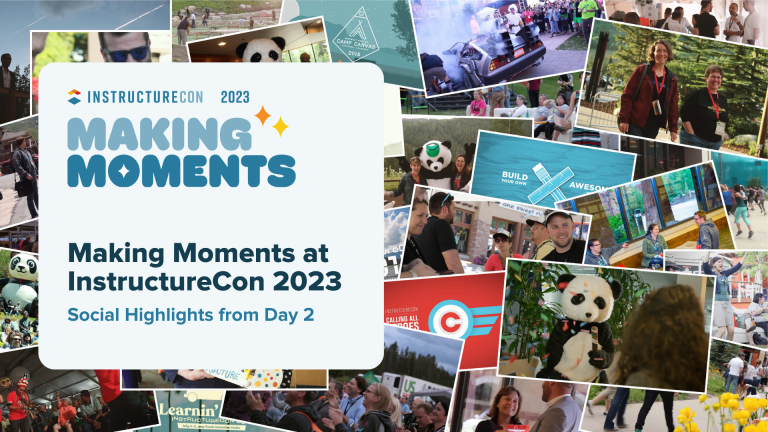 Copy of ICon Article Thumbnails (1920 × 1080 px) (1).png
InstructureCon 2023 is in full swing. Day two was jam-packed with memorable moments, uplifting keynotes, motivating professional development talks, and insightful breakout sessions exploring the possibilities for teaching and learning with technology.
To kick off the day, Joanna Fankhauser, Instructure's SVP of Business Operations, sat down with Arianna Huffington, founder and CEO of Thrive Global, who encouraged the room to focus on wellness and self-care during her inspirational fireside chat.
Arianna Huffington focused on wellness and self-care insights and tips to address burnout at InstructureCon 2023. #INSTCon23 #InstructureCon pic.twitter.com/Z2O3uhjMS0

— Jenae Burkart (@JenaeBurkart) July 27, 2023
"In humans, downtime is a feature not a bug!" Thank you!
@ariannahuff #INSTCon23 #BeWell@Canvas_by_Inst @Instructure #MakingMoments#momentsatinstcon23@thrive pic.twitter.com/TQHTzoDOpT

— Sue Mylde 🇨🇦 🇸🇬 🇳🇴 (She/her) (@missusem) July 27, 2023
Enthusiasm for technology-enhanced learning was felt far and wide, with artificial intelligence being the day's hot topic. Instructure officially announced their partnership with Khan Academy, integrating AI-powered student tutor and teaching assistant Khanmigo into Canvas LMS.
Whoa! Canvas architect used their AI research to build, and demoed for us an AI tool that helps teachers design their pages without having to know any code. #BlownAway #instcon23

— ˜"*°• Hildi Pardo •°*"˜ (@Hildi_Pardo) July 27, 2023
Give me all the AI tools integrations #INSTCon23 pic.twitter.com/8UIsoj2r29

— Dr. Chris R McGee (@cmcgee200) July 27, 2023
#INSTCon23 @Instructure and Khan Academy forming a deep partnership, Khanmigo writing coach in assignments, students can use for feedback. pic.twitter.com/6239oNqFtp

— Dave Long (@_dmlong) July 27, 2023
At Instructure, we believe that education is for everyone and remain committed to furthering this mission through our products and partnerships. This commitment was in full display during InstructureCon.
"Your disability should not handicap your education." Steve Townsend, SVP of Engineering on accessibility on @Canvas_by_Inst @Instructure #INSTCon23 #education #accessibility

— Beth Crook (@bethcrook) July 27, 2023
Hats off to the amazing job the #SignLanguage interpreters are doing at #INSTCon23 - #accessibility and #inclusion matters @Canvas_by_Inst @Instructure pic.twitter.com/o9ShVw7bJd

— It's me, Hi! Val 🏳️‍🌈 Sky King (@skyvking) July 27, 2023
Throughout the day, educators, administrators, and edtech enthusiasts opened their minds to moments of learning, embracing innovative ideas and fostering collaborative discussions to improve education for everyone. The excitement for the day's keynote, sessions, and panel discussions was electric.
The Instructure Conference has been amazing. We are learning so much that will improve learning for all of our students. @djvuillaume @Canvas_by_Inst @SandburgHS @DSmithCSHS #INSTCon23 pic.twitter.com/em1qTKGxdG

— Christine Borst (@SandburgPhysics) July 27, 2023
What a crowd for my session today at #InstCon23 - I was thrilled to share my love of @Canvas_by_Inst and it's many tools to help foster student engagement with so many people. Here is a link to my resources: https://t.co/gy41ecDvUl#makingmoments pic.twitter.com/vDWzFN8e4u

— 𝔻𝕚𝕒𝕟𝕟𝕒 𝕂𝕟𝕠𝕩 (@talkintechccs) July 28, 2023
Having a blast #MakingMoments and learning more about all things Canvas at #INSTCon23 with my @vbschools fam! #INSTCon23 @Canvas_by_Inst @Instructure @cwhinsch @DrShewbridge @MonicaRoach15 @BFergusonVB pic.twitter.com/XWXlBkzOZZ

— Jenny Blake (@JennyBlakeVBCPS) July 28, 2023
I'm learning thiiiiiiiis much at #INSTCon23! #APSCanvasAdmin pic.twitter.com/XtjkKD0UXY

— ˜"*°• Hildi Pardo •°*"˜ (@Hildi_Pardo) July 27, 2023
@MJ_teaches what a FANTASTIC break out session! Talk about all these amazing resources especially your courses linked in commons! I am so excited to bring this back and get teachers excited about Canvas! #makingmoments #ICON23 #INSTCon23 pic.twitter.com/OChetXsmed

— Elizabeth LaMacchia (@LaMacchia_OCPS) July 27, 2023
These past two days have been full of new experiences, amazing memories, and genuine moments of fun—and there's still more to come as InstructureCon 2023 wraps up!
KC & Sunshine Band have taken the stage. #INSTCon23 @Instructure #MakingMemories @kcandsunshineb pic.twitter.com/Kf5nxrpLDF

— Philip Jarosz (@InsightPhilED) July 28, 2023
What a great #partynight with KC and the Sunshine Band at #INSTCon23 @Canvas_by_Inst That's the way, uh huh, I like it. Uh huh. 😉 pic.twitter.com/uFY182k8V9

— Brian Reed (@imBrianReed) July 28, 2023
#INSTCon23 knows how to throw a party!! pic.twitter.com/ppBksrMFZE

— Erin Rennick White, M. Ed (@rennickteach) July 28, 2023
To learn more about #InstCON23 moments-in-the-making, visit our event website or the InstructureCon Community hub.
Related Content
sohe_6_trends_thumbnail.png