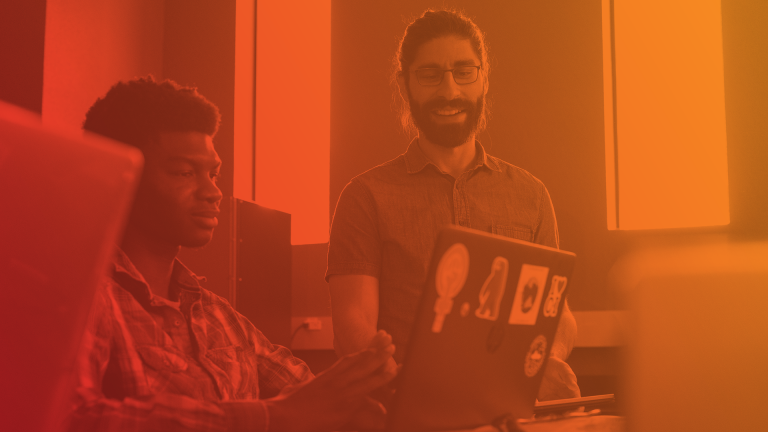 Canvas LMS v the Competition Why Higher Ed Chooses Canvas .png

A learning management system (LMS) is an important part of the digital learning experience an institution delivers for its faculty and students. With so many options available, institutions have to decide which LMS can best deliver functionality, usability, and overall contribution to their academic landscape. In this article, we will weigh in on Instructure's leading product, Canvas LMS, and why it's the top choice for thousands of institutions worldwide.
Canvas LMS is the #1 Teaching and Learning Software
Canvas LMS continues to be the most widely adopted and respected learning software. Just this year, Canvas LMS was awarded the LMS Solution of the Year in the 2023 Edtech Breakthrough awards and was named a finalist for Higher Education Solution at the Edtech Digest awards—just to name a couple. Instructure has experienced tremendous expansion as a company, using its growth to strengthen its product offerings and community. Growth can be seen in Instructure's recent company profile with Listedtech, which shows Canvas LMS's continued progression compared to competitors. 
Top Institutions are Choosing Canvas LMS
Canvas LMS is the choice of the world's best colleges and universities, including being used by the top 10 institutions in the US. Take a look at why some institutions made the decision to switch to Canvas LMS. 
Duke University- Transitioned from Sakai
In an effort to deliver the most innovative online learning experience and evolve its education programs, Duke migrated to Canvas. This decision was largely based on the University's need for a robust learning management system to achieve its goals. Duke went all in with the Instructure Learning Platform, seeking to adopt not only Canvas LMS but Canvas Studio, Canvas Credentials, and Impact by Instructure.
Learn more about Duke's transition in the case study:  Duke University: A Canvas Customer Spotlight.
Howard University–Transitioned from Blackboard
As part of an initiative to transform their campus-wide technology infrastructure, Howard wanted the most innovative LMS available and one that would integrate seamlessly with other digital tools. After the university's LMS committee reviewed other management systems, they unanimously chose Canvas. Canvas LMS was a clear choice, offering not only its tools but an advanced educational ecosystem. 
Read more about this exciting migration in the case study: Howard University: Leading a Successful Canvas LMS Migration at a Private HBCU.
University of North Carolina at Charlotte–Transitioned from Moodle
Before UNC Charlotte decided to transition to Canvas LMS, they experienced frequent technical issues and unreliable support from their previous provider. The university needed an LMS that would support the learners of today and lay the foundation for their growth as an institution. After evaluating four other systems, UNC Charlotte selected Canvas, joining a supportive and vast community that builds on the product's reliability. 
Read more about UNC Charlotte's results after migration and their overall improvement: University of North Carolina at Charlotte: Building a Custom, Integrated Learning Solution With Canvas.
University of Wisconsin System–Transitioned from an LMS Competitor
Due to issues with inaccessibility, lack of collaboration, and weak integration, the UWS decided to upgrade to a modern LMS. Their goal to enhance online learning with flexible options was easily achieved with Canvas. In addition, Canvas Catalog was adopted to increase diversified learning opportunities. Switching to Canvas products facilitated UWS's mission to boost innovative learning and engage all learners. 
Learn more about this successful system-wide adoption: University of Wisconsin System: Cultivating Consistency with Canvas LMS.
The Ohio State University–Transitioned from D2L's Brightspace
As OSU started to evolve and enhance its academic programs, it needed a robust LMS to keep up with its advancements. Noticing the lack of usability and minimal features provided by their former provider, OSU decided to take a leap. Adopting Canvas made a profound improvement in ease of use, collaboration, communication, and tech integration. 
See The Ohio State University's Canvas instance in action, CarmenCanvas.
Institutions choose Canvas largely because of the enhanced and easy-to-use features provided. Take a deeper look at how Canvas outshines competitors in its usability.
Educator and Learner-Centered Usability 
Based on the above case studies, it's clear that Canvas LMS has superior usability. A common complaint heard across the edtech industry is a clunky user experience (UX) and a problematic user interface. Canvas avoids this problem with its intuitive and user-friendly design that simplifies complex digital features. The University of Memphis highlighted that Canvas was "more user-friendly" when comparing Instructure's Canvas LMS v. D2L's Brightspace. 
The world's most innovative learning institutions choose Canvas LMS. For example, Arizona State University partnered with Canvas for its 100 Million Learners Global Initiative. Canvas is meeting that challenge by providing educational access in over 40 languages. A worldwide initiative of this stature requires a reliable and adaptable, easy-to-use tool for anyone, anywhere. 
Unrivaled Support
Instructure makes customer support and service a priority, ensuring customers continue to receive what they need long after purchasing Canvas. To provide assistance to teachers when they need it most, Canvas offers 24/7 support. Timely, personalized care is given as opposed to slow response times and lack of communication.
Because Instructure values functionality and usability in their product, customers can expect 99.9% uptime. Product updates are seamless and can be deployed without interfering with users or an institution's day-to-day usage. Canvas, having always been a cloud-based product, offers a user experience without maintenance downtimes.
A Learning Ecosystem
Canvas isn't just a product; it helps build communities. Customers can meet, share, and collaborate in the community hub, joining almost 2 million users accessing product guides, finding resources, engaging in interesting discussions, attending virtual events, and forming groups. Customers can build connections with other users around the world, demonstrating the vast depth of the Instructure community. 
Relationships are at the core of the Instructure family, demonstrated by its partnerships with educational institutions. All Canvas institutions have access to a team dedicated to ensuring their academic ambitions and goals are met. Take a look at other case studies to see how institutions progress and evolve using Canvas products. Institutional innovation and achievement is celebrated annually at InstructureCon, where educators, Canvas users, and edtech enthusiasts share ideas, network, and have fun.
Instructure also partners with hundreds of other edtech providers to integrate leading technology, enhance services, and increase academic opportunities, providing educators with seamless access to the tools they need to educate. These partnerships help strengthen Canvas LMS and the entire Instructure Learning Platform.
Choose the Best LMS 
Canvas LMS is the top choice for thousands of institutions worldwide. See how institutions compare LMS quality and what to consider before selecting a management platform. Request a demo today.