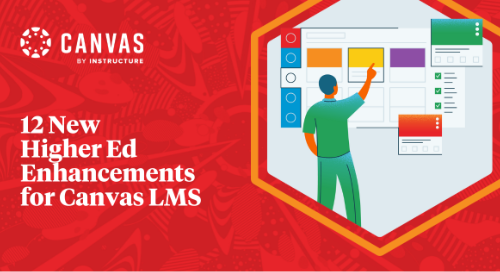 Canvas is Higher Ed's favorite LMS for a reason – we listen and take advice! New Canvas LMS innovations were shared at InstructureCon '22. Read below or watch the session to review all of the new functionality in Canvas LMS. These new capabilities were designed to support education at scale, enhance the student experience, and further inform and empower educators and administrators.
Assignment & Grading Enhancements
Improved Assignment Submission Workflow
Crystal clear assignment expectations for all.
What's new:
Progress tracker: At the top of the page it will now clearly confirm when an assignment has been submitted and when there is feedback available.
Clearer submission options: All submission types will be clearly listed for students with action buttons in consistent locations.
Access to each attempt: Students can now go back to previous attempts and view previous feedback to ensure they are improving with each attempt.
More accessible rubrics & feedback: Accessibility is at the heart of everything we do, and we've enhanced rubrics and feedback so all students can easily see how they are doing in a course or on an assignment.
Auto-save for text entry: Because who doesn't love that extra peace of mind that their work is being saved?
Set default due time: Admins and instructors can also add set due times to any new assignments.
Celebrations for Assignments
Because learning is better with a little confetti.
What's New: Each time a student submits an assignment on time, there's a confetti celebration to celebrate those small wins!
Emojis in Submission Comments
For when the learning is 🔥
What's New:
Use emojis to convey emotion in Canvas: Students and instructors can now use emojis in submission comments when enabled.
Appropriate emojis only: We've blocked a predefined set of emojis that are considered to be negative or used in ways that could offend viewers. Admins can also block additional emojis as needed.
Inclusivity: Users can also select their preferred skin tone for that specific comment or overall.
Annotation Assignments for Digital Worksheets
Facilitate better conversations for teaching and learning, one annotation at a time.
What's New: Instructors now have the ability to upload files as a student annotation assignment type, and students will be able to leave annotations on those specific file types. This is only available in Canvas LMS and not in third-party tools.
SpeedGrader Just Got Speedier
Equitable grading, at the speed of light!
What's New:
Comment library: Instructors can now save commonly used comments that will be suggested to them while they are typing.
Reassign submissions: If at any point during a workflow the instructor feels that an assignment needs to be reassigned to a student they can do so right within SpeedGrader.
Word count tool: Now available for text entry and file upload assignments
Update submission status: Instructors can now change the submission label during the grading process
Unposted comment warning: If an instructor goes to leave a comment and forgets to publish it, they will receive a reminder so they can follow through with that action.
Improved Efficiency in Grading
Providing meaningful feedback just got easier.
What's New:
Assignment & student search: Save time by searching for a single student or group of students, and an individual assignment or group of assignments to quickly focus on important information.
Ungraded assignments: You can now apply scores to ungraded artifacts in bulk either across the full Gradebook or within specific assignment groups. This is especially helpful at midterms or when closing out the semester.
Labels for graded assignments: We've added the automatic removal of the missing label when an assignment is graded, which will save instructors several clicks and minutes per student.
CSV export: We've updated the CSV export so that it reflects the same order that an instructor might set in the user interface.
Enhanced Gradebook filters: With this new set of filters, we are working to provide options to create the view that is most meaningful to and set by the instructor. Commonly used filter sets can be saved for future access.
Content Accessibility Enhancements
LaTeX + MathJax Equations
Screen-reader friendly equations for the win!
What's New: These can now be added to any Canvas text field, allowing users to
manage and use equations in many more places.
A11y Checker Notifications
Check yourself…and your content.
What's New: Within the rich content editor there's an accessibility icon and this now has
a numbered badge associated with it. That number reflects the number of accessibility issues you'll find in the content you are creating.
Microsoft Immersive Reader
Consume content how you want.
What's New: MS Reader has been added to many more places in Canvas so you can
consume text content according to your preference.
Assessment & Engagement Enhancements
Canvas New Quizzes
From "classic" to new quizzes in a flash.
What's New:
Quiz & bank migration: This bulk migration tool allows instructors to migrate classic quizzes with all of their content into new quizzes.
Partial credit for matching: This feature allows students to garner points for the correct portions of an entire matching question set.
Printing capabilities: New quizzes allow a quiz to be printed with or without answers.
Module workflow: There are now previous and next buttons to improve module workflow navigation.
Item bank management: Item banks can now be shared with the entire account, as well as with one or more courses. Item banks can also be shared as view only.
Item bank filtering: Changes to item bank filter names for clarification are now allowed, making it easier to find the item banks you need.
Rich content editor (RCE) update: A RCE is now available in "Fill in the blank '', allowing instructors to create fill in the blank questions with rich content such as paragraph formatting, scientific or mathematical formulas, or a table.
New quiz API in GraphQL: The product team is currently validating quiz building with proctoring providers and select customers which also includes the create, read, update, and delete operations for quizzes and questions.
Discussions Redesign
An improved interaction experience.
What's New:
Evolved user interface: An expanded UI for maximum space to ensure responsive views and improved accessibility.
User role labels: Available in discussion and announcement threads with display labels for users and assistant roles and/or instructor roles.
Quote replies: Users can now quote others' replies as part of their own discussion replies.
Participant @ mentions: Users can also tag other respondents in comments and replies.
Flag / report a reply: Students and instructors can now flag and report inappropriate replies when necessary.
Anonymous discussions: These include the standard setting options and reporting replies functionality.
Outcome & Competency-Based Education
Personalized learning pathways for every student.
What's New:
Improved Outcomes Management with accessible and responsive create, edit, organize, and search capabilities.
Account & course-level mastery scales for proficiency rating levels and calculation methods.
Stack, sort, and organize achievements into learning pathways.
Students can now easily view and understand requirements and their progress.
Automatically sets due dates to help students stay on track no matter when they begin learning.
To learn more about what favorite Canvas LMS features a 10-year Canvas customer uses click here.

Related Content
MeasuringWhatMattersSOA.png

StrikingtheRightBalance.png

WhatisAndragogyThe AdultLearningTheory.jpg