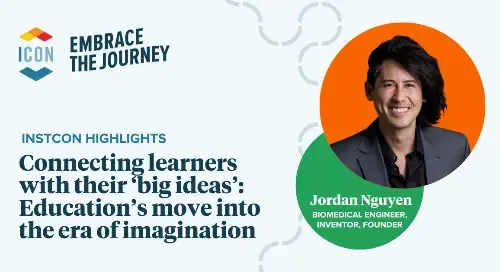 Connecting-learners-with-their-big-ideas-thumbnail.png
Connecting learners with their 'big ideas': Education's move into the era of imagination
A roadblock to engaging students in the classroom is equity of access. But technological innovation can help, according to Dr. Jordan Nguyen, a biomedical engineer and futurist. The multi-award winner gave the closing keynote speech on connecting content to learners' 'big ideas' at InstructureCon APAC 2022. 
"Teachers and educators can guide learners into the future to empower them to realise their dreams and big ideas. We've got to back students to keep imagining, to keep dreaming big, to find the excitement in the journey," Dr. Jordan said.
"The generations coming through school now will be the changemakers of tomorrow. They want to know their lives are going to matter. They'll make an impact in some way because they're more socially and environmentally connected across the world than any previous generation."
Dr. Jordan is also a TV presenter and wrote A Humans' Guide to the Future: How Humanity can Thrive Through Our Ever-Evolving Technology. He shared his insights on the importance of technology in creating an equitable learning environment, and the importance of encouraging creativity to spur creation.
Tapping into technological innovations
Dr. Jordan, who grew up in Western Sydney, had a life-changing event as a university student. He almost broke his neck after hitting his head diving into a friend's backyard pool.
"Luckily, I just had a couple of minor tears... I was stuck on my back for a day and a half. It changed everything about what I was taking for granted in my life," he said.
Dr. Jordan began connecting with people with "such high levels of physical disabilities, which meant they had locked-in syndrome and could only move their eyes."
"I was meeting brilliant people who were doing more than I was with my life or were happier and more motivated."
That experience led him to set up his company, Psykinetic, which makes emerging technology more inclusive. It's allowed people who are non-verbal and have limited movement to drive vehicles, compose music, navigate wheelchairs, and more just by wearing an electronic headband that tracks their eye movements for control via a keyboard.
Dr. Jordan said: "There are a lot of cases of people [with disabilities] who are actually high functioning and go to the top of the class as soon as they are recognised for their abilities, being able to communicate using any sort of tool like this."
Accessibility at the heart of learning
More than eight in 10 teachers say they can't achieve equity in education without accessible learning tools, according to a recent Microsoft survey of US teachers. 
Globally, the gap isn't just about access to technology. In its Strategy on Technological Innovation in Education (2022-2025), UNESCO supports human-centred innovation for technologies' use in education to help ensure equitable and inclusive quality education.
Dr. Jordan echoed that throughout his keynote, saying science and technology are great tools to harness, but it's people - like teachers - who make it happen.
"We've got to let our students know that they can achieve big dreams by empowering them to find a way to figure it out. Focus on their abilities to support them to achieve those dreams."
Empowering big dreams in the classroom
So how can teachers make learning accessible for all students? Dr. Jordan spoke about a teacher who tasked her year four class to make an app based on their interests.
"She told them, 'The project only finishes when everyone has an app, so if you build yours quicker, help the other students. Then you have to teach me how you did it because I haven't a clue how to make one'."
The project melded collaboration, empowerment and competition, with Dr. Jordan acting as judge. It didn't rely on the teacher imparting knowledge.
"Allowing students to teach us as educators, to explain the reasoning behind their decisions, is one of the best things I've learned," he said.
Teachers and educators can look to technological change for innovations to reduce barriers to learning and better connect students with their curiosity to achieve their dreams. 
"We're seeing a lot of ideas going into the virtual world, so there are crossovers between artificial intelligence, robotics, biomedical technology, and virtual reality," he said. 
It's a hallmark of the emerging era of the imagination. 
Did you miss Dr. Jordan's keynote? Watch it here!