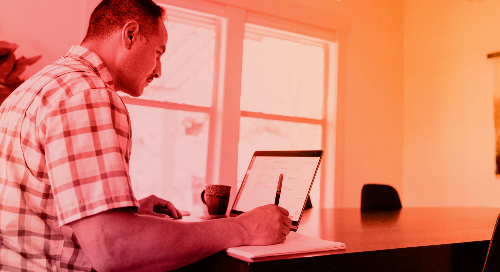 The bad news: college enrollment dropped 9.4% during the pandemic.
The good news: the definition of a college student is more expansive than ever.
Today's typical student is likely not the 20-something portrayed in popular media. Non-traditional students (comprising a staggering 74 percent of undergraduates) are older, juggling life responsibilities, and looking for career advancement over advanced degrees.
To weather today's higher ed upheaval, colleges need to expand their target demographic beyond the traditional four-year residential student. That starts with attracting, retaining, and supporting non-traditional students.
The Difference Between a Traditional Student and Non-Traditional Student
What's the same: they come to learn. What's different: just about everything else.
Traditional students are on-campus, seeking a degree for their first job and have a finish line in mind. Non-traditional students represent a wide range of ages, locations, and goals. Diplomas are not their top priority. They come to up-skill, cross-skill, and certify for career advancement or change.
The National Center for Educational Statistics (NCES) defines nontraditional students as possessing one or more of the following characteristics:
over 24 years old
financially independent
enrolled part-time
delayed enrollment after high school
full-time employment
having one or more dependents
single-parent classification
not having a high school diploma.
3 Strategies for Supporting Non-Traditional Students
While traditional students require a heavy dose of personalization — on-campus community, mentorship, career counseling — non-traditional students are pressed for time and need a clear, quick path to advancement.
These strategies ensure full support for your institution's non-traditional student population:
Offer Maximum Flexibility
On top of coursework, non-traditional students often juggle work and family needs. To be successful in higher education settings, they need flexibility to study when and where they can. Ensure your institution offers flexible learning environments to accommodate non-traditional student's unique needs. HyFlex courses are a good place to start.
Emphasize Advancement over Advanced Degrees
Non-traditional students need options beyond diplomas. In today's rapidly changing job
market, skills speak louder than resumes. It's estimated half of all workers will need reskilling and upskilling by 2025. Attract and retain non-traditional students by offering skill-based certifications and partnering with corporations for upskilling and reskilling.
Align Skills with Workforce Needs
For non-traditional students, many already in the workforce, a credit-hour-based degree is a hurdle. Competency-based education (CBE) allows students to demonstrate prior learning to progress quickly to their degree. Effective CBE partnerships with businesses can quickly turn a student's vocation into a degree. For non-traditional students reentering the workforce, college-to-career pipelines and apprenticeship training ease the transition from the classroom to the workplace. Also, digital badging provides a seamless way for learners to record and share their validated skills and achievements with future employers.
The university experience is no longer reserved for the four-year residential student. Learners of all ages, stages, and locations need continual skill-building to navigate a modern workplace.
Read how the University of South Florida attracts and supports non-traditional students to stay relevant in an ever-evolving educational landscape.

Related Content
navigatinggenerativeai.png