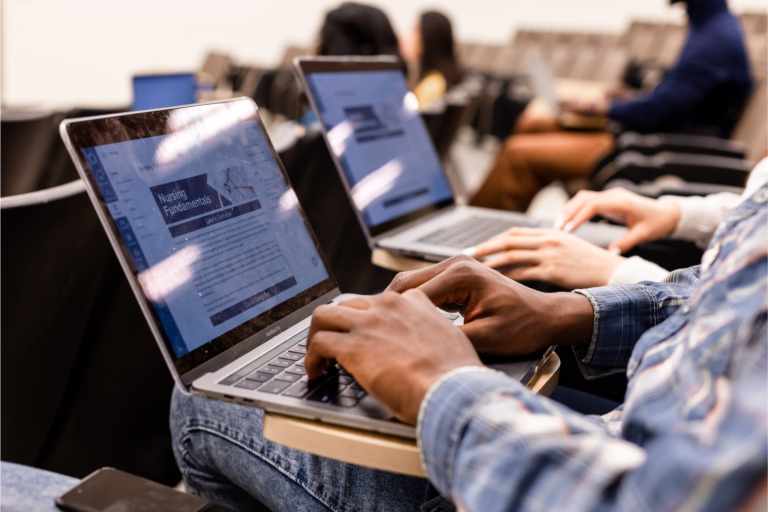 LMS Migration Its Easier Than You Think.png
Over the years, edtech tools have evolved to sustain the modern learning ecosystem.
With 99% of colleges and universities using a learning management system, it's clear an LMS is a necessary and integral part of the academic experience. Institutions rely on these platforms to enhance learning experiences and support constant changes in education. 
Like education, LMS has evolved to meet the needs of a more tech-savvy and digitally literate generation of educators and students. With features that advance all modalities of learning, a modern LMS provides a richer experience for its users. To that end, more institutions are migrating to innovative and user-friendly LMS not only to sustain but to facilitate growth. Still, with so many options available, institutions want to ensure they have the best LMS to support their educators and learners.
In this article, we will discuss how to choose the best LMS and what makes LMS migration easier for colleges and universities. 
Choosing the Best LMS, Things to Consider
Deciding what learning management system can best serve an institution's unique needs is easier with a clear roadmap. The right LMS:
Facilitates Dynamic Learning Experiences: Consider the impact an LMS will have on teaching and learning. Are all learning modalities supported? An LMS is supposed to bring ease and flexibility to the learning environment. Whether face-to-face, hybrid, or fully remote, an institution should choose an LMS that ensures its ability to provide a quality academic experience. 
Is Scalable and Can Address Change: Change is inevitable. Choose an LMS that can meet evolving needs and growth. A scalable LMS can adapt to shifts on the academic and institutional levels. With more than 11,000 edtech tools on the market, seamless integration with an LMS helps educators provide students with the best tech solutions for learning.
Provides a Secure and Reliable Platform: It's important for user information to be protected. Consider how the platform secures personal and private data. Reliability is another priority, as students and teachers should be able to access their courses anytime, anywhere. 
Offers Data and Insights on Performance: Administrators should be able to check on their institution's performance with an LMS and have access to insights on each student's success and engagement. This can help identify what is effective and optimize student success. 
Can Test Performance and Competency: Assessment is a critical component of the learning process, revealing what students do and do not understand. With assessment tools embedded into an LMS, educators can easily assess student needs. Other features, such as rubrics and an automatic grading system, can save educators time and allow more focus on instruction.
Has a Supportive Community: Choosing the right LMS is not only about the product itself but also having an extended community to add value and support to the user experience. When selecting a more modern LMS, evaluate the community your users will gain access to.
A Hassle-Free Approach to LMS Migration 
While the process requires a strategic plan, LMS migration from a legacy platform to a new platform doesn't have to be difficult. Thanks to modern advancements in edtech, migrations have become more streamlined, making the length of a migration a matter of choice and not an obligation. With the right LMS, an institution can choose to migrate at a pace that works best for its community. 
Another key concern is adoption and usability. It's true that administrators, faculty, and students will need time to get used to a new system, but the learning curve can be reduced with a user-friendly interface and strong partnerships. 
See how Instructure's partnerships and integrations make migration a seamless effort.
5 Steps to an Easy LMS Migration
With preparation and organization, LMS migration is possible for an institution of any size. A former National Director of Higher Education was able to condense the process into five easy steps. Let's take a look.
Have a Clear Vision: Identify institutional goals and future vision, seeing how your LMS aligns. Note where your current LMS lacks the functionality and usability needed to achieve goals. Before migrating, get clear feedback from faculty and students on their needs. This further identifies what's working and what's not.
Assemble a Diverse LMS Committee: The committee should represent a wide range of stakeholders. A diverse committee ensures all voices are heard. With administrators and faculty having different needs and opinions, it is important to consider their perspectives. 
Create a Plan: Create and share a plan with the LMS committee, keeping everyone informed with expectations and updates. Remember to set up a timeline of events to keep the migration on time. In case of any setbacks, simply adjust or update the plan.
Build Awareness and Excitement: Make sure faculty and students are aware of the upcoming LMS migration. A campus-wide marketing campaign will prompt interest and anticipation for the transition. Add to the hype with product swag. Further prepare the institution for change with demos, workshops, and training courses. 
Establish a Partnership: Take advantage of the responsive support and academic solutions the LMS provider offers. A good provider encourages collaboration amongst institutions, curating a learning ecosystem. Join community groups and explore forums to form long-lasting partnerships. 
Although change can be difficult, not changing can be even harder in the long run. Learn why thousands of K12 and higher education institutions across the globe wanting a modern LMS chose to migrate to Canvas, the foundation of the Instructure Learning Platform.
Explore the Instructure Learning Platform
Canvas LMS is the world's leading learning management system, has the largest user community, and offers a platform of products that compliments the LMS experience. Together, they enrich, support, and connect every aspect of teaching and learning. Here's a look at each.
Canvas LMS: A robust digital foundation for all aspects of learning, Canvas delivers dynamic, engaging learning experiences for next-level curriculum and instruction. Access everything in one place, provide total accessibility and mobile learning to users, view interactive analytics, experience instant content delivery, and increase overall productivity.
Canvas Studio: Integrate media into courses, turning passive instruction into active, engaging lessons. Use Studio to create interactive modules, even incorporating media into quizzes, assignments, and discussions.
Canvas Catalog: Create impressive course catalogs and showcase course offerings to potential and existing students. With Catalog, institutions can centralize program offerings in a branded marketplace.
Canvas Credentials: Use digital badging to validate competency and support skills-based learning. With recognizable and shareable achievements, learners are motivated to continue their learning journeys. Digital credentials reflect the learner's full story, empowering them and showcasing their accomplishments. 
Impact: Evaluate the effect learning technologies have on an institution and its users. With Impact, colleges and universities can gather insights into student and faculty LMS adoption and performance to enhance teaching and learning opportunities. 
Take advantage of all the tools and features offered with Canvas and rate effectiveness with Impact.
Ready to Make a Change?
For more information on choosing the right LMS for your organization, explore our Higher Education Buyer's Guide.
Related Content
MeasuringWhatMattersSOA.png

StrikingtheRightBalance.png

WhatisAndragogyThe AdultLearningTheory.jpg