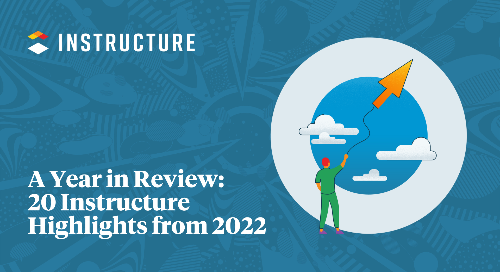 As the year comes to a close, we're reflecting on days filled with celebrations, curveballs, champions, and changes with a glimpse into the highlights of our year at Instructure. Let's take a quick scroll down memory lane.
In January, we launched our channel partner program, which expands access to educational opportunities for learners worldwide.
Canvas LMS for Dummies, written by the original Canvascasters, was published in February.
To support substitute teachers with the information and skills they need to be successful in the classroom, we created a new free Canvas Network Course called Canvas Substitute Resources, packed with guides, tips, and tricks to prepare substitutes for managing their classes.
We welcomed Concentric Sky, the makers of Badgr, to the Instructure family in April and rebranded the micro-credentialing tool as Canvas Credentials.
21 Utah educators were honored as part of the Instructure Most Valuable Educator Program in conjunction with the Utah Jazz.
In June, we celebrated some of our 10-year partnerships, including Richland Community College, spotlighted in this post by Kona Jones, Director of the Teaching and Learning Center.
Later that month we rejoiced as we joined our favorite K-12 educators in New Orleans for an ISTE celebration befitting the Big Easy.
June continued to be a busy month as we also welcomed our new Chief Product Officer, Shiren Vijiasingam. His induction into the company kicked off immediately as he took part in a global customer listening tour.
The annual State of Teaching and Learning in K-12 report was released, which highlights six key trends important to parents and educators across the country.
Six outstanding North American K-12 and HED educators were named Instructure's Educators of the Year in July.
InstructureCon '22 featured a virtual day-long agenda filled with inspiration from thought leaders Adam Grant and Simone Giertz, incredible breakout sessions, and let's not forget the incomparable tunes from DJ Diggabeatz.
We also launched our new TikTok account and Instagram account in order to share Teacher Tips and interact with our #CanvasFam. Come follow us!
To help educators ramp up for the new school year, we brought back our popular Panda Pros free coaching sessions.
In October, we celebrated the tipoff of our second Utah Jazz Most Valuable Educator season to honor local educators.
Our annual global research into higher education revealed new directives as students demand flexibility and return investment.
We headed to the heart of the Rocky Mountains in Denver, Colorado, to join all our amazing higher education friends and colleagues at Educause.
At Educause, we announced our partnership to provide equitable access to education through ASU's Thunderbird School of Global Management 100 Million Learners program.
Changes to New Quizzes announced in October will help make the transition from Classic Quizzes easier than ever.
Learn Platform joined the Instructure family, enabling our customers to better understand and manage their technology investments, ensuring they are helping educators and students succeed.
And throughout the year, we shared some amazing stories from K-12 and higher education institutions such as Hamilton County Schools, Poway Unified School District, Broward County Public Schools, University of South Florida, Howard University, and Boise State.
It has truly been an incredible year!
Taking a peek into 2023, we're most looking forward to seeing you all, in person, at InstructureCon '23, but also interacting with you even more in the Community and all our social media channels as we continue to roll out more product features and even more amazing, Panda-filled moments.
Related Content
sohe_6_trends_thumbnail.png