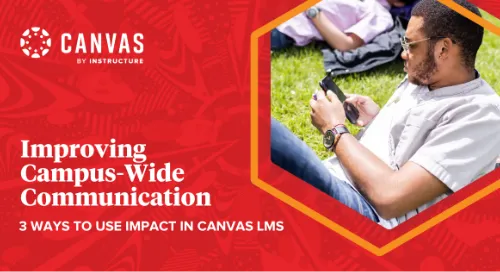 itemeditorimage_6324b0a44d81c.png
If we can all agree on one thing, it's that it can be all too easy to miss an important email or let a campus update slip through the cracks. Knowing this, the educational technology team at Chapman University strived to address this common issue by informing everyone of important campus and course communication right from within Canvas LMS.
In a recent InstructureCon session, Julie Johnson, Sarah Blake, and Elena Marusak from Chapman University discussed their Impact by Instructure adoption experience and how they used this solution to support a seamless transition from Blackboard to Canvas. Their goal? To encourage deeper usage of the institution's LMS tools throughout the transition.
Here are three ways they use Impact to improve communication to keep students and instructors informed:
#1 Execute & manage communication campaigns
The Chapman team uses Impact to announce key updates such as pilot rollouts, training opportunities, LMS migration information, and more. They also send targeted messages to new and returning faculty each year regarding training and checklists to prepare their Canvas courses. As the year continues, they rely on Impact's monitors for Canvas tools and integrations to gain insight into which tools are being used or not being used.
#2 Collect user feedback
During the session, they shared an example of how they communicated course availability using Impact. If students logged into their Canvas account and could not yet access a course and its related materials and resources, they would receive an Impact message with more information about when it would be ready for them to access. Users could then react to the message with a thumbs up or a thumbs down, indicating whether or not a message was helpful, with the ability to leave a comment with further questions or feedback. This type of insight in context was helpful for students and alleviated service desk calls.
#3 Communicate about the use of other technology tools
The Chapman team also shared an example of an Impact campaign they ran to inform users of the institution's decision to sunset an existing technology tool and transition to another. Each time an important email or newsletter about this topic would be sent out to the Chapman community, they would follow up that communication with an Impact systray message on the Canvas dashboard for an additional touchpoint. That way, students would be reminded of important changes to the system in addition to the emails sent to ensure everyone remained on the same page.
Measuring Your Educational Technology Impact
Insightful dashboards and dynamic reporting within Impact provide a holistic view of how well students and faculty engage with available edtech tools. Learn more about Impact here.
To learn more about how Chapman University addressed communication challenges with Impact, watch the full session.
Related Content
navigatinggenerativeai.png