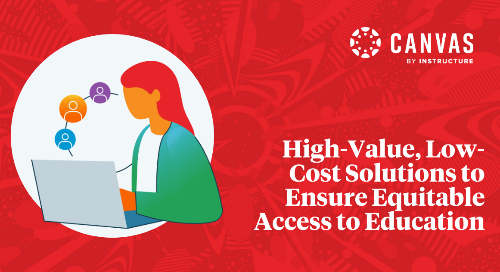 High-Value, Low-Cost Solutions for Equitable Education
At Instructure, enhancing the teaching and learning experience is at the heart of everything we do. With our commitments to amplify teaching, elevate learning, and intensify impact, we try to extend our efforts beyond the many organizational endeavors that Instructure undertakes to give back to our teaching community. Initiatives like our Substitute Teacher Volunteerism and Most Valuable Educator Program bolster our impact through easily accessible ways to leverage our products, providing educators with the tools and infrastructure they need to deliver learning opportunities to their students.
Through various channels, Instructure provides options for students, teachers, and institutions alike to access our innovative and time-saving tools. These various product spaces fit different pedagogical needs and give teachers, students, and organizations the opportunity to connect with other educators worldwide. These spaces also allow for access to world-renowned institutions and the ability to promote your engaging curriculum to a wider audience. This article showcases how Instructure uniquely supports these opportunities at little or no cost.
Canvas Free-for-Teacher
Canvas Free-for-Teacher gives educators and learners alike access to many of the unique and innovative course-creation tools in our flagship learning management system, Canvas LMS. As indicated by its name, Free-for-Teacher can be used by educators at no cost. Among its many features, educators can leverage pre-built content through Canvas Commons, our learning object repository, build multiple courses across multiple subjects, as well as plug in their favorite third-party tools. Educators and learners around the globe have utilized this space to great effect, and we encourage unfamiliar users to check out Free-for-Teacher as an opportunity to get to know Canvas: https://www.instructure.com/canvas/try-canvas
For those interested in an enhanced assessment experience, Instructure also provides a free version of its Assessment Management System, Mastery by Instructure. Find out more here: https://www.masteryconnect.com/pricing.html
Canvas Network
The Canvas Network grants anyone around the world access to open online courses for personal and professional development through one of the largest MOOC platforms. Canvas Network by Instructure provides academic institutions with the flexibility to offer and deliver courses over the internet to a much broader audience than just their employees or on-campus students. K–12, Higher Education, or Professional Organizations already using Canvas can easily move courses onto Canvas Network, extending their reach and enhancing their brand. For more information, please visit: https://www.canvas.net/
Canvas Open Source
For our more technical and independent Canvas users, the Canvas Learning Management System is available as open-source, meaning the Canvas code is free, public, and completely open at all times. We have many educators who have leveraged our open-source code to fit complex institutional needs. Through our ongoing commitment to this project, Instructure updates the Canvas code regularly, and the code is maintained on Github: https://github.com/instructure/canvas-lms/wiki
Canvas For Non-Profits
Instructure is proud to introduce a new initiative in which non-profit organizations can submit an application for a reduced cost instance of Canvas LMS. We want to provide those who are allocating invaluable time and resources to bettering our communities with the same feature set and abilities as paid Canvas instances. We strongly believe that equipping these organizations with the tools they need to succeed can make us all better citizens and advocates for change. We will update this document when the application portal is live.

Related Content
The Power of Formative Assessment 7 Ways It Can Benefit Learners.png

3 Ways to Gamify Your Classroom with an LMS.png