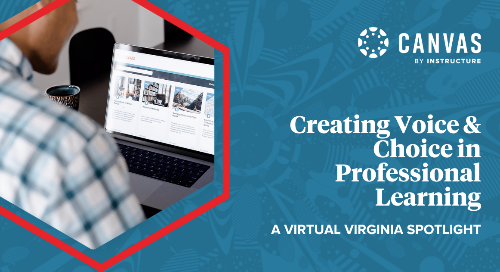 Providing students with an engaging learning experience is a primary focus for many teachers. And rightfully so. Innovative pedagogy encourages teachers to empower students with personalized, meaningful learning opportunities. So when it comes to professional learning, shouldn't teachers also be the recipients of relevant and meaningful learning opportunities that help expand their knowledge base and improve their practice?
Understanding that supporting educators is critical to having a greater impact on student learning and outcomes, Virtual Virginia (VVA), which leads the statewide Canvas LMS initiative in the Commonwealth, offers an extensive program of fully online professional learning opportunities for all Virginia public school educators—at no cost. And because personalized learning is as effective for teachers as it is for students, educators across the Commonwealth are given the choice of what, how, and when they learn.
An Innovative Professional Learning Model
Teachers need accessible PD options that not only help them grow in their craft but also fit their busy schedules. From webinars and courses to certifications and workshops, the professional learning opportunities provided by VVA empower educators to explore their interests and learn about new instructional practices with the flexibility to do so at their own pace. Some of the highlights of Virtual Virginia's professional learning program include the following:
Partnering with the Experts. In "What Is Computer Science?", a new self-paced course from VVA and CodeVA, public school educators can learn the fundamentals of computer science, the Virginia Standards of Learning (SOLs) for computer science, and how to teach computational thinking.
Producing unique learning opportunities. Virtual Virginia offers programming tailored to specific audiences, like a course designed specifically for economics teachers or a series of courses for high school athletic coaches, including the first self-paced course, "Coaching Life Skills Through Sport."
Providing robust systems of support. VVA has gone all in to ensure educators throughout the Commonwealth are supported when it comes to online and blended learning and all things Canvas LMS. The Statewide LMS Success program provides structured, role-specific pathways to learn about and master Canvas LMS. There are learning tracks for instructors, leaders, LMS administrators, and support staff, with both core learning tasks and additional learning tasks to choose from.
Professional Learning. Powered by Canvas
Because educators across the Commonwealth are already using Canvas LMS for online and blending learning with their students, it made sense for Virtual Virginia to use this same familiar environment for their professional learning offerings. As such, all courses are facilitated through Canvas LMS. VVA also relies on Canvas Catalog as their course catalog and registration system, and Canvas Credentials as their badging solution, making it easy for educators to enroll, participate in, and demonstrate progress in professional learning that's relevant to them.
"Effective professional learning should provide consistent experiences that help educators forge engaging, meaningful connections with learners," says Steven Sproles, VVA's professional learning coordinator. "Using Canvas LMS and Catalog has helped us do exactly that while modeling the use and importance of technology as a learning tool."
Visit the Virtual Virginia website to learn more about the professional learning opportunities available to Virginia educators.