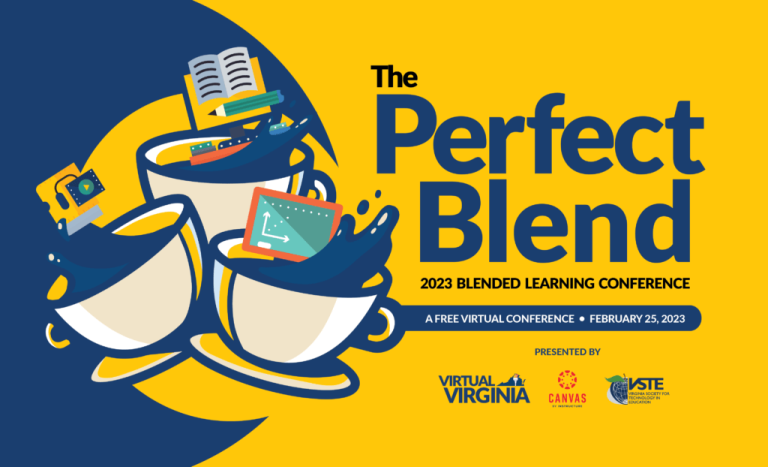 2023-conference-design-1024x622.png
Virtual Virginia, VSTE, and our team here at Instructure are excited to host a free, virtual blended learning conference, the Perfect Blend, on February 25th, 2023, from 10 am - 3 pm EST.
Extending the Invitation to Educators Nationwide
In May 2021, Virtual Virginia (VVA) launched this blended learning conference to showcase the remarkable work educators had done to meet the needs of their students during the pandemic. They wanted to share their successes with other educators around Virginia.
This year, educators nationwide are invited to attend. Why? Because educators across the country continue to evolve their blended learning strategies, and VVA wants to enable everyone to learn together.
"Launching the blended learning conference was a huge challenge, but our first two years have been resounding successes. We knew we would highlight some of the outstanding things educators were doing across the state, but we did not anticipate how much fun we would all have and the networking opportunities that came with it. That's why we're so excited to expand the conference beyond Virginia this year and bring it to educators nationwide!" Steven Sproles, Professional Learning Coordinator at Virtual Virginia, said.
Top-of-Mind Topics at this Year's Virtual Conference
Blended learning is here to stay. This conference is accessible and empowers teachers and leaders to improve their instruction and create blended learning experiences that engage students – no matter where they are.
The Perfect Blend will cover many topics to support today's blended classroom. Educator-led sessions will feature general strategies, brain-based learning, critical thinking skills, Canvas for Elementary, personalized and differentiated learning, student engagement strategies, enabling student voice and choice, UDL, and much more.
Here are some of the must-watch sessions:
Understanding how to navigate a course in Canvas LMS is essential for student success. Sarah Finch will use this session to show educators how to create digital "buttons" in Canva and how to use the "buttons" on their course homepage to help students of any age navigate Canvas.
Blending and Caffeinating Family and Community Engagement by Chris Jones - Executive Director, Virginia ASCD
An engaged community is a healthy community. In this session, participants will explore practical strategies for blended partnerships and tips for collaborating with families and communities. Using a combination of in-person, virtual asynchronous and synchronous, and two-way communication, participants will develop an implementation plan and adopt key takeaway strategies to caffeinate family and community engagement immediately!
Scaffolding Blended Learning by Stephanie Howell - Instructional Technology Coach, Pickering Local School District, Ohio
Effectively implementing blended learning requires managing several moving pieces. Learn and explore how to set up your classroom so that students can learn independently and collaboratively, all while taking ownership of their learning.
Discover the Perfect Blend
Managing a blended classroom comes with challenges. The Perfect Blend is here to lighten the load for educators in a fun and engaging event. If you'd like to join us this year, all you need to do is sign up. Register here by February 22nd.

We can't wait to see you there. And if you have more questions, contact Steven Sproles at steven.sproles@virtualva.org.
Related Content
MeasuringWhatMattersSOA.png

StrikingtheRightBalance.png

WhatisAndragogyThe AdultLearningTheory.jpg