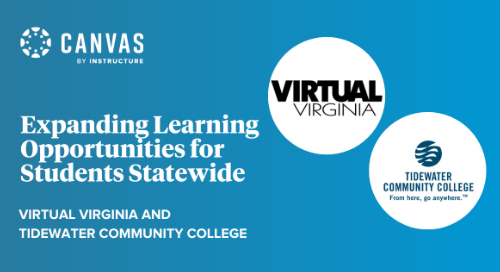 Enhancing teaching and learning is at the heart of everything we do at Instructure, and it's important when our partners use our technologies to support innovative initiatives. We're excited to highlight a new program led by our partner, Virtual Virginia (VVA), which supports the statewide Canvas LMS initiative in the Commonwealth. With a commitment to providing high-quality learning experiences, VVA offers flexible online learning for students and educators statewide.
For the 2022-23 school year, Virtual Virginia has partnered with Tidewater Community College (TCC) to launch the Commonwealth Dual Enrollment Pathways Program, a pilot program for rising eleventh- and twelfth-grade students statewide, aimed at expanding learning opportunities in areas like cybersecurity.
Introducing the World of Cybersecurity to Students
With so much of our business and personal lives online, cybersecurity is one of the fastest growing fields globally, and IT skills are in high demand. A recent State of the Cybersecurity Workforce study reported that 43% of organizations saw an increase in attacks in the last year. And with headlines related to cybercrimes like data breaches and hacks part of our regular news cycle, there's more interest in the field than ever before.
The Career Studies Certificate in Cybersecurity & Network Foundations track of the Commonwealth Dual Enrollment Pathways Program introduces students to the concepts and skills needed to detect, prevent and defend against threats made to vital information and information systems. Students will explore topics such as operating systems, computer hardware, networking concepts, and programming. By completing the program, students gain a work-ready cybersecurity certification and prepare for industry-recognized certifications including CompTIA Network+, CompTIA Security+, and CompTIA A+.
"Our dual enrollment program will help students anywhere in the Commonwealth prepare for cybersecurity careers right after graduation," said Brian Mott, executive director of Virtual Virginia. "Students will have access to online collegiate course content and high-quality online instruction, all within Canvas LMS."
More Opportunities for Dual Enrollment
Many high school students consider dual enrollment programs for several reasons, including transferable college credits, exposure to the rigor and expectations of collegiate courses, the ability to take classes not offered at their high school, and more. The Commonwealth Dual Enrollment Pathways Program was launched to support the need for additional dual enrollment opportunities and includes two dual enrollment tracks: one for the Uniform Certificate of General Studies and one for the Virginia Passport. The Uniform Certificate of General Studies is designed for students in grade eleven who plan to transfer to a four-year public college or university in Virginia and is completed over a two-year period. The Virginia Passport is a collection of transferable courses for students in grade twelve and is completed in one year.
Powered by Canvas LMS
The Commonwealth Dual Enrollment Pathways Program provides enrolled students access to high-quality teachers, instruction, and resources while working towards dual enrollment credit or a work-ready cybersecurity certification. To ensure every student has an accessible, personalized learning experience led by an engaged and supported educator, VVA delivers all courses through Canvas LMS. With Canvas:
Teachers can deliver instruction and hold regular sessions with students in a 1:1 or small group setting.
Students can complete their coursework online in synchronous and asynchronous settings.
Students, guardians, teachers, and other support staff can stay connected, engaged, and communicating.
Visit the Virtual Virginia website to learn more about the Commonwealth Dual Enrollment Pathways Program.
Related Content
navigatinggenerativeai.png

MeasuringWhatMattersSOA.png

acceleratingthelearningprocesswithaitoolsforteachers.jpg