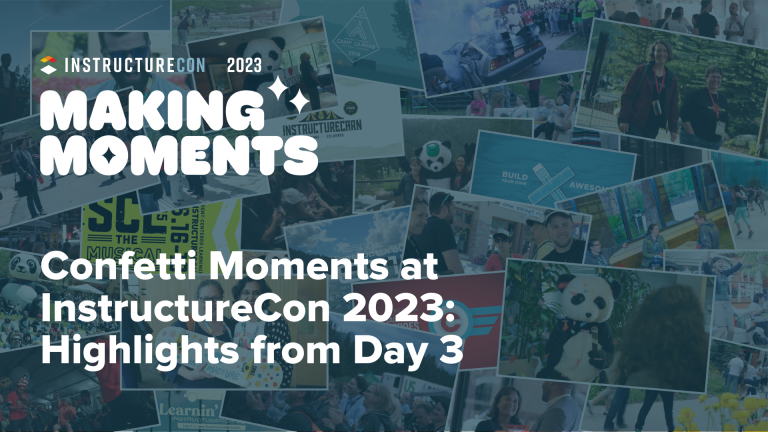 Copy of ICon Article Thumbnails (1920 × 1080 px) (2).png
All good things must come to an end, and InstructureCon 2023 is no exception. We were so happy to reconnect in person with the brightest in education and edtech, and we shared so many moments that we don't want to forget.
Day three of InstructureCon did not disappoint, with Deepak Chopra invigorating the room with a closing keynote about unlocking your potential in the classroom and beyond.
Closing keynote of #INSTCon23! It's been such a great time. Let's do this! 🐼🎉 #makingmoments #canvaslms #canvasfam @Instructure @Canvas_by_Inst pic.twitter.com/Xn6F2pJ8DP

— Jenny Blake (@JennyBlakeVBCPS) July 28, 2023
What an amazing lesson as we head back to school from @DeepakChopra - "children need these 4 things for happiness
Attention -deep listening
Affection -deep love and caring
Appreciation -the uniqueness of child
Acceptance -don't try to change that child" #LPSelma #instcon23 pic.twitter.com/BwFzKdJ8v8

— Jenna Eastham (@Mrs_Eastham_LPS) July 28, 2023
This era of education should bring out the uniqueness of each student to the max and cultivating their creativity, wellness, and joy @DeepakChopra @Instructure #INSTCon23 #MakingMoments

— Philip Jarosz (@InsightPhilED) July 28, 2023
All throughout the day, moments were made. From the breakout sessions to the closing remarks, attendees gained invaluable insights and perspectives that can help shape the future of teaching and learning.
"We need to be proactive with accessibility and not wait for a student to come forward to let us know about an accommodation they may need."

YESSS! So excited to learn from @Sasa_Stojic_ID in-person at #INSTCon23! #FanGirling

— Ashley Jackson Ivey (@TechCoachAshley) July 28, 2023
"Digital content stations should be embedded in the learning" @Cbgardner16 #INSTCon23

— Mrs. Oguntuga ✨ (@MrsOguntuga) July 28, 2023
Tawny Hoskin from @atomicjolt showing off new AI features in Atomic Assessments that will streamline assessment creation. #INSTCon23 pic.twitter.com/5FinRzYcR1

— Justin Ball (@jbasdf) July 28, 2023
Love this quote discussed the morning about AI at #instcon23. AI is here so how as educators can we take it & use it for the positive, & teach students to use it to learn & better our world! Use it for purpose and intention just like you would with any other tool! pic.twitter.com/OBvrzc2Y1I

— Jenna Eastham (@Mrs_Eastham_LPS) July 28, 2023
And while InstructureCon 2023 may be over, the moments made over the past three days will stay with us forever. We hope you return home with inspiration and motivation, driven to continue your learning journey and incorporate these moments into your classrooms.
Can I get away with a pun of "The Moment is gone!" as #INSTCon23 wraps up? It was a great three days of inspiration... even though inspiration can be exhausting. Next step: rest. Then, get to putting these ideas into practice! pic.twitter.com/z0JDRAmRmK

— Eric M. Larson (@emlarson) July 28, 2023
#Momentsatinstcon23 has been phenomenal and I can't wait to continue learning and growing with @sciwilliam1 @edtechqueen and the @SBISDEdTech

🐼 #instcon23 #MakingMoments #canvasfam @KCTesterman pic.twitter.com/QUA73wSwe9

— Mrs. Oguntuga ✨ (@MrsOguntuga) July 28, 2023
What an amazing time of
Learning and innovation. First time but not the last. #MomentsAtINSTCon23 #INSTCON23 pic.twitter.com/8QglkISU0j

— Lasandra Conliffe (@LasandraConlif1) July 28, 2023
InstructureCon 2023 has been a blast! #instcon23 #makingmoments #canvasfam pic.twitter.com/dj8sC4ZmdW

— Mrs. Finch (@mrsfinchhistory) July 28, 2023
Now that #INSTCon23 has officially wrapped, we are thrilled to announce that next year's conference will be in Las Vegas, NV! Thank you to everyone who attended, we had the most wonderful time with you! ✨🎉 pic.twitter.com/8ZNEGQr0dN

— Instructure (@Instructure) July 28, 2023
It's not a goodbye, but a "see you later." To everyone who attended, thank you! We are honored to be a small part of your journey. We hope to see you all again at InstructureCon 2024 in Las Vegas!
To learn more about #InstCON23 moments-in-the-making, visit our event website or the InstructureCon Community hub.
Related Content
sohe_6_trends_thumbnail.png