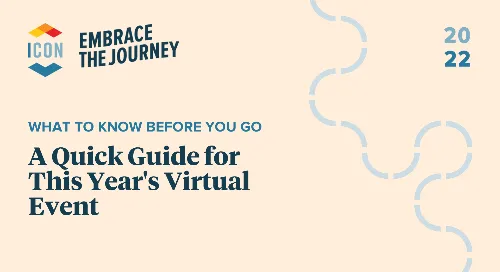 itemeditorimage_62aa4d0c90d8c.png
What to Know Before You Go: InstructureCon '22
It's that time of year again! InstructureCon 2022 is just around the corner which means that in a matter of weeks, we'll be bringing together the brightest minds in education for more essential conversations, inspiring presentations, and meaningful connections. We're going virtual again this year to keep everyone safe, but we look forward to seeing you in person in 2023!
Over the past two years, we've learned a lot about virtual events. So, we've been keeping notes on what did and didn't work and listened to the feedback we've received from our attendees to put together a fun, informative, and FREE event that you won't want to miss this summer.
This year every global region will have their own dedicated date and format, but will all share the same theme: Embrace the Journey.
Here's everything you need to know before you go to this year's event:
Hear from the Best of the Best: This Year's Keynote Speakers
Education has transformed over the last year. This comes as no surprise to anyone. To inspire educators navigating this transformation moving forward, we've brought in the best of the best to share their wisdom. We have leaders both from the larger EdTech community and Instructure on the lineup this year–each having made their mark on education in tangible ways and eager to guide us in this journey.
Two of our keynote speakers on the lineup include:

Simone Giertz - is our opening keynote speaker this year. She is always building new things—and often watching them fail. On purpose. She's an inventor, a maker, a YouTube sensation and a champion of creativity. She's also made it through a brain tumor. Twice. Her TED talk, "Why you should make useless things," has encouraged kids and adults worldwide to ask creative questions and to be curious! Simone will share her unique perspective on the importance of STEM education and how educators and students can ask and answer key questions through the process of creating.
Adam Grant - is our other keynote speaker and one of the most profound public speakers of our time, as well as a renowned author and educator. He deeply understands the emotional journey educators are on and speaks powerfully to the triumphs and tragedies of this path. He is also an organizational psychologist, bestselling author and professor at Wharton who explores the science of motivation, generosity, original thinking, and rethinking. He is recognized as one of the world's 10 most influential management thinkers, and Fortune's 40 under 40. Adam will be bringing us all on a journey of self discovery, connection, and hope as he relates his personal insights and personal experience of embracing the educators' path.
We are also excited to hear from Instructure's very own Steve Daly (Chief Executive Officer), Mitch Benson (Chief Strategy Officer) and Melissa Loble (Chief Customer Experience Officer), who will each be sharing how teachers and administrators are innovating with our products to develop a variety of inventive classroom solutions as well as tackling the shifting way that students learn. Discover in these sessions how and why our community and camaraderie matter in product development and experience how Instructure remains customer-centric at our core.
Mitch Benson will discuss scaling the mountaintops of new technology and our ongoing commitment to openness.
Melissa Loble will take us on the bumpy, beautiful ride of being an educator over the past two years and explore how teachers have persevered.
Steve Daly will walk us through embracing the journey of change together and how to let collaboration and community serve as our guide as we navigate new challenges.

Additionally, Jared Stein (VP of Higher Education Strategy) and Trenton Goble (VP of K-12 Strategy) will share their visions for EdTech and how we're continuing to build the products to support it in both Higher Education and K-12.
Pro-tip: Just like previous years, be sure to share your aha moments, takeaways, and memorable quotes from the sessions with us on social by tagging your post with #InstCon!
Meet the (Growing) Instructure Learning Platform
Every year, the Instructure Learning Platform grows to be more and more aligned to what education needs. Since last year, we've welcomed more products into our learning ecosystem and we can't wait for you to check them out!
This year you can once again network in real time with our experts who can show you the ins and outs of our platform and how they work together and also receive recommendations, demos, tips, and tricks tailored to your specific technology needs.
One of the best parts about InstructureCon is that we aren't the only ones running the show. We also have our partners, such as AWS (our Platinum partner this year), who are ready to meet you, committed to innovation, and eager to show how they integrate with the Instructure Learning Platform to provide the most interconnected learning experience possible.
If you'd like to connect with any of our partners, make sure you stop by the Expo Hall where you can network and chat with them in real-time.
All in all, we remain committed to openness and can't wait to continue creating a learning ecosystem that enables innovative teaching and learning with you.

Embrace Your Journey at InstructureCon 2022
Just like in years past, we understand that not everyone's experience at InstructureCon should be the same. That's why we're offering a library of on-demand breakout sessions segmented into tracks for both K-12 and Higher Education.
Pro tip: Login to the event portal with your ticket number that was emailed to you when you registered, browse the agenda before the event, choose the live events you'd like to watch in real time, then "heart" the on-demand sessions you want to come back to later. That way, you won't miss a beat on the big day!
And with that, we've covered the essentials.
If you haven't had the chance to register yet, here's the link where you can be sure to reserve your spot and see the dates for each region around the world. First up is North America who we'll be seeing on Thursday, July 14th
We can't wait to see you there! And if you think of more questions, we've got you covered.
Email us at instructurecon@instructure.com and we'll get back to you soon.
Related Content
InstructionalStrategiesStudyHall.png

Admin Analytics Blog Post Thumbnail.png