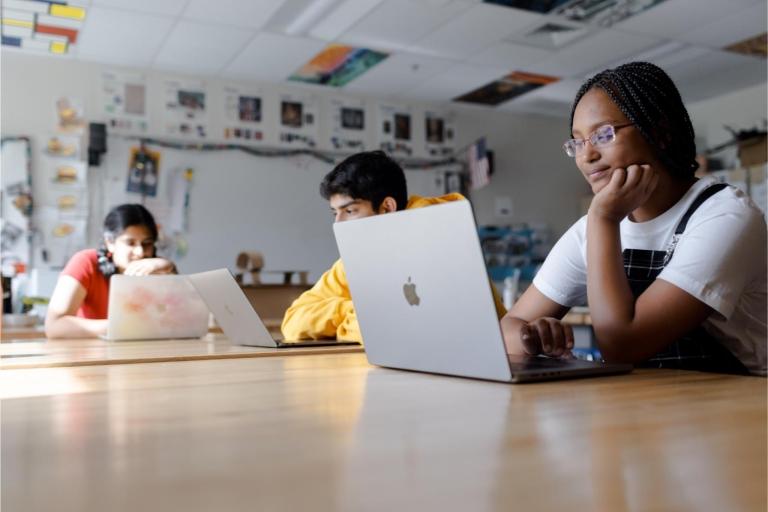 unlockingthefutureofeducationwithstudentcenteredlearning.jpg
Whether a student is an eighth grader on their journey to high school or a college junior working towards their career, each journey requires support. It's important to note that each student is unique, coming from different backgrounds and having personalized learning journeys. This is why schools and institutions are looking for approaches to best support their students on an individual level. 
A student-centered approach prioritizes the learner and assists them as they achieve their academic goals. In this article, we'll learn about student-centered learning, exploring its principles, benefits, and how technology can enhance it. 
What is Student-Centered Learning?
Student-centered learning builds student autonomy through tailored, flexible, and differentiated instruction. The approach supports student choice and gives learners the tools they need to succeed. In contrast to traditional learning models, learners choose their preferred path and are encouraged to become leaders throughout their learning journey. Here are some benefits of student-centered education:
Higher retention of information: A personalized and tailored learning experience helps students engage with their education. Students can better retain the information that aligns with their goals and captures their interests.
Enhanced interpersonal skills and teamwork: Students are encouraged to collaborate with learners with similar goals or peers taking the same course. Group assignments and discussions help students transfer knowledge – as they develop mastery of their desired competencies.
Increased student motivation and engagement: Educators understand the important role engagement and motivation plays in student achievement. By providing active and skills-based learning opportunities, students are motivated to learn and reach their academic goals.
Better preparation for the real world and future careers: Higher ed students want the best return on their educational investment. This is provided through learning experiences that set them up for success in their prospective careers. For K-12 students, student-centered education sets them up for their future through fostering independence and critical thinking skills.

The Four Core Principles of Student-Centered Learning
Four student-centered principles have emerged as schools and institutions look for opportunities to support their students. By incorporating these principles, students can receive a quality education that prepares them for the future. Take a look at the core principles and how they add value to the student's academic experience. 
Individualized learning experiences: To meet the needs of every student, instruction is tailored – fostering individualized learning experiences. Students can then engage with learning material that resonates with their goals.
Active learning: Avoid passive student engagement with interactive assignments and discussions. Students are encouraged to develop a sense of ownership in their learning, actively pursuing opportunities to advance their education.
Holistic development: The student's physical and psychological health is essential to academic success. Offering counseling and medical care services nurtures well-rounded students.
Skill development: With skills-based learning, students develop competencies at their own pace and according to their interests. 

What Does Student-Centered Learning Look Like?
Student-centered learning is transforming the way educators approach teaching and learning. By centering the students, educators are amplifying student success. This ensures the next generation of students is learning where it counts. At a glance, here is what student-centered instruction looks like in action:
In a student-centered environment, students are actively shaping their education. Educators facilitate this environment by giving students a choice in how and what they learn. As students share in course decisions, they develop autonomy and a sense of ownership. Students are then actively engaged as their academic confidence is fostered. Even the most ambitious of educational goals are supported as students explore and make discoveries in their learning. 
Small groups and individualized learning offer students the flexibility and convenience to navigate through tailored instruction. This approach maintains the student's identity while strengthening the academic community. Educators can collaborate with students and also facilitate peer interactions. As students exchange their learnings with one another, educators act as mentors, guiding students when needed. 
In short, a student-centered environment focuses on the student while supporting tailored and collaborative learning environments. These environments help students thrive and reach their potential. 
Student-Focused Technologies in Modern Classrooms
In this digital era, the learning management system has evolved to support the most effective modern learning approaches. Overall, an LMS is the dominant solution to enhancing student-centered learning. With the ability to organize, manage, and deliver tailored course content, educators can better assist students. Students are then empowered by technology-enhanced learning and personalized courses, increasing their academic performance. 
Canvas LMS drives innovation and user-friendly experiences from anywhere. This allows the student to work on their learning journey from the classroom or the comforts of their home. Here are some ways Canvas LMS enhances student-centered learning:
With Canvas LMS, educators can support every student. Learn more about Canvas LMS and how it benefits student-centered learning.
Prioritizing Students with Canvas
Want to implement student-centered learning at your school or institution? Learn more about the approach and how it's supported by Canvas in our student-centered ebook. 
Related Content
sohe_6_trends_thumbnail.png