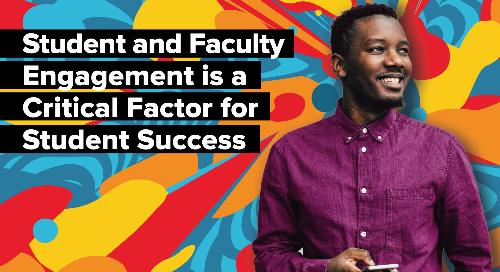 Student and Faculty Engagement is a Critical Factor for Student Success
Higher education institutions are working to evolve from the rapid, emergency-based pedagogical shifts during the beginnings of the pandemic in 2020 to a more sustainable teaching pedagogy in which technology continues to play a vital role in every classroom and virtual and hybrid learning experiences are a mainstay.

And the truth is, student success today requires widespread availability of technology resources, as well as engaging content and instruction from technology-proficient faculty.

Ultimately, however, these elements must be combined with robust faculty and student interaction—regardless of whether it occurs in person or through technology.

These findings were discovered as part of our 2021 global benchmark study, the State of Student Success and Engagement in Higher Education. Working with Hanover Research, we fielded a survey in 18 countries, asking 7,787 current students, administrators, and faculty from 2-year, 4-year, public, and private higher education institutions to define measurements of student success and identify factors for engagement.

Teaching Pedagogy: Embracing Purposeful Technology
Our survey revealed that both students and administrators feel student success is driven by academic factors such as:
The quality of faculty (91%)
Engaging content/instruction (90%)
Available technology (89%)
Hands-on instruction (89%)

Plus, all top four academic factors are significantly higher than they were in 2020.

With the year-over-year emphasis on quality of faculty, a new question in the 2021 survey covered instructor professional development.

As it turns out, institutions worldwide primarily provide educators with periodic workshops (53%) and technology training (52%), with North American faculty (60%) being most likely to have access to professional development opportunities for new technology training. Diversity, equity, and inclusion training was listed as the third most offered professional development resource at 47% globally.

RMIT University Increased Online Participation by 1,500% with Canvas during the Pandemic
When the pandemic initially hit, educators at RMIT University had to quickly pivot, respond with inclusion, and deploy new systems. Faculty quickly adapted to online learning when the travel ban prevented international students from traveling to campus.

To meet the needs of students and faculty during this transition, RMIT rapidly built online learning standards and guidelines, provided scaff­olding professional development, and looked to its existing learning technology and partners to support this response. The aim was to off­er flexible and engaging online courses and implement a rigorous QA process for a consistent teaching and learning experience in every instance.

Not only did online participation with Canvas increase by 1,500% during the pandemic, today, Tass Katsoulidis, Director, Learning & Teaching Solutions at RMIT University says that the institution uses Canvas as the "spine for all digital teaching and learning."

Technologically Savvy Pedagogy at the Forefront
As educators were forced to adapt their courses to online and hybrid formats in previous semesters, the importance of developing technologically savvy pedagogy rose to the forefront. Increasingly, professors are focusing on how to intentionally use technology to produce the best learning experience for their students. Studies frequently point to blended learning or a hybrid approach as offering the optimal mix of flexibility, connectivity, and support for learners.

Mobile apps, two-way video technology, and discussion forums can be used to create interactive learning experiences through in-person or virtual formats. Finding ways to utilize technology to emulate, replace, or enhance personal interactions is critical to institutional, student, and faculty success.

After all, while technology is a critical facilitator, it is teachers who empower students toward success. In short: The intentional use of technology will continue to propel pedagogy into the next generation.
Get More Insights
Discover more details in our 2021 State of Student Success and Engagement in Higher Education survey report. Download it now here.

Related Content
InstructionalStrategiesStudyHall.png

Admin Analytics Blog Post Thumbnail.png