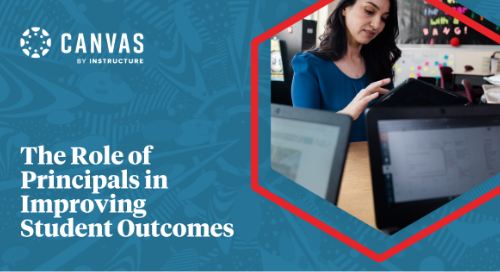 School principals play an essential role in their students' successes and are widely considered a primary driver of school improvement and student achievement. Research has highlighted that leadership is second only to classroom instruction as an influence on student learning, finding no cases of a school improving its student achievement record in the absence of talented leadership.
Principals wear many hats: supervisors, building managers, instructional leaders, mediators, and role models for teachers and students. Their function is complex with high expectations–and they're held accountable for meeting these expectations.
Principals can focus on three key areas to help improve student outcomes:
Setting a vision for the school
Effective principals are responsible for establishing a culture that encourages academic achievement and high expectations for learning, laying the foundation for the direction of the school and ensuring that teachers and students alike have everything they need to meet those expectations. Through their commitment to success in all students, principals can create a climate where students feel safe and valued and foster a sense of community among its members.
There are several steps principals must take when crafting their school's vision statement – but it's not a one-person job. Principals must consider all key stakeholders, including the school's administration, teachers, students, and their families. These steps can include:
Brainstorm your ideal school. Where do you see the school five or ten years from now, and how can the staff, students, and community benefit from the school?
Draft the first version of your vision statement. Collaborate with the school's stakeholders and use that conversation to guide the vision.
Review and revise. Rome wasn't built in a day - and your vision statement probably won't be finalized in one draft. Receiving feedback on your vision statement is just as important as drafting the initial version.
Making data-driven decisions for the school
Effective principals source and analyze data, ask questions, and use their findings to promote collaborative problem-solving. By assessing the school, teachers, and students, principals can pinpoint problems, understand their nature and causes, and then turn those insights into actionable items they can use to encourage change and improvement.
Data-driven decisions can make way for meaningful changes that lead to increased student outcomes. Principals can start making data-driven decisions in their schools by following these simple tips:
Use data types, like formative and predictive assessments, and tools to evaluate student performance.
Reference various data tools and sources, like writing samples, group projects, homework, test grades, and student surveys and reflections.
Watch out for unexpected trends and insights that the data may reveal.
Use the collected data to determine what happened in the past to shape change for the future.
Hiring and retaining quality teachers
Teachers are the primary pathway through which principals can improve student outcomes. Principals can encourage, empower, and mentor teachers to take ownership of their classroom vision and collaborate to align it with the vision they've set for the school. A strong principal can transform an organization into a place where teachers feel supported, safe, and inspired, helping them develop their expertise as educators.
Making your teachers feel supported and appreciated is as easy as 1-2-3 – no pizza parties required.
Encourage growth. See your teachers' potential, help them grow, and improve their skill sets. Create personalized pathways for each staff member to shine, benefiting the school and community.
Face challenges alongside them. Build relationships with your teachers, prioritize what is essential "now," and inspire confidence in the hard times.
Be all in. Believe in your mission and let your teachers know you are willing to roll up your sleeves and do the work necessary to advance the school.
Ultimately, it's clear that the role of school principals in improving student outcomes is multifaceted – but their commitment to helping students succeed remains consistent.
Related Content
navigatinggenerativeai.png