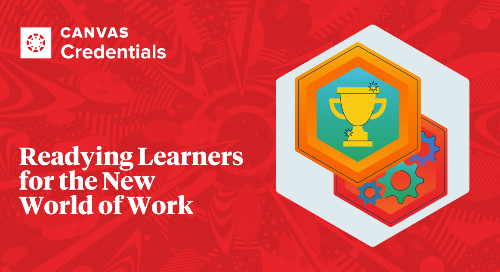 Higher education is having a moment of truth.
Denying or embracing the macrotrends driven by ever more sophisticated technologies and rapidly changing demands in the workforce is likely to separate which institutions thrive, survive or struggle in the decades ahead.
For many institutions of learning, Open Badges offer a way to leverage robust technologies that help organize complex pathways into more flexible, responsive and relevant micro-credentialing offerings that can be both embedded within and separate from degree programs.
The speed at which digital credentialing programs have evolved is fast, even by higher ed standards.
In a few short years, Open Badges have gone from being web-enabled credentials with a funny name to a core component of a system-wide, multi-faceted credentialing strategy.
In response, innovative universities and colleges have moved quickly to transform micro-credential skunkworks projects into cohesive digital credentialing strategies across campus and school systems.
Motivations for these programs are often multi-pronged. Improving student completion rates, increasing retention rates, increasing graduate employability, signaling 21st century skills and competencies, thinking at a systems level how to put students at the center – these are just a handful of motivations for schools working strategically to leverage digital credentials.
More pointedly, however, many colleges and universities are thinking strategically about their role in preparing learners for the new world of work.
Traditional students ages 18-22 need higher ed institutions to help them articulate what capabilities and skills they are gaining, whether it's collaboration, leadership, critical thinking and creativity, as well as the more technical skills required for their chosen careers. Lifelong learners need higher ed institutions to help guide them through curated, vetted pathways punctuated with micro-credentials that work flexibly and economically with their busy lives.
We have much to learn from trailblazing schools and their innovative leaders about how to shape a digital credentialing strategy that works across, and often beyond, the institution. As calls grow for stronger connections between universities and the world of employment, we are watching in real time how leading institutions are using digital credentials to create those bridges.
Skills-based hiring, upskilling, reskilling brings many questions for institutions.
What role will universities and colleges play in a decade forecast to be one of constant transformation not only for learners and workers, but also for employers and schools?
What does it mean for colleges and universities to be relevant in the quickly evolving learn-to-earn ecosystem?
How can schools adapt to the new world of work while staying true to their core mission?
How, exactly, are schools using digital credentials to help their learners prepare?
Above all, we want to know what lessons they can share, what worked and what they would do differently.
One thing is sure, shareable Open Badges are the key to unlocking career paths for students looking to showcase their unique skill sets beyond the traditional degree or certificate.
To learn about how Louisiana State University's Online & Continuing Education program partnered with Canvas Credentials to expand its online platform and let students take ownership of their education, click here.
Related Content
MeasuringWhatMattersSOA.png

StrikingtheRightBalance.png

WhatisAndragogyThe AdultLearningTheory.jpg