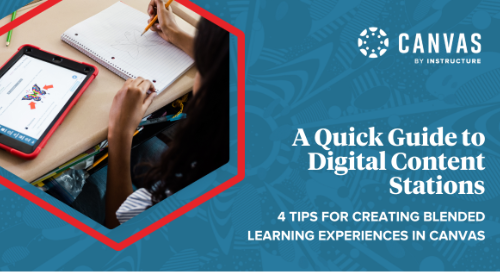 When it comes to discussing the creation of personalized, intentional, and effective learning experiences for students, we knew just who to call; Carrie Gardner and Lindsey Hallett, of course! In their 2022 InstructureCon session, they shared tips and best practices for keeping learning fun and engaging in the classroom by creating digital content stations in Canvas.
What is a digital content station?
A digital content station is a standard-aligned module with engaging tasks leveraging district-approved resources focused on creativity, collaboration, critical thinking, communication, choice, and collection of data.
Digital content stations create a purposeful mix of blended learning curriculum-aligned practices that support Core 4 initiatives. At their core, these stations are intentionally designed to help teachers collect student data and use it to drive their PLC conversations, plan their next steps in instruction, and target students for meaningful interventions.
Here are four tips for leveraging digital content stations to create personalized blended learning experiences in the classroom with Canvas:
#1 Start with a planning guide
Beginning the design process with a robust framework is useful to help teachers identify what content students need to consume and what tasks or assignments should follow to apply their learning. It's also a great way to visualize how you are mapping the learning journey to your priority standards. In addition to the framework Lindsey and Carrie shared in their session, they also linked a project management tool to ensure feedback could be provided along the way, allowing teams to work collaboratively.
#2 Organize learning goals, content, & tasks into Modules
Modules allow teachers to be explicit about what standards students are expected to learn, which content they should consume, and how they can apply their learning. Modules also provide a clear pathway for students to learn at their own pace. If your school uses other platforms to provide standards-aligned content to students such as EPIC, those can be integrated with Canvas for a seamless experience.
#3 Use Assignments to differentiate instruction
Instead of using a traditional Canvas page to house content within your Modules, use Assignments so you can assign items to specific students based on the time they spend in class or their ability to complete the task. This way, their to-do list within Canvas won't become flooded with tasks that may not apply to them, allowing teachers to be more intentional with instruction. For further differentiation, teachers could also duplicate an assignment, switch out the content and tasks, and assign it to different students.
#4 Launch all new initiatives with templates & professional development
Start by investing in your teachers and instructional coaches with timely and actionable PD to communicate why digital content stations are being rolled out and what resources will be available to them. Lindsey and Carrie recommend offering templates in Commons that can be imported directly into Canvas to ensure there is consistency across the board. As necessary, you can also provide optional courses in addition to the core PD for teachers who plan to use methods of differentiation in their courses.
Watch the full session for a closer look at how you can create digital content stations using tried-and-true Canvas resources and templates.
Related Content
navigatinggenerativeai.png