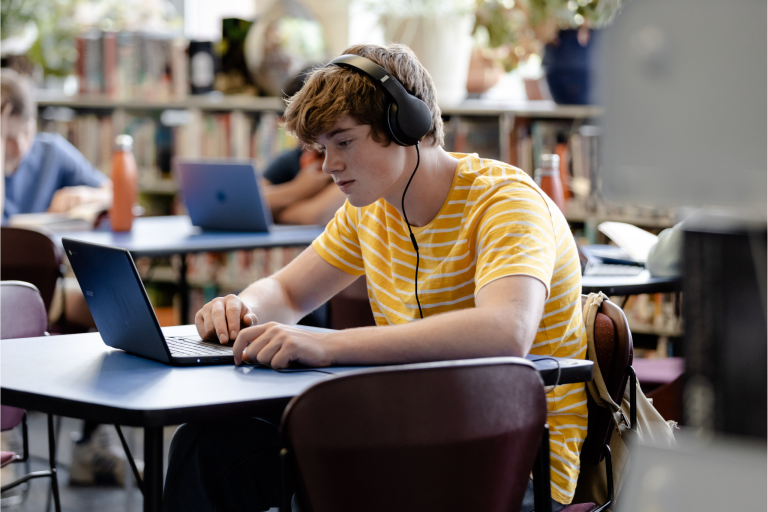 Online Learning Guide Distance Blended Hybrid Hyflex Mobile .png
With the evolution of technology and changing student needs, online learning has advanced, expanding into multiple modalities of instruction. Online learning functions to provide students with educational resources through modern edtech tools. With these tools, institutions and schools can now reach students from anywhere, at any time. This level of digital accessibility opens doors for learners, providing equitable learning opportunities worldwide. 
Advancements in educational technology have brought on various approaches to online learning, such as blended, remote, hybrid, hyflex, and mobile learning. These terms are often used so interchangeably that one might believe them to mean the same thing, and while they do have similarities, there are some important nuances. To bring clarity and context to these edu buzzwords, we have defined them in our own words.
Distance Learning
Also known as Remote Learning
An approach to education in which the student and educator engage in the learning process remotely. Distance or remote learning provides access to students who are geographically separated from their teachers. This model has proved resourceful for K12 families who opt for homeschooling and higher education students living in education deserts. This adaptation has evolved how learners access their education, allowing them to gain quality instruction, acquire learning materials, and interact with their academic programs remotely.
Benefits: Students can use a robust LMS to receive a quality learning experience as they would in person. With the right tools and thoughtful planning, educators can engage with students and provide equitable access to high-quality content and curriculum. For the educator, remote learning often provides the ability to personalize learning, expecting each student to complete assignments and master standards and subjects at different paces.
Students who engage in distance learning often do so for convenience, flexibility, or more control over their learning schedule. This is a valuable educational investment for higher education students as they factor in the cost of living in their geographical areas and transportation. K12 families also benefit from academic autonomy and flexibility in learning schedules.
Blended Learning 
An approach to education that combines interactive online learning materials with traditional place-based classroom instruction. 
Benefits: This learning model has been the most widely adopted, both in K12 and higher education, because it balances self-paced student learning with one-on-one instruction. Additionally, the ongoing use of integrated technology tools in the classroom provides a sense of consistency for students and teachers if, for any reason, learning should take place beyond the walls of a classroom. It also allows students the flexibility to demonstrate what they know in multiple ways.
See how the Stafford School District incorporated the blended learning approach.
Hybrid Learning 
An approach to education that combines all forms of learning to meet students' individual needs.
Often used as an umbrella term to include blended, remote, and distance learning, hybrid learning is centered on the expectation that learning will fluctuate between fully-online learning and in-person instruction as needed.
Benefits: This approach allows educators to provide in-person instruction and support online learning experiences while navigating the evolving changes to education. Because of its emphasis on student-centered learning and support, it is a widely adopted method in higher education as institutions strive to create sustainable and flexible learning experiences. 
Explore hybrid learning with the Broward County Public Schools.
Hyflex Learning 
An approach and ideology to provide students with multimodal learning experiences, giving students a choice in their learning. Hyflex combines hybrid learning with more flexibility as students choose between the three modalities:
Face-to-face:

Students attend class lectures in person

Synchronous Online Learning:

Students watch the live stream of lecture during instruction

Asynchronous Online Learning:

Student watches the recording of the lecture at their convenience
Benefits: Hyflex learning adds further versatility and flexibility to learning. This student-centric approach empowers the students, understanding that each student has specific priorities and preferences for learning. Still, despite the different learning modalities, all students receive the same instructional value.  
Mobile Learning
An approach to learning where students learn using their mobile devices (particularly smartphones and tablets) to provide learning opportunities that are flexible, accessible, and often personalized to the individual learner's needs.
Benefits: An LMS mobile application allows students to access their education on the go. Students can easily track their progress, submit assignments, and communicate with their professors and peers. With mobile learning, institutions can easily reach more students and further enhance the learning experience.  
See how mobile learning has benefited students and faculty at Palo Alto College.
An LMS for All Learning Modalities 
A learning management system functions to support all learning modalities. With Canvas LMS, students can engage with course content, collaborate with educators & peers, and monitor performance from virtually anywhere. This modern and diversified approach to learning has facilitated educational opportunities worldwide. 
Learn more about Canvas LMS and how it can support all learning modalities for K12 and Higher education.
Related Content
MeasuringWhatMattersSOA.png

StrikingtheRightBalance.png

WhatisAndragogyThe AdultLearningTheory.jpg