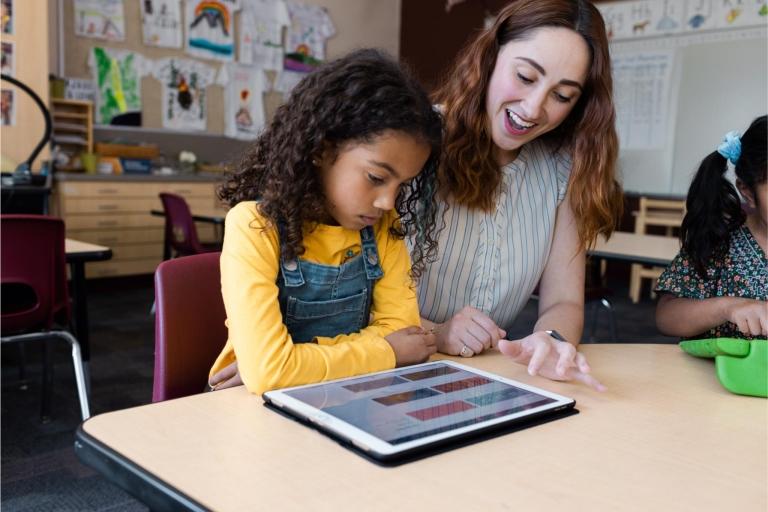 lmsltiintegrationdefinitionadvantagesandbestpractices.jpg
According to our latest EdTech Top 40 Report*, the average school district uses 2,591 digital tools to support their schools. If we take a deeper look, we find that students and educators use an average of 42 edtech tools in K-12 classrooms. In higher education, edtech tools are just as pervasive; see how UNC Charlotte uses digital tools. These tools are used to drive immersive learning experiences – fostering engagement and active learning.
With a robust learning management system (LMS), schools and institutions can integrate their favorite digital tools. This ensures educators and students can use the technologies they need anywhere, anytime.
In this article, we'll learn more about LMS integration, best practices, features, and its importance. *View for more Edtech Top 40 insights.

LMS integrations bridge the gap between platforms and digital tools – improving the overall learning experience. With an LMS that supports integration, educators and students are provided a streamlined academic experience. These integrations are made possible by plugin compatibility and API connections.
An LMS that supports LTI compatibility builds the foundation for an expansive learning ecosystem. Learning Tools Interoperability (LTI) ensures that edtech tools are accessible within the LMS. Educators and students can then experience variety, flexibility, and choice – the more tools, the more learning opportunities are available.
Why LMS Integration Matters
With so many edtech tools being used to support teaching and learning, schools and institutions want an LMS that best supports digital tool integrations. For example, the Google assignments integration in Canvas LMS allows teachers to simplify workflows, ensure authenticity, and offer meaningful feedback.  
User experience is a top priority for learning platforms and digital tools. When combined, they foster engagement, leading to improved learning outcomes. In addition, third-party app integrations broaden access to other learning materials and resources. Here is a list of LMS integration benefits and why they matter: 
Enhanced User Experience: LMS integration helps educators and students use the digital tools they need. This improves the overall user experience, as enhanced learning opportunities support users.
Data-Driven Decision Making: Educators can make informed academic decisions using data analytics. They can also use their institution's LMS and supporting digital tools to track progress and the effectiveness of their course design.
Streamlined Processes and Efficiency: By having everything in one place, management is simplified. Educators can rely on their LMS and integrated tools to make the instructional process easier.
Future-Readiness and Adaptability: Schools and institutions can keep updated with the latest technologies and have a platform that is prepared to support future innovations.
Features to Look for in Integrated LMS Platforms
In the modern academic environment, both educators and students benefit from a variety of edtech tools. Each tool is important as they are collected into a figurative toolbox. Therefore, an LMS needs to have features that can support these tools, fostering successful tool integrations. When choosing an integrated LMS, here are a few features to look for:
Single Sign-On: One of the first experiences users are met with is signing on to the platform. SSO simplifies this process, allowing users to gain access using a specific set of credentials. This improves security, efficiency, and the overall user experience.
API Capabilities: APIs are critical to an integrated LMS, enabling integration with external and third-party systems. With comprehensive API support, an LMS can facilitate seamless integrations with other software.
Interoperability Standards: It's important to ensure smooth communication and collaboration between the platform and its other tools. SCORM and xAPI interoperability standards help tools work better together – by integrating digital learning materials and tracking learning experiences.  
Customizable Integrations: Each learning institution is unique, having its own brand identity and goals. Customizable LMS integrations allow institutions to tailor functions and content to their needs.
LMS LTI Integration Best Practices
To ensure that schools and institutions can get the most out of their integrated LMS, it is best to follow best practices. Let's take a look at these practices to see how they can maximize learning outcomes. 
Choose the Right LMS: The selected LMS works as a foundation for digital learning opportunities. It's important to find an LMS that supports popular integration standards. This includes features such as SSO, APIs, and LTI to facilitate connections with other edtech tools. Learn more about choosing the best LMS for your school.
Maintain the Platform: Provide regular maintenance and system audits to support the platform's continued health. Audits assess LMS performance and track compliance with integration standards. This keeps the LMS optimized and upgraded to fit evolving growth. 
Prioritize User Training: Empower users with training and professional development – optimizing how they navigate the LMS. Educators and students can benefit from knowing what functions and tools they can utilize. With adequate preparation and tutorials, stakeholders will develop the confidence to explore everything their LMS has to offer. Learn how to empower educators in the technology-enhanced classroom.
Canvas and the Power of LMS Integration
An institution's LMS can best enhance the learning experience by supporting the digital tools that teachers and students rely on every day. With Canvas LMS, institutions can benefit from its robust integration capabilities. This is why Canvas is the preferred choice for learning environments seeking to engage learners with the latest and greatest tools in edtech. 
Instructure is committed to creating and integrating with tools that enrich teaching and learning for everyone. Learn more about Canvas partnerships and integrations.
Related Content
sohe_6_trends_thumbnail.png