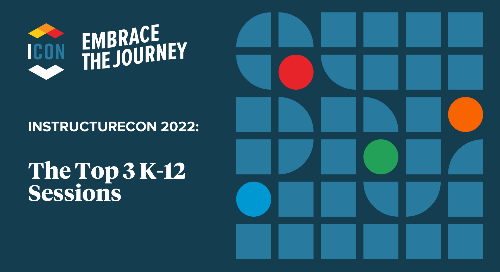 We're proud to have another InstructureCon in the books! This year, InstructureCon North America brought in over 10,000 registrants. It was great to learn with everyone (virtually) together. We're already counting the days until next year's in-person event!
Before moving on, let's take a look at some top sessions from this year's event:
Session 1: UDL is Your Superpower
Providing an accessible learning environment–especially online–is a top priority for educators everywhere. Hear from Santa Ana Unified School District's Andrea Earl and Christian Miraglia as they show us how to implement Universal Design Learning (UDL) principles into any Canvas LMS course.
In this session, they covered:
What is Universal Design Learning?

The Power of UDL + Canvas LMS

Strategies for Implementing Each UDL Principle in Canvas LMS (with examples!)

A Free Interactive Framework Outlining UDL
Session 2: Leveraging Tools In Canvas LMS: This is the LTI Way
Imagine a learning environment where students and teachers move seamlessly from one digital tool to the other. This dream can become a reality thanks to the robust LTI library that Canvas LMS offers. Join Beaverton District's Chris Giles and Christina Schultz and Blue Valley School District's Brad Moser as they teach the LTI way and how to transform digital learning with minimal effort for all learners with Canvas LMS and LTI.
In this session, they covered:
What an LTI (Learning Tool Interoperability) is

Why They Matter in Today's Digital Learning Environments

How to Install an LTI into Canvas LMS

Specific Examples of How to Use LTIs in the Classroom
Session 3: Assessment…to the Power of Mastery Connect
Hear from Ricardo Recinos and Teresa Magpayo Castro, tTechnology tTeachers at Hacienda La Puente USD, as they walk through how they've turned data into actionable insights for faculty in their district.
In this session, they covered:
How Mastery Connect allows educators to easily assess students and modify instructions based on real-time data.

The transformative individualized learning students across the district are experiencing as a result of this real-time data analysis.

How their team discovered the State of Assessment Research Report and used the trends to inspire their own Mastery Connect implementation.
Relive the Journey
If you missed the event, we've got you covered. Browse and watch (or rewatch) the sessions above and all the other sessions here.
That's all for now! We'll see you next year in Denver for InstructureCon 2023.
Related Content
MeasuringWhatMattersSOA.png

StrikingtheRightBalance.png

WhatisAndragogyThe AdultLearningTheory.jpg