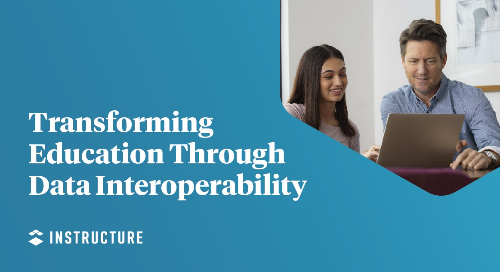 Teachers and administrators too often spend countless hours searching for the right information to help them plan and prioritize to improve student outcomes. Without an easy way to see a complete picture of every student, educators have tried to piece together siloed data from multiple disconnected sources to identify students' needs and challenges. Too often, this results in frustration and educators making decisions equipped only with old, incomplete or inaccurate data.
Fueled by the demand from education agencies for data interoperability and the work of the Ed-Fi Alliance and community, the education industry now has a way to turn data into information that educators can use to boost achievement—for all students.
Modern District Architecture: Standards-Based and Open
While many industries have long-supported data standards, the education sector has lagged behind. Ed-Fi has been working since 2012 to change that. Today, the Ed-Fi Data Standard is the most widely adopted open-source data standard developed by the educational community. It serves as the foundation for enabling interoperability among secure data systems and defines rules for how data should be formatted and exchanged between systems.
In addition to the data standard, Ed-Fi provides a suite of open-source technology, including a comprehensive education data model; a persistent ODS that centralizes data from district applications; and an API that enables bi-directional movement of data. What does that all mean for school districts? Ed-Fi securely connects educational systems so data can be shared in a seamless, actionable way, providing school districts the information they need to take informed actions to improve student outcomes.
A Community Embracing Interoperability
As the Ed-Fi community grew, it developed a partner program for vendors to demonstrate to education organizations that their products and offerings align with the Ed-Fi Data Standard and Technology Suite. Earning a partner certification or badge requires meeting several important criteria, including rigorous testing standards.
Instructure has been a longtime supporter of the Ed-Fi movement and a proud member of its partner program; our Academic Benchmarks solution has been certified since 2018, and MasteryConnect was the very first assessment management system to become Ed-Fi certified in 2019. Elevate K-12 Analytics, our integrated analytics offering, is powered by Ed-Fi technologies and was awarded the Managed ODS/API Platform Badge. Most recently, it was the first product to earn Ed-Fi's newest badge—the Starter Kit Implementation Partner Badge.
Ed-Fi Starter Kits: How They Can Help Your District
While connecting data sources across a district can yield a number of actionable results, Ed-Fi has put focus on supporting education organizations to help solve some of the biggest issues that are top of mind for all educators, including chronic absenteeism, equity and connecting multiple measures of assessment. In these critical areas, Ed-Fi has created a series of Starter Kits, intended to help guide education agencies as they embark on tackling these big challenges through the use of data.
How Elevate K-12 Analytics Supports the Ed-Fi Starter Kits
Elevate K-12 Analytics is a hosted and vendor managed analytic platform that combines data from disparate data sources and provides access to highly interactive visualizations of integrated data so educators can measure, manage, and improve student outcomes.
With Elevate, education leaders can ask and answer questions to understand what is affecting student success. Elevate K-12 Analytics makes it easy to monitor key metrics against district and state performance goals for achievement and equity so that educators can develop timely and targeted plans to ensure the best student outcomes.
In addition to being Edi-Fi Certified, Elevate K-12 Analytics is the first and only product to attain the Ed-Fi Starter Kit Implementation Partner badge, which applies to three distinct use cases: "Addressing Chronic Absenteeism," "Harnessing the Power of Assessment Data," and "Ensuring Equitable Access for Students."
Receiving the Starter Kit Implementation Badge demonstrates to the education community our continued commitment to openness and interoperability, and our mission to enable data integration and use for all education organizations.
Ready to learn more about Elevate K-12 Analytics?
Attending the Ed-Fi Summit this week? Don't miss our session "Supporting the Ed-Fi Starter Kit Use Cases" on Tuesday, November 16 at 10:00 AM Central Time.
Not able to attend? Check out our recent InstructureCon session "Getting data-driven insights in a tsunami of disjointed data."
Only have a few minutes? Read more about Elevate K-12 Analytics here.
Related Content
MeasuringWhatMattersSOA.png

StrikingtheRightBalance.png

WhatisAndragogyThe AdultLearningTheory.jpg