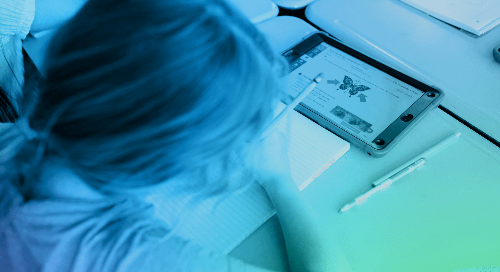 It's commonly understood that students learn in several different ways. The challenge is to ensure instruction is flexible enough to reach each student. Carol Ann Tomlinson, author, and American educator said it best:
"If we take on the responsibility of teaching, we accept the responsibility of making sure that every kid learns as well as they possibly can."
Though this philosophy may sound idealistic, there's a method that supports the everyday practice of accounting for individual student needs in instructional planning. It's called differentiated instruction. Take a quick look at some of the benefits.
Benefits of Differentiated Instruction include:
Promotes collaboration between students and their peers
Supports specific student needs and goals
Facilitates student personal learning journey
Increases academic responsibility & achievement
As Education Week put it, "How can a teacher keep a reading class of 25 on the same page when four students have dyslexia, three students are learning English as a second language, two others read three grade levels ahead, and the rest have widely disparate interests and degrees of enthusiasm about reading?" Differentiated instruction poses a solution to this common classroom scenario involving a large group of diverse learners.
Differentiated learning supports the belief that "equal" does not always mean "equitable".
The Four Elements of Differentiated Instruction
So how can teachers create a differentiated learning environment? One that supports each student individually, while still upholding the rigor and structure needed to meet common academic standards?
Here are the four main elements of differentiated instruction that teachers can implement based on the needs of their learners:
Content: The knowledge and skills students need to master
To draw upon the group reading example above, adjusting content is a great way to engage learners at different reading levels.
For example, teachers can:
Separate students into small groups based on reading or mastery level, then assign readings on a similar topic at a level that matches the needs of each group.
Pair students with reading buddies within these groups to support one and make the content more interactive.
Tailor spelling words or vocabulary lists to student readiness.
Process: The activities students engage in to master the content
Being flexible with format is key. If students are assigned to specific reading groups, offer a variety of ways students can engage with the content.
To give an idea of what this looks like, teachers can:
Making the content available online in a Learning Management System (LMS) for students who prefer reading or re-reading outside of the classroom.
Provide an audiobook option for auditory learners or English Language Learners.
Print materials for students that prefer annotating and taking notes.
Product: The method students use to demonstrate mastery
When it comes time for students to show you what they know about what they have been reading, provide a few different options such as a take-home assessment, written report, visual project, or presentation that will allow students to choose a format to show you what they know with confidence.
A balanced assessment approach with formative assessments like these will provide teachers with helpful insights about student understanding every step of the way, which can be used to further differentiate instruction.
Learning Environment: The space in which learning takes place
Although students have returned to the classroom, teachers may use hybrid instructional strategies to maintain consistency in learning and provide independent focus time for students outside of the classroom.
This is especially important for students who may need additional time and support beyond the in-class time provided on assigned projects. It's important that wherever learning takes place, the environment takes into consideration the needs of the students. Teachers can do this by arranging for students to work in small groups to ensure they can share ideas and collaborate with one another while also providing the space for students to work independently when needed.
When it Comes to Learning, One Size Does Not Fit All
The return to in-person learning has brought a renewed focus on meeting academic standards. This emphasis has caused many schools and districts to rethink their assessment approach with an understanding that all students learn in different ways at varying rates. This paradigm shift has moved educators away from standardization and the belief that every student needs to pass the same test, under the same circumstances, and with the same parameters. Rather, there's a stronger focus on ensuring that all students learn and master the same standards, even if they need to be taught in different ways.
The paradox is that in order for all students to achieve the same outcome, the need for differentiated instruction will become even more critical.
5 Key Principles of Differentiated Instruction
Maintain adaptable learning through tailored instruction, offering variety, and assessing progress. See how these five principles facilitate an adaptable and personalized learning environment.
1. Assess Prior Knowledge: Determine where students are in their learning journey by assessing what they already know. Then, build on existing knowledge to introduce students to specialized content and develop new skills.
2. Identify Student Interests & Learning Approach: Customizing the learning experience to support individual needs drives student understanding and success. Some students learn differently, requiring alternative teaching methods.
3. Ensure Equitable Experiences: Equity is achieved when students can learn at their own pace, and educators can support personalized learning. Each student deserves to feel motivated and experience academic growth.
4. Encourage Collaborative Learning: Planning effective activity pairings and groupings can benefit learners as they explore topics and share interests with peers. Group students with similar learning journeys for small group instruction, allowing learners to collaborate closely with teachers and peers with shared goals.
5. Evaluate Student Performance: Use assessments to evaluate student learning, provide feedback to improve understanding, and drive student learning outcomes.
Using Technology to Enhance Differentiation
Supporting differentiation with a learning management system (LMS) provides educators with organizational and planning tools to improve classroom instruction. Technology continues to aid the modern classroom, offering additional opportunities for educators to teach content and students to process learning material. The right LMS pairs consistency and customization, making differentiation easier to apply in the classroom.
Use digital learning tools to support differentiation:
Personalize the learning experience
Track student performance
Engage learners with interactive media
Provide equitable access to materials
Bridge communication gaps
Adapt Learning With Digital Tools
Adapt and tailor learning experiences using tools to deliver educational material, enhance instructional activities, and track student performance. Learn how to support K-12 education with the right LMS.
Related Content
navigatinggenerativeai.png

MeasuringWhatMattersSOA.png

acceleratingthelearningprocesswithaitoolsforteachers.jpg