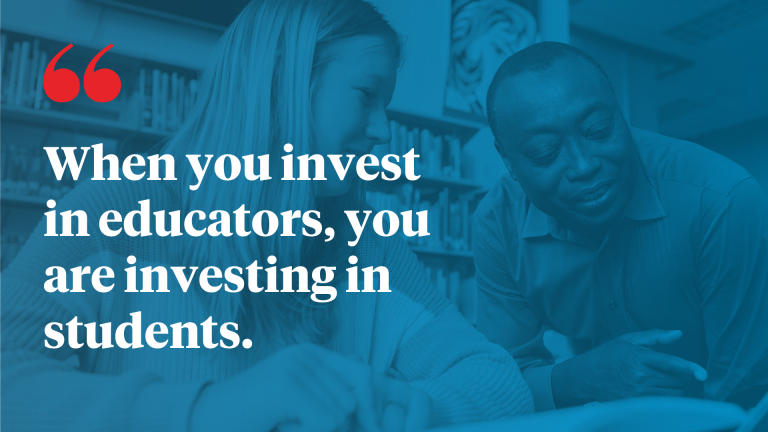 Empowering Teachers to Use Tech in the Classroom With High-Quality PD.png
While educators are focused on providing students with engaging learning experiences, they are on the frontlines of using technology and are often not privy to the same kind of personalization in their own professional learning opportunities. As a result, our research shows that only 43% of administrators and 23% of teachers report training opportunities that are consistent and effective. With this in mind, it's becoming increasingly clear that districts must focus on setting teachers up for success through synchronous and asynchronous professional development in order to see greater buy-in with new technology. 
"The emphasis on leveraging synchronous and asynchronous professional development opportunities provides great flexibility and honors the tremendous challenges that those on the frontlines face." 
Nancy Brightwell, Chief Academic Officer at Charlotte-Mecklenburg Schools
Here are four considerations for building an equitable PD program:
#1 Create a Designated Learning Hub For Everyone
District leaders need to allocate time and resources to ensure that their teachers have access to ongoing learning and growth tailored to their individual needs. This can be a strain on limited resources, but if a learning management system (LMS) is already in place for students, teachers can also use the same familiar environment for PD. It is essential that teachers have the opportunity to access high-quality curriculum and differentiated instruction that is relevant to their subject area and expertise. 
#2 Make Registration Fair & Flexible
Creating high-quality professional learning experiences starts by having a registration system that is easy to use. A modern course catalog system will simplify the process of getting professional learners from various education levels, such as school, district, and state, into their respective courses. When the registration system is seamlessly integrated with your LMS, it removes the administrative and technical burden and allows teachers to access the necessary content without hassle. It also provides greater transparency to administrators when registrants finish their courses and enables educators to partake in the courses that are most relevant to them when it's convenient for them.
#3 Encourage Growth With Skills-Based Credentials
When educators are awarded with credentials throughout their learning journeys, they feel empowered and supported to continue growing in their careers. Through skills-based credential systems, teachers are rewarded with shareable digital credentials as they complete PD opportunities. Districts and schools can also benefit from these credentials by using them to visualize, analyze, and expand their professional development programs. Additionally, educators are given pathways to their goals and the ability to demonstrate the competencies and accomplishments they have achieved throughout their careers in a standardized format.
#4 Offer Timely & Personalized Support
Schools should ensure they are providing custom professional learning content for their teachers that is tailored to their experience, grade level, and course subject. Just as technology skills vary across educators, districts must provide varied levels of support for all teachers. Support is most effective when it's targeted and actionable, reaching educators where they are learning with in-app messaging and targeted campaigns that provide the help they need without disruption. This support is essential across the board, whether it's for established educators incorporating a new feature into their lesson plans or onboarding new teachers as they are being introduced to their school's learning tools for the first time.
Quality Teaching is the #1 Factor in Student Achievement 
When you invest in educators, you are investing in students. Through a combination of high-quality content and accessible tools, the Instructure Learning Platform has everything you need to level up your professional development programs. Learn more about our PD tools and offerings, and explore how they are being used to elevate educators around the world.
Related Content
MeasuringWhatMattersSOA.png

StrikingtheRightBalance.png

WhatisAndragogyThe AdultLearningTheory.jpg