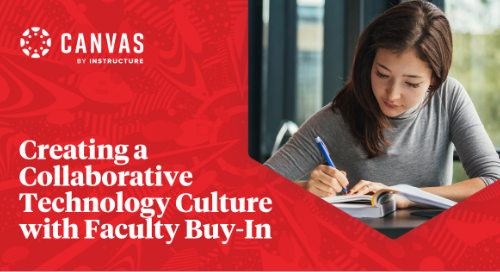 The more frequent use of technology in higher education has undoubtedly contributed to a digital transformation in colleges and institutions worldwide. To name a few highlights, technology has made learning more accessible to nontraditional learners, has urged institutions to narrow the digital divide, and has provided instructors and learners a centralized location for building connections beyond campus.
Though with these advantages, many still consider implementing or replacing existing technology tools to be disruptive to teaching and learning, making it difficult for administrators to gain faculty buy-in before embarking on a new initiative. For this reason, it's not uncommon for faculty to learn of a technology implementation after the process is already underway, making it challenging for them to provide input and feedback before selecting a tool.
Leaders at Boise State University took a different approach. In 2019, administrators surveyed the faculty with the question, "Would you support us exploring alternative learning management systems (LMS)?" This seemingly simple question received an overwhelmingly positive response, with most of the faculty expressing interest. In addition to supporting this initiative, many instructors used the survey's comment section to ask that a specific LMS be considered in the process: Canvas.
With the support of the faculty behind them, Boise State received approval from its leadership to start a pilot of Canvas LMS the following year. After witnessing tremendous effort from the entire team to lead this initiative and transition, they gathered three best practices for creating a collaborative culture and gaining faculty buy-in.
#1 Seek evidence for impactful change.
In many cases, the decision maker behind a new technology initiative is often not the everyday user the change will most impact. Because of this, surveying faculty and students is a significant first step for capturing feedback from those who would use the technology most. Leading with curiosity and amplifying users' voices ensures you have a clear picture of the current technology landscape and where improvement might make the most significant impact. Too often, tools in an education ecosystem are labeled as "good" or "bad," providing little evidence about what is working or not working for the education community it serves. Sharing data and other research to explain how a particular solution will bring value is an important step in receiving faculty buy-in.
#2 Identify & remove technology barriers.
Great educational technology is working best when it's rarely noticed, allowing teaching, learning, and connection to remain at the forefront. Before selecting a new tool, work with a focus group of early adopters to determine what barriers exist with the current tool(s). For Boise State, the concerns with their previous LMS stemmed from its lack of usability. When instructors and students are more concerned with reporting a bug, figuring out how to submit an assignment, or even learning how to navigate the tool itself, they may focus less on what matters most—teaching and learning.
"Removing the technological learning curve barriers arguably enables things like student-instructor interaction and student-centered teaching approaches."

– Leif Nelson, Director of Learning Technology Solutions at Boise State University
#3 Develop a clear launch timeline.
Technology implementation processes have many moving parts, and it can be challenging to get everyone on board without a clear execution plan. The Boise State team began their transition to Canvas with a pilot program to ensure all needs and expectations were addressed before migration. This change management approach was successful because faculty members were encouraged to ask questions and evaluate current processes leading up to the transition. It gave the team an understanding of how the chosen platform and its specialists would support them in a long-term partnership.
"Our pilot was treated just like a migration. So despite the fact that we weren't, at that point, a full-on customer of Canvas, we had migration services we went through. We went through the whole project checklist with a CSM and project manager… to ensure we were successful before we even transitioned."

– Nick Webster, Senior Instructional Technologist at BSU

Watch this video to learn how Boise State University enabled its faculty with an easy-to-use and intuitive LMS.
Related Content
MeasuringWhatMattersSOA.png

StrikingtheRightBalance.png

WhatisAndragogyThe AdultLearningTheory.jpg