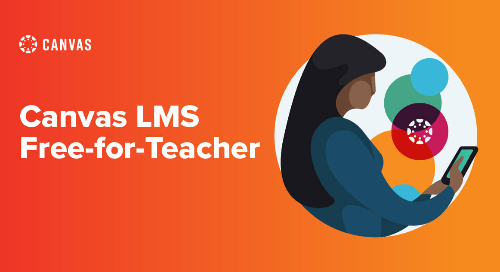 Canvas Free-for-Teacher was created in the early days of Instructure as a commitment to openness and equitable access to learning management tools for educators across the globe. Instructure saw it as a way to give back to the education community, where educators could deliver their courses leveraging many of the vital tools that Canvas provides at no cost.
Our Commitment to Canvas Educators
After over ten years of innovation and partnership with schools and institutions across the globe, we still believe in this commitment and hold our promise to all educators. The need to provide equitable access to education and support distance learning has proved essential to thousands of teachers and students. Regardless of the organization type, be it higher education, K-12, or non-profits and business organizations, the ability to collaborate remotely and engage in learning opportunities has proven to promote engagement and achievement across all learning modalities.
Standing with our commitment to educators no matter how and where they teach, Canvas Free-for-Teacher allows users to leverage the platform without automatic expiration, granting peace of mind of continued, ongoing access to the familiar platform to achieve those learning goals.
Continuing to Supply Academic Support
While many other LMS vendors have disabled registrations for instructors or have capped usage at 30 days per account, Free-for-Teacher continues to deliver an unlimited and free learning environment. In fact, there are two dedicated spaces for Higher Education and K-12 so that those teachers and students are better served with segment-specific resources.
While other LMS providers have scaled back or eliminated their free platforms, Instructure understands the importance of continuing to offer this accessible opportunity to educators everywhere.
Let's take a look at some of the statistics that show just how Free-for-Teacher has supported back-to-school efforts since September 2022 alone:
2.1 million courses created

Over 2.4 million students supported

76k teachers across the world

2 million Canvas Free-For-Teacher session hours
Instructure has continued to invest in Canvas Free-for-Teacher over time. Recently, supporting features such as in-app support and messaging through Impact were implemented into the free environment, elevating the already feature-rich free version of Canvas. Leverage the features and intuitive design that has made Canvas a fixture of the modern learning environment.
Canvas Free-for-Teacher Features:
Course Creation

Powerful Quizzing and Assignments

Canvas Mobile App

Individualized Learning

Analytics
Instructure is committed to providing access to Canvas Free-for-Teacher, with a continued focus on maximizing the effectiveness for teachers and students who use it every day.
Canvas Free-for-Teacher: Access to Canvas LMS For Anyone, Anywhere
Since the introduction of the Instructure Learning Platform, the company has committed to amplifying teaching, elevating learning, and intensifying impact through its unparalleled suite of solutions. Canvas Free-for-Teacher is a unique indicator of that commitment, giving educators everywhere the opportunity to elevate their teaching and learning environments with a free solution that can help foster the connection and collaboration that has proved so meaningful throughout recent years.
Our consistent back-to-school rushes indicate that hundreds of thousands of users need equitable access to an LMS on an ongoing basis. Through Canvas Free-for-Teacher, Instructure aims to provide that access in an unrivaled way, giving teachers and students everywhere an opportunity to collaborate, grow, and learn at no cost. Learn more here or sign up for your free account today.
Related Content
navigatinggenerativeai.png