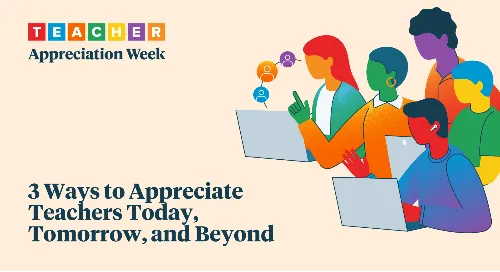 itemeditorimage_626d3895e83cf.png
As we kick off our favorite week of the year, Teacher Appreciation Week, we want to start with a big, heartfelt thank you.
To all the teachers out there: Thank you for being a champion to students and parents everywhere as you continue to drive learning forward through change and adversity.
Though our gratitude runs deep, teacher shortages have continued to rise. We know that a "thank you" is simply not enough to address the hardships teachers have faced over the last few years.
Addressing The Current Teaching Shortage
A new survey from the National Education Association revealed that more than half (55%) of teachers say they are more likely to leave or retire from education sooner than planned because of the pandemic, almost double the number saying the same in July 2020. When you combine this startling statistic with a key trend from our recent K-12 survey, stating that parents identified high-quality instruction as the leading factor impacting their child's success, we're reminded of what we've always known to be true—student success starts with teacher success. And the time to ensure student success through supporting our teachers is now.
Let's take a look at some practical strategies district and school leaders can implement.
How to Set Teachers Up for Long Term Success
#1 Invest in Professional Development to Foster Growth
Though a majority of schools have returned to in-person learning, teacher shortages have required educators to do more work without additional pay, leading to high-stress levels and burnout. Even if districts aren't able to hire additional staff or raise wages, investing in teacher success comes in many forms.
Teachers surveyed in a recent NEA study pointed to a need for additional time to plan and collaborate with colleagues, build meaningful relationships with students, and technology tools to streamline administrative work, as essential elements of their success.
The reality is that hybrid instruction and continued COVID-19 exposure has reduced in-person collaboration time, making it challenging for professional learning communities to thrive. To combat this, teachers need access to a professional learning platform that delivers engaging content with flexible options that fit their busy schedules. In addition to supporting their career goals, the right learning management platform will fuel teacher collaboration, making it easier to share resources and limit time spent on administrative work.
#2 Support From Leadership Goes a Long Way
Improving morale in schools starts with teachers feeling appreciated, respected, and heard by their leaders throughout the school year. Research shows that school leaders who support teachers' well-being by protecting their time and inviting their input see higher levels of satisfaction overall.
Though there is often a divide between teachers and administrators due to their separate work environments, professional learning communities play a vital role in bringing everyone together to evaluate initiatives and celebrate shared successes. PLCs are more important than ever as many schools have seen academic planning time shrink due to teacher shortages. A supportive and sustainable work environment for teachers begins with district leaders asking what tools and systems can be implemented to reduce the administrative burden so they can focus more on the work that matters most to them—improving student outcomes.
#3 Teacher Fulfillment Starts With Autonomy
We've said it before and we'll say it again: Teachers are the CEOs of their classrooms. They know their students best—what they need, how they learn, and what they know. For too long, high-stakes standardized assessments have been imposed on teachers, further disrupting classroom instruction time and failing to provide the data required to address individual learning needs.
We're seeing an important shift in education, one that is making way for more frequent, informal, and flexible assessments throughout the school year to support personalized learning plans. Teachers are now more involved in goal setting at the classroom level, making them feel more connected to the broader objectives of their schools and districts. This movement has made it clear that there is more than one way to measure student progress, and teachers should be trusted to adjust instruction plans as needed to improve teaching and learning.
Thank you, teachers.
All in all, investing in meaningful, growth-minded professional development, providing the support teachers need to feel valued, and allowing teachers to be autonomous in the classroom are three key considerations for ensuring their long term success.
Join us this week in thanking teachers everywhere for their commitment to education and student growth, and take a moment to check out and share our message of thanks.
Related Content
MeasuringWhatMattersSOA.png

StrikingtheRightBalance.png

WhatisAndragogyThe AdultLearningTheory.jpg