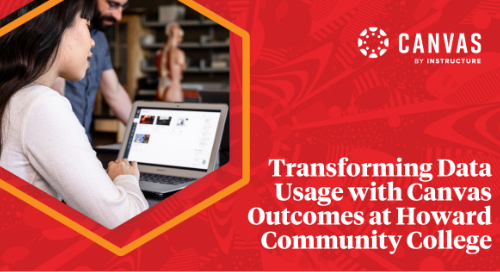 Educators at Howard Community College (HCC) found their manual data collection process time-consuming, frustrating, and often unreliable. Knowing that their traditional methods simply wouldn't provide them with the consistent and reliable methods they needed to scale, a general education subcommittee was formed to establish a new process.
With a unified standard as the end goal, data collection needed to be sustainable and perpetual—allowing faculty to follow the same process each semester for every student. Establishing the right process was only the first step, though. To ensure these practices were upheld, the HCC team also wanted to prioritize ongoing training for its faculty. Their rollout of this program took years, and they learned many lessons along the way. Megan Myers, Director of eLearning at HCC, shared her best tips for Canvas admins rethinking their data collection process with Canvas Outcomes at InstructureCon. Here are four takeaways from her session:
#1 Put all Outcomes for institutional assessment at the root level.
Whether general education outcomes or program outcomes, Myers emphasized the importance of admins being there to help faculty members pull data. Her team also helped their sub-account admins, who were also their chairs and coordinators, learn how to pull data into their sub-accounts. This way, they could monitor which of their courses had already successfully utilized their Canvas Outcomes and which of their courses may need a little additional support along the way. Teamwork!
#2 Develop a nomenclature your campus understands.
Admins and faculty at HCC developed a naming structure for all commonly used terms to ensure that everyone was speaking the same language in Canvas. After a short time, everyone instantly knew that "GE" stood for General Education, and "CO" meant Course Outcome. This system allowed admins to quickly identify which outcomes were in the reports by quickly glancing at the title, and faculty and staff could easily see which outcomes they were working on within each of their rubrics and courses.
#3 Take it one step at a time.
Myers reminded viewers a few times that this new approach did not happen overnight. During the rollout process, admins met with leaders in each area of focus and tailored a plan to work with that division. This process divided the implementation into two parts; first build, then launch. The build phase included partnering with leaders in each area to determine the best strategy to incorporate Canvas Outcomes into the work they were already doing. Gaining buy-in from each leader and ensuring they were equipped to train and monitor the rollout was an important part of working up to a successful launch. Once a unified process was established, faculty could build outcomes into their courses. Taking a staggered approach to this process allowed the team to learn from each stage and apply those lessons to the next phase.
#4 Consistency is the key to professional development.
Knowing that new faculty members would join the institution at different points in this process and turnover might occur over the years, the team needed to develop a core professional development (PD) cycle to ensure each new member could be brought up to speed quickly and current members could revisit training as needed. They also invested time into norming training, which was ongoing PD on how to consistently interpret and score student work using the rubric. Last but not least, they wanted to build a strong foundation for data literacy by ensuring every faculty member understood key data collection methods and how to "clean" their data and inspect it for issues.
For more tips on collecting, analyzing, and reflecting on institutional data, watch the full session here.
Related Content
sohe_6_trends_thumbnail.png