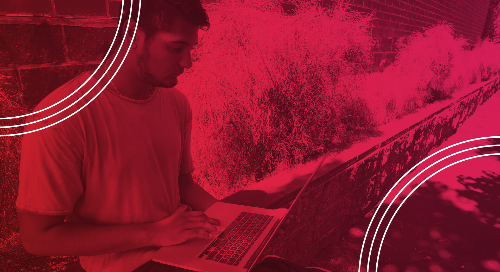 Student demographics have changed significantly in recent years. According to a 2016 Strayer University and U.S. News & World Report study, nearly 70% of students who have pursued a bachelor's degree qualify as nontraditional, meeting at least one of the following criteria:
Received a GED or equivalent
Were employed full-time (35 hours or more per week) while in school
Were employed part-time while pursuing their bachelor's degree
Were 25 or older when they finished their bachelor's degree
Were 25 or older when they were last enrolled in a bachelor's degree program
Often, these non-traditional students are pursuing post-secondary education to get a better job, either through changing their current career path or advancing in their already-chosen field. In other words, their goals are specifically skills-based. This departure from traditional four-year learning goals represents a shift in priorities that higher education institutions need to be prepared to meet.
As you might expect, these students can greatly benefit from additional support that helps them understand the educational milestones they've achieved and how each step contributes to their career goals.
As you evaluate your institution's strategy for student success in a skills-based world, here are three considerations to help you strengthen your approach:
Skills-Based Programs for a Skills-Based World
Simply put, changing enrollments require higher education institutions to evolve their course strategy to better meet the needs of today's job market.
While the pandemic has hit new enrollment hard, most students who were already enrolled in the spring of 2020 also enrolled in the fall, unless they graduated, according to the National Student Clearinghouse Research Center. Developing and promoting skills-based programs can help these students succeed as they enter the job market and provide opportunities and incentives for those who may have delayed enrollment due to the pandemic.
In particular, schools may want to consider how their programs can help close growing skills gaps with competency-based education. According to a recent Guide2Research report, these initiatives should "address the individual needs of students and lay greater emphasis on broadening their variety of skills" to prepare them for the impact of technology advancements in the workforce. Another great way to support this initiative is to partner with local businesses to enhance program offerings, internships, and job search alliances.
Certifiable Skills = Student Success
Grades and degrees continue to be important, but students having the ability to demonstrate mastery of skills to a potential employer is crucial. As you evolve your student success model, consider adding tools to help students maintain a clear vision of where they've been and where they're going on their learning journeys—up to graduation and beyond.
When students can view and achieve milestones through their learning pathways, they have a clearer vision of their achievements. Enabling instructors to easily incorporate co-curricular planning and assessment and build stackable program pathways is a great first step.
Additionally, digital badging programs, where credentials are awarded to students to certify competencies and achievements, give students, faculty, and potential employers the information needed to move forward.
Badging creates a scalable way to engage students by providing positive reinforcement for their achievements. As students accrue badges, they become more invested in the learning and earning badge process. Then, by making badges available for students to include in their e-portfolios, you'll give them a way to showcase their badges as they apply for jobs and enter the workforce.
Learning Activities Should Prepare Students for the "Real World"
Revamped coursework and programs that prepare students for the workforce also need to consider the way work gets done today. And the reality is that online and remote work is here to stay. Thus, creating online and blended coursework that is rigorous enough to hold up to "real-world" scenarios is necessary.
Evolving from the emergency instructional scenarios enacted during the pandemic to more sustainable online and blended coursework is a good first step. That includes taking a fresh look at the high-speed internet connectivity options your institution provides and the prevalence of mobile smartphones among the non-traditional student population to understand where the greatest need is.
Plus, providing faculty with best-practice-based teaching skills focusing on online and blended teaching scenarios can help move your student success initiatives forward. Being able to offer new models that support students' ability to engage, "regardless of the constraint of time, distance, or location." Ultimately, it's about meeting students where they are and how they prefer to learn.
Align Student & Institutional Success
More than 300 partner institutions use Canvas Pathways to manage and align competency-based assessment, digital badging, guided pathways, and career readiness programs.
Learn how digital badging can help students advance in their education and career path. Get more insights from Badging in Education: A Complete Guide for Educators.
Related Content
MeasuringWhatMattersSOA.png

StrikingtheRightBalance.png

WhatisAndragogyThe AdultLearningTheory.jpg