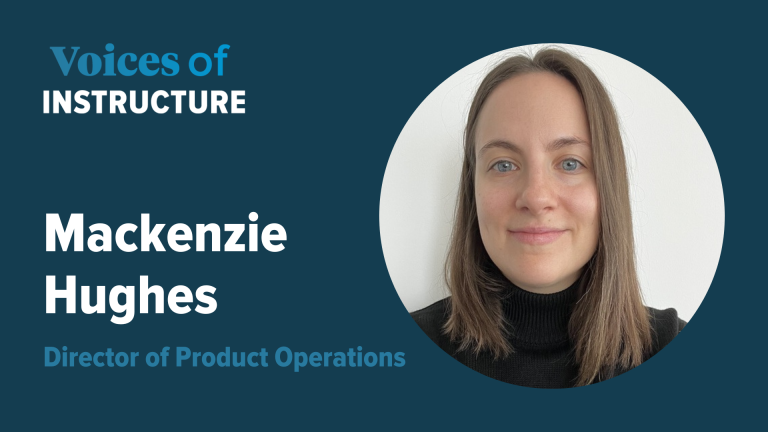 Copy of Voices of Instructure Studyhall Thumbnails.png
After centuries of repression all over the world, Pride Month commemorates the battles we've fought and continue to fight for the safety of all members of the LGBTQ community. 
Safety can present itself in different forms and degrees and often varies based on race, location, abilities, gender, and sexuality. Worldwide, our community is still under threat – simply being LGBTQ is illegal in 68 countries, with 11 countries deeming it punishable by death. Just this past month, the Ugandan government passed new, harsh anti-LGBTQ legislation. Even in the most progressive countries, we are seeing a deterioration of basic rights -- in 2023 alone, the United States has introduced 520 anti-LGBTQ bills, with 70 being enacted so far. For the first time in its decades-long history, the Human Rights Campaign declared a state of emergency on June 6, 2023, for the US LGBTQ community.
For many of us, this Pride month feels particularly frightening. The heaviest impact can be felt by the most vulnerable among us - LGBTQ youth. For parents, close relatives, teachers, and others that exist within support networks for queer and transgender kids - it is our responsibility to care for and provide safe spaces for them. 
Understanding the current macro environment
With so much turmoil in the world, it can be hard to keep your fingers on the pulse of all issues impacting the LGBTQ community. Following nonprofits and other agencies dedicated to protecting the community is a great start - organizations like HRC, ACLU, GLAAD, and The Trevor Project. Donating to and following your local queer rights organizations is also an easy way to stay close to issues impacting your own community - especially since these groups often receive far less funding than the larger national orgs. While children and teens are more informed on current issues than ever before, it is key for those within their support network to be able to answer questions, provide support, and advocate when possible.
Seeking to understand the complexity of the LGBTQ experience 
Although we are a part of the same community, we all have different experiences, and applying an overarching and homogenous perspective can lead to harmful assumptions. The Trevor Project reports that nearly 1 in 5 transgender and nonbinary youth attempted suicide, and LGBTQ youth of color reported higher rates than their white peers. By committing to self-education and learning on these topics - you can provide proper support and advocacy. There are some insightful starting guidelines on how to approach intersectional conversations here. LGBTQ movies or even films with prominent LGBTQ characters can be incredibly insightful and educational as well: 'Moonlight,' 'Love, Simon,' and 'Everything, Everywhere, All At Once' are a few of my personal favorites. There are plenty of literary works that portray a variety of different LGBTQ experiences - you can check out this reading list curated by queer authors.
Providing safe spaces
Recent research shows that 71% of LGBTQ youth feel that restrictive state laws are having a negative impact on their mental well-being. LGBTQ youth who found their school to be LGBTQ-affirming reported lower rates of attempting suicide; those who live in a community that is accepting of LGBTQ people reported significantly lower rates of attempting suicide than those who do not. Geographically speaking, many places do not feel secure or welcoming for our community. Unfortunately, many children and teenagers who are in the process of understanding their sexuality and/or identity or are newly "out" may not even be receiving support from the people closest to them. The mental load can be crushing. This can also come with tremendous feelings of loneliness and isolation. Giving LGBTQ youth space to share and express their experiences and feelings without fear of repercussions can be an incredibly effective way to make them feel accepted. This safe space can take many forms - a quick check-in to see how your student's day is going when negative news is released, a heart-to-heart with your teen so they feel safe sharing their thoughts on gender norms, sitting with your kid at a computer to help them access mental and physical health resources, or partaking in celebrating Pride with your niece. Creating these physically and mentally safe environments may mean the difference between an okay day and a great day - it can also mean the difference between life and death.
About the Author
Mackenzie Hughes has spent the past decade in tech with prior experience in nonprofit/political campaigns. She previously served as a board member for ADP Pride and was a founding member of WorkMarket's DEI employee resource group. She has given speeches at and participated in panels for Reaching Out MBA. Mackenzie is a proud queer woman from New York who is deeply passionate about DEI, coffee, food, drawing, R&B, and travel. She has a BA in Psychology and is currently the Director of Product Operations at Instructure.
Related Content
MeasuringWhatMattersSOA.png

StrikingtheRightBalance.png

acceleratingthelearningprocesswithaitoolsforteachers.jpg