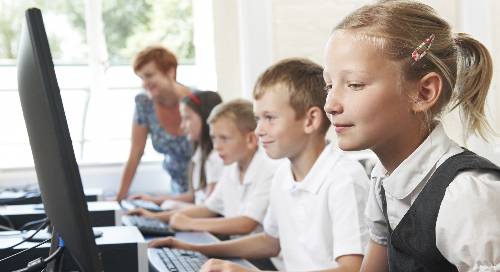 It's a familiar refrain from students — "When will I use this again?" Bringing real-world scenarios into the classroom shows your students the "why" of school. There's no arguing the relevance of a lesson when students are challenged to solve a complex real-life problem.
Amanda Hoagland, supervisor of learning at Carmel Clay Schools in Indiana, uses this scenario-based learning strategy to create a virtual "Escape Room" that challenges students to demonstrate learning to break free. In a CanvasCon Online 2020 presentation, Hoagland shared how Canvas Mastery Paths helped her differentiate and gamify a digital citizenship lesson for middle schoolers.
Step 1: Identify the Why
The goal of gamification is to make learning fun, of course. But Hoagland reminds teachers to be very clear on learning objectives first. Backwards design will help guide your scenario-based lesson plan and ensure there's meaningful learning behind the fun.
"The game can have all the bells and whistles that you want to put in it and can be lots of fun, but in the end, what learning is truly taking place? I have to map out and think, 'What is the best learning destination for my students? What is it that I really want them to walk away with?'"
Step 2: Invent a Scenario
Once you are clear on learning outcomes, invent a real-life scenario to make the learning experience relevant and engaging. Hoagland titled her lesson "Escape the Cyber Pirates: A Digital Citizenship Adventure."
"As you're creating your own Escape Room game, think about a theme or story that you'd want to embed — something that ties with your topic," Hoagland says.
Step 3: Structure Your Lessons
Keep it simple. Use storyboard planning to help visualize your learning map and structure your lesson on challenges that gamify your content. Hoagland used three for her digital citizenship lesson: Locked in the Captain's Cabin (identify the weak password), The Harpoon Room (identify phishing), and The High C's (identify clickbait).
Step 4: Create Mastery Paths
Mastery Paths is a powerful differentiation tool, allowing teachers to customize learning pathways for students based on performance. When used in a scenario-based "Escape Room" environment, Mastery Paths help teachers gamify their content and engage students.
Follow Hoagland's tips for using Mastery Paths:
Create all your lesson content — pages, assignments, quizzes, puzzles, etc. — within one module
You don't have to start from scratch. Use CanvasCommons resources and templates to compile your content.
Start your Mastery Path with a pre-assessment for all students. This "source content" score will determine each student's learning path.
Assign Mastery Paths to each item, conditional on a student's pre-assessment score. Some students may need more review, others may be ready to move on. There's more than one way to "escape the room." (Learn how to assign conditional items in a MasteryPath here).
Use icons and labels for quick visual cues when organizing lots of MasteryPath content.
Use a fill-in-the-blank quiz to "unlock" the next activity in an Escape Room.
"It's really interesting to see how Mastery Paths play out in the classroom. Some students are looking at vocabulary, and some are working on a puzzle. It's really awesome to see that differentiation and how technology can help with that."
Unlocking Student Engagement
Hoagland saw increased student engagement with her scenario-based Escape Room lesson. Specifically in blending learning environments, creating Mastery Paths helped students be self-disciplined about their learning.
Build your own scenario-based learning lesson plan with this Escape the Room course from Canvas Commons. Watch the CanvasCon Online 2020 session here.
Related Content
MeasuringWhatMattersSOA.png

StrikingtheRightBalance.png

WhatisAndragogyThe AdultLearningTheory.jpg