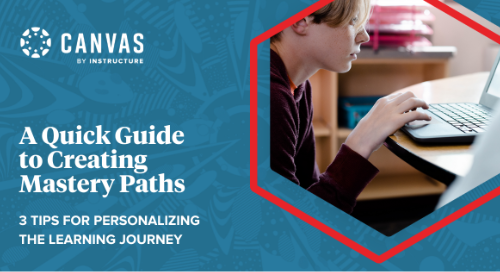 There's more than one way to teach and learn, we know this to be true. But how can you use Canvas to create differentiated learning experiences for your students? What tool should you use for greater flexibility in your instruction? That's where Mastery Paths come in. Mastery Paths is a powerful differentiation tool, allowing teachers to customize learning pathways for students based on performance. When used in a scenario-based environment, Mastery Paths can also help teachers gamify their content and engage students.
Philip Jarosz and Joi Chimera joined us at InstructureCon to share their best tips and tricks for creating "fruitful" paths that personalize learning for each student. Here are three takeaways from their session:
#1 Determine how your paths will differentiate.
Mastery Paths can be a great tool for practicing targeted remediation to meet individual learning needs. Jarosz recommends starting your Mastery Path with a pre-assessment for all students. This "source content" score will determine each student's learning path. Decide ahead of time how you are going to group students to ensure you are making the most of each Mastery Path you create. The choice is yours, but knowing how the path will differentiate ahead of time will help you guide students on their learning journey.
Jarosz and Chimera provided a great example in their session about how to create different levels for each student group. Each student may be given different assignments or options within the Mastery Path based on their level of understanding. So students who may not have scored as high on a specific assignment or assessment are given extra scaffolding to get them to where they need to be before moving forward.
#2 Design with the end in mind.
Jarosz and Chimera encouraged educators to be clear on learning objectives before building course content. Designing your path backwards will help guide your scenario-based lesson plan and ensure there's meaningful learning behind the fun. Assign Mastery Paths to each item or assignment, conditional on a student's pre-assessment score. Some students may need more review, and others may be ready to move on. There's more than one route to the "end" of the path. (Learn how to assign conditional items in a MasteryPath here).
#3 Collaborate to create.
As Jarosz said in his session, "Team up with a buddy. Don't go it alone!" It can feel overwhelming to start using new Canvas tools on your own, so collaborate with other educators and use crowd-sourced resources and templates in CanvasCommons to compile your content.
Once you choose a template to start with, create all your lesson content — pages, assignments, quizzes, puzzles, etc. — within one module so you can begin to visualize the guided path from a student's perspective. Don't be afraid to get creative, either! Feel free to center your Mastery Path around a theme or gamify the learning experience by giving students an objective to follow. Depending on the concept you choose, you can add creative icons and labels for quick visual cues when organizing your content.
Watch the full session for step-by-step instructions and tips for creating an engaging Mastery Path for your students.
Happy Mastery Path building! Remember to take it one step (or, as they say, "one grape") at a time.
Related Content
MeasuringWhatMattersSOA.png

StrikingtheRightBalance.png

WhatisAndragogyThe AdultLearningTheory.jpg