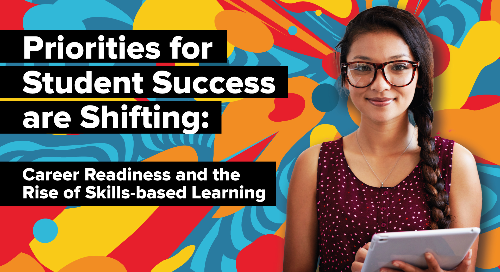 The demand for skills-based learning is increasing as student success continues to be defined by career readiness and a more holistic focus on the student; nearly half of surveyed institutions offer non-degree programs to supplement traditional two-year to four-year offerings.

Across the globe, students, faculty and administrators agree on the three most important factors contributing to student success:
Career readiness
Skill competency
Holistic student well-being (including soft skills, character development, and self-knowledge)

That's according to results from our 2021 global study, the State of Student Success and Engagement in Higher Education, now in its second year. For the study, we worked with Hanover Research, and sought the input from 7,687 current students, administrators, and faculty from 2-year, 4-year, public, and private higher education institutions across 18 countries. Our goal: defining measurements of student success and identifying factors for engagement.

Similar to our 2020 report, preparing students (including traditional students, part-time students, or mid-career learners) for life after graduation is the top concern of students, faculty, and administrators alike.

Still, the trends are evolving.

From 2020 to 2021, the percentage of respondents who listed career readiness as a primary indicator of student success rose by 6%. Additionally, skill competency replaced student educational goals as the second most important factor in defining student success, and the importance of holistic development rose by 5%.

2021:
Work/Career readiness (84%)
Skill competency (81%)*
Holistic development (80%)
2020:
Work/Career readiness (78%)
Student educational goals (76%)
Holistic development (75%)

*Skill competency was added as a survey option in 2021.

Overall, 2021 respondents were more likely to agree that student success is much more than grades or marks (80% vs. 75%) and technology helps make life more organized (74% vs. 69%) than in 2020.

And when it comes to measuring student success in the next 12 months, several factors are significantly more important in 2021 than they were in 2020:

Work/career readiness (71% vs. 66%)
Holistic development (67% vs. 60%)
Job in field of study (65% vs. 60%)
Student advancement (64% vs. 58%)

Student educational goals (63% vs. 58%)

Bottom line: there's a shift in the overall student identity as it relates to success. While grades remain important—especially to students—administrators, faculty, and students are defining success more holistically and adjusting campus support to match that definition of success.

In fact, all regions list career readiness as becoming more important in the next 12 months, as they did in 2020.

Regional Support for Student Success
Across all regions, universities employ a variety of methods to support students, including:
Student academic support (56%)
Educational technology resources (43%)
General well-being resources (39%)
Internship/externship placement (39%)
Career development services (38%)
Laptops/tablets for student use (37%)
Student housing/medical options (36%)

There are, however, subtle differences: different regions rely on culturally appropriate academic resources to support student academic success.

For example, North American (NORAM) institutions (48%) are more likely to provide general wellbeing resources, while Latin America (LATAM) institutions utilize grants (62%). And APAC institutions have the highest internship/externship placement services (45%), whereas other regions average 38%.

Students and Administrators Also Agree: Career Readiness Could be Improved
Despite the stated importance of career readiness, 35% of students and 33% of administrators globally say it's an area needing improvement, 4% higher than in 2020.

When comparing regions, NORAM (31%) and EMEA (26%) are less likely to believe their institution struggles with work/career readiness than APAC and LATAM.

Additional Factors Impacting Student Success in 2021
Unfortunately, the global pandemic continues to affect student success. In fact, 56% of students say their mental health has been impacted by the pandemic, according to The Chegg.org Global Student Survey. At the same time, educational disruptions have been shown to impact lower income students in greater numbers.

Our survey also highlights the impact of the economic divide, with 79% of respondents reporting that household income has a moderate or major impact on student engagement, and socioeconomic factors affect all areas of the student experience.

Changing Job Roles and the Future of Jobs
Educational demand is also changing to reflect global shifts in the job market, where a shortage of highly skilled workers persists, and the impact of widespread digitization and automation is growing, according to the Future of Jobs Report 2020 from the World Economic Forum.

Not surprisingly, our survey found that 70% of respondents say having definable skills is more important than course titles or a degree.

Combined, these factors point to the need for additional emphasis on where students are coming from, their mental well-being, available support systems, personal development, and career goals.

Career Preparation: Next Steps
Ultimately, career roadmaps today are less clear than in the past. Students today need opportunities to define realistic, determinable career aspirations and a practical plan for achieving their goals.

Student success initiatives should begin by providing strong career development services, internship placements, and educational technology resources to bridge socioeconomic gaps and support all students.

Embedding career exploration throughout the higher education experience and providing actionable insights into employment trends can help students plot their direction and clarify their educational goals.

Mental well-being apps and other technology resources can be used to enhance students' holistic development and provide resources to support mental health and personal development.

Additionally, focusing on outcomes-based education can help ensure students graduate with the skills necessary to get a job in their desired field of study and succeed. So can aligning curriculum with workforce outcomes and offering opportunities for students to showcase their competencies and skill sets.

And finally, connecting students with alumni and potential employers through virtual networking, internships/externships, mentorship programs, and strategic business partnerships can give them the opportunities they need to succeed in the job market once their education is complete.

Get More Insights. Download the Full Report.
Download the report now here.
Related Content
MeasuringWhatMattersSOA.png

StrikingtheRightBalance.png

WhatisAndragogyThe AdultLearningTheory.jpg