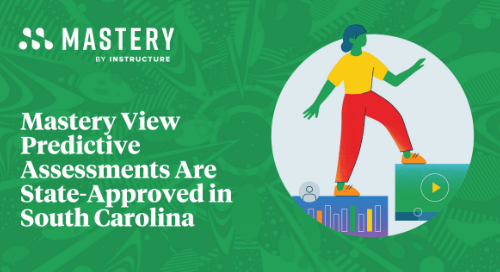 Mastery View Predictive Assessments Are State-Approved in South Carolina
For assessments to have a meaningful impact on student learning, districts must have confidence in the quality and alignment to state learning standards. The problem is that not all assessments are created equal. So how do educators determine which assessments will be the most effective in improving student performance? Often, state education agencies support school districts in this effort by formally evaluating assessments.
In South Carolina, the Department of Education (SCDE) has a statewide adoption list of assessments in English language arts (ELA) and mathematics for grades kindergarten through nine. For an assessment to be selected for the list, it must align with the South Carolina College and Career-Ready Standards and meet all of the evaluation criteria outlined in a rigorous, two-stage approval process.
Recently, the SCDE completed the evaluation process of the Mastery View Predictive Assessments, and the assessments are now on the SCDE Adoption List of Formative (Interim) Assessments.
A Comprehensive Evaluation Process
For a publisher to be included on the Adoption List, their products are vetted through a State Board of Education-approved review and approval process. In the first stage of the process, the assessment publisher submits a research study that includes field testing to a panel of measurement experts. The panel determines if the publisher has provided empirical evidence that usage of their product has positively impacted student achievement. During the second stage of the approval process, ELA and mathematics curriculum specialists review and determine the degree of alignment of assessment items to the South Carolina College and Career-Ready Standards.
Why is the Adoption List Important to South Carolina Educators?
Assessments play an integral role in understanding the educational needs of students, and teachers rely on assessments to better understand what students know and can do, where students need support, and what students are ready to learn next. At the same time, no one wants to over-test kids. That means when assessments are administered, they must be effective and of the highest quality. An extensive review process by a state education agency ensures that school districts have access to quality assessments to inform instruction and improve student performance. Inclusion on the adoption list signals to school districts that they're choosing a rigorous, standards-aligned assessment and can have confidence in their purchase decision.
Additionally, districts in South Carolina are allocated funds to select and administer formative (interim) assessments from the adoption list for use in improving student performance in accordance with district improvement plans.
Proviso 1.96 and Its Impact on Districts
In the summer of 2021, the South Carolina Legislature passed Provisio 1.96, which requires South Carolina school districts to ensure all students in first through eighth grades are assessed using a state-approved assessment three times during the school year. Then, districts provide the assessment data by grade and school to the Department of Education. The SCDE then submits a comprehensive report on assessment performance to the South Carolina General Assembly. Districts must meet this requirement or may face a percentage of their funding withheld. A district is considered to have met the requirements if they have submitted scores for both ELA and Math from approved assessments.
What Makes the Mastery View Predictive Assessments Unique?
The Mastery View Predictive Assessments, which are administered by districts across South Carolina and are now state-approved, are designed to measure students' mastery of learning standards at key points during the school year and be predictive of students' performance on a state summative assessment. The assessments are modeled after each state's summative assessment blueprint and are highly regarded by school districts for their quality, rigor, and learning standards alignment. Teachers use the Mastery View data to inform instructional decisions, design interventions, and personalize students' learning experiences. The Mastery View Predictive Assessments, formerly the CASE Benchmarks, were first developed by TE21 and later by Certica, who joined the Instructure family in December 2020. South Carolina is one of ten states where the CASE Assessments are available for the 2022–23 school year.
More information about the LDOE review process can be found here.
Learn more about how the Mastery View Predictive Assessments can improve the effectiveness of your assessment program.
Related Content
3 Ways to Gamify Your Classroom with an LMS.png