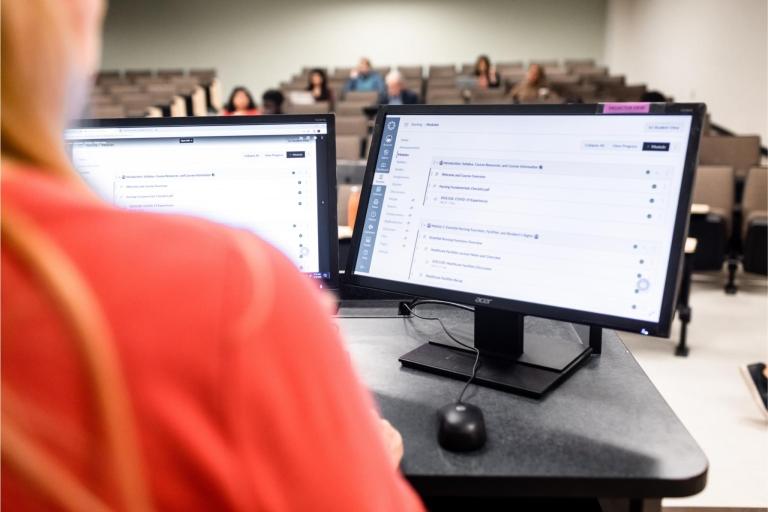 canvasslackintegration.jpg
According to recent studies, students are more engaged when they have the digital tools needed to support collaboration and active learning. By investing in the right platforms and tools, institutions can provide immersive learning experiences – increasing student engagement. 
With a robust learning management system, institutions can benefit from the platform's user-friendly and advanced features. These features include LTI compatibility, ensuring digital tools are accessible within the LMS. Learn more about the importance of LMS LTI integration.
A learning management system's LTI compatibility makes it possible for tools like Slack to be used in higher education institutions. In this article, we'll discuss Canvas LMS and Slack's latest integration and how it can improve engagement. 
To start, let's take a look at what the latest Canvas and Slack integration includes:

Improving Collaboration and Building Community with Slack 
Canvas using colleges and universities can improve collaboration with the Slack coursebot LTI integration. This integration allows educators and students to access additional support within their learning community. 
With the integration, Canvas users can engage with discussion posts, ask important course questions, and communicate with others in the course. These additional resources add to the Canvas platform's already extensive communication features – further pushing engagement in online learning environments.
In addition, the tool facilitates community building and support within the academic environment. For example, workspaces and channels are created for different functions and community groups at the institution. Often course-specific, workspaces provide a platform for students with similar interests to share and collaborate with peers.
ASU Increases Engagement with Slack   
In 2022, Arizona State University launched Slack across its Canvas platform. The goal was to increase staff and student engagement. ASU customized the integration – tailoring workspaces and channels to support the institution's needs. Since the integration, ASU has experienced improvement, reaching its goal of increasing student engagement. Let's take a look at their progress.
ASU Slack usage since launch:
1,822 Workspaces created

117,322 Workspace members

35% Workspaces with significant activity
ASU chose Slack since it is a modernized communication tool that promotes real-time collaboration and has cross-functional expertise. Students interacting with this tool prepare them for the future workforce as they work on projects and develop mastery in their subjects. Upcoming goals using the Slack integration include additional administration features. Learn more about ASU's Canvas and Slack integration.
The Impact of Canvas LMS Integrations 
Canvas LMS offers diverse integration options for engagement, communication, and collaboration. Similar to its collaboration with Slack, Canvas supports other edtech tools. These integrations often nurture the student's learning journey, providing them with the tools they need to succeed. Here are some more benefits of LMS integrations:
Enhanced User Experience: LMS integration helps educators and students use the digital tools they need. This improves the overall user experience, as enhanced learning opportunities support users.
Data-Driven Decision Making: Educators can make informed academic decisions using data analytics. They can also use their institution's LMS and supporting digital tools to track progress and the effectiveness of their course design.
Streamlined Processes and Efficiency: Course management is simplified by having everything in one place. Educators can rely on their LMS and integrated tools to make the instructional process easier.
Future-Readiness and Adaptability: Institutions can keep updated with the latest technologies and have a platform prepared to support future innovations.
Integrating Digital Tools to Engage Learners
ASU used Canvas integration to optimize student engagement and learning experiences with supporting digital tools. Follow in their footsteps by supporting your institution with the latest and greatest tools in edtech. Learn more about Canvas partnerships and integrations. 
Related Content
sohe_6_trends_thumbnail.png