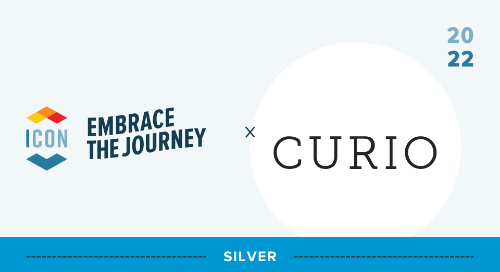 Canvas gives you flexibility and freedom to design and develop your courses in any way you see fit. Canvas provides this functionality out of the box with Pages, Discussions, Quizzes and third-party applications.
But the flexibility and freedom provided by Canvas can be a double-edged sword, as many organizations and instructors face the challenge of inconsistent design across courses. This can be due to a lack of standardization, with responsibility for design often left to time poor instructors to create layouts on top of developing learning content, without a clear and consistent structure to follow. The result is a disjointed experience with poor design that impacts on student learning and satisfaction.
Smart templating in Canvas to drive standardization
An optimized and cohesive LMS experience is not only a 'nice to have', but essential to successful learning outcomes. Over the years, Curio has partnered with many leading universities and organizations to develop custom course templates and create consistent learning experiences that make the most of Canvas's full potential. A course template is a series of templated pages and reusable components that allow instructors to create individual pages, modules and courses that follow a consistent, branded design language. With a consistent, easy-to-follow template, instructors can focus on developing quality content, which in turn improve teaching outcomes.
A successful implementation driven by user-centered design principles
At Curio, our approach to custom template development is informed by user experience (UX) design best practice. We know the power of a consistent visual identity increases satisfaction when using online tools and also the deeper elements that underpin great digital experiences including accessibility, content hierarchy and personalization. Here, we share the key UX design principles that shape the templates we create:
Consistency
We work with institutions to design template elements informed by educational requirements and visual identity to create a unified digital experience. Consistent banners, buttons, headings and icons help reduce the cognitive load on students.
Hierarchy
Define the preferred course structure to ensure the template solution can support how learning content is organized. We consider both information and visual hierarchy so that learners can move through the course smoothly.
Accessibility
Designing for accessibility is a given. Our team ensure designs adhere to accessibility standards, optimizing for keyboard navigation, image and video captions, color contrast and font sizes.
Student centered
We place the student at the center of our design. This is realized through well designed interactive components, personalization and progress indicators. Our templates are fully responsive so that Canvas can be access from different devices, anywhere, anytime.
An efficient, iterative process to ensure templates meet learner needs
We aim for a collaborative approach in our design and development of custom templates with clients. This includes in-depth requirements gathering and multiple feedback points to ensure we iteratively work towards the right solution. Our process is shown in the diagram below:
Discovery and define:
We workshop with clients to define requirements based on institution and learning needs.
Lo-fidelity prototype:
We take our findings and translate into lo-fidelity designs to visualize requirements and best practice.
Feedback and high-fidelity
Together, we review and incorporate feedback in an iterative process. We iron out any technical and design requirements and work towards a hi-fidelity prototype to bring the design to life.
Development
Once the hi-fidelity designs are signed-off and approved, we head straight into build. We test and QA the template to ensure it meets quality standards.
Implementation
We support you to build templates into your Canvas environment. We provide training and editing tools to successfully deploy your templates and ensure they can be used confidently by staff across the institution.
Working in this way we enable institutions to harness the flexibility of Canvas to efficiently build consistent, student-centered learning experiences. Using smart templating, educators can confidently craft courses that align with institution-wide quality standards and a coherent brand experience.
About Curio
Curio is one of the fastest growing education consulting and services organizations in Asia-Pacific. We have staff in Australia, North America and Europe.​ At Curio, we:​​
Advise education providers on their strategy and people​​
Design, develop and deliver learner-centered experiences through an understanding of how the human brain learns and develops​​
Develop and embrace technologies that make education, learning and development more efficacious and efficient​​
Bring together the creative and curious to improve learning and teaching experiences in all contexts​
Contact us to schedule a discovery call to leverage the power of smart templating in Canvas.
Related Content
MeasuringWhatMattersSOA.png

StrikingtheRightBalance.png

WhatisAndragogyThe AdultLearningTheory.jpg