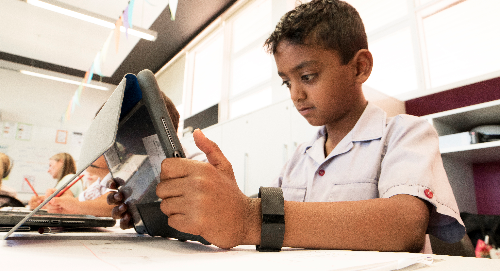 As outlined in a recent article by Trenton Goble, VP of K12 Strategy at Instructure, the pandemic's impact on traditional standardized testing in K-12 has renewed and reinforced the debate around when and how best to gauge student knowledge and provide teachers with meaningful data that can actually improve student outcomes.

As we look to the next school year and beyond, it will be essential for educators to know where all students are in their learning and where gaps may exist. We can't begin to address learning needs and potential learning loss without taking the time to assess and understand what students know in a way that will provide teachers with actionable data. At the same time, while critically important, educators must approach assessment thoughtfully. District leaders should seek effective, reliable assessments that teachers can use and benefit from but won't overwhelm students as they adjust to being back in the classroom.
To meet this need, Instructure has introduced Mastery View Formative Assessments—short, expert-developed formative assessments that reliably assess academic progress without further disrupting instruction.
What are Mastery View Formative Assessments?
Mastery View Formative Assessments are a collection of prebuilt, tightly-aligned assessments designed to give educators an instant view into student mastery levels of key state standards, so they can more effectively assess and address learning needs. Developed by assessment and curriculum experts and designed to assess students on the right skills and concepts with proper rigor, these through-course formatives give teachers immediate feedback without the time requirements or pressure associated with high-stakes testing.
While appearing like a familiar online quiz, Mastery View Formatives determine student mastery levels using a unique reliability algorithm based on the Diagnostic Classification Model (DCM). Because Mastery View Assessments leverage this research-backed, statistically-driven model, they provide the same level of valid and reliable information about what students know with fewer questions, so students will get the support they need early and often.
Mastery View Assessments cover key learning standards in both Math and English Language Arts for Grades 3-8 and Algebra I and English I & II. Mastery Views are available in select states for the 2021-22 school year.
How are Mastery View Formative Assessments related to Mastery Connect and Canvas?
Mastery View Formatives are delivered exclusively through the Mastery Connect Assessment Management System. With Mastery Connect, teachers can administer Mastery Views and immediately see student mastery levels of key learning standards in an intuitive, visual way. Using the Mastery Tracker tool, educators gain actionable insights about student progress through formative data, so they can identify learning needs and adjust teaching in real-time and in context.
While Mastery Connect is the system used to inform instruction, Canvas LMS is used to deliver instruction. A deep integration between the two systems makes it simple to manage teaching, learning, and assessment, all in one platform. Educators can use the assessment data collected in Mastery Connect to determine student needs and drive PLC discussions, and then deliver personalized learning experiences with Canvas LMS. Additionally, Mastery View results and data will be passed back to the Canvas LMS Gradebook.
Are Mastery View Formative Assessments eligible for stimulus funds?
As part of the CRRSA and American Rescue Plan stimulus packages, special funding has been set aside to assess and address student learning gaps. The availability of these funds allows district leaders to think about adopting new forms of assessment that will support the changing needs of teachers and students over the coming school year and beyond. In particular, both stimulus packages call out the need for investing in high-quality, valid, and reliable assessments that provide accurate data about students' academic progress and help teachers differentiate instruction. That's exactly what the Mastery View Formative Assessments are intended to do and why they meet the federal funding requirements for high-quality assessments. With Mastery Views, educators can assess students' progress and use actionable data to make more informed decisions on how to best address and meet each student's academic needs.
To learn more about Mastery View Formative Assessments, join us on Thursday, April 22nd at 10:00 AM MT for "Accelerate Learning with Better Assessment," a 30-minute webinar led by Trenton Goble, VP of K-12 Strategy at Instructure.
Related Content
MeasuringWhatMattersSOA.png

StrikingtheRightBalance.png

WhatisAndragogyThe AdultLearningTheory.jpg