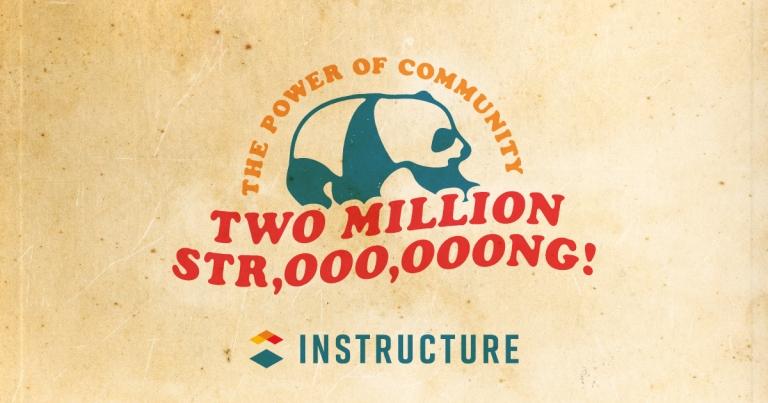 2023_9_2million_strong_digital_kit_facebook.jpg
As of November 8, 2023, the Instructure Community is Two Million Strong! 
The Instructure Community was one of the top reasons I joined Instructure nearly a decade ago. This engaged, brilliant, kind, and giving online global community of teachers, administrators, and even students, forever has my heart.
It started small and was initially focused on empowering Canvas users to share knowledge and stay informed about product advancements. As Canvas expanded and the Instructure Learning Platform evolved, this Community grew rapidly as users created compelling content and engaged with peers worldwide in ways they never could have otherwise. The Instructure team recognized early on this was a special community and began to invest in it heavily, regularly asking for input and sharing internal creative and innovation plans.
Today, I want to recognize us, the Two Million Strong, who just over ten years ago raised expectations for ourselves, our peers, and partners, and influenced and inspired the Instructure Community. I could not be more proud of how this community has fostered innovation and collaboration while transforming the way companies and customers engage and share success.  
As educators, we know that every learner brings their own unique perspectives, skills, experiences, and talents, and these individual elements deepen the learning for all of us. I've had a front-row seat to witness many of the outstanding ways you help each other and freely share your experience to ensure more learners can succeed. This selfless approach inspires me every day and is one of the many reasons I'm proud to be an educator.
In the Instructure Community throughout November and into December, we'll recognize individual contributions and admire the incredible impact we have when we collaborate. I'm excited to see how you contribute to the Community Team's weekly challenges, cheer on your peers, and leverage the Community as an opportunity to deepen your knowledge of and enthusiasm for Instructure products. You can follow along by visiting the Community Hub, or you can choose to receive notifications any time new content is added to the Community Hub Blog. 
You can also join the Two Million Members Strong celebration by:
Thank you for being one of Two Million Strong members of the global Instructure Community, and thank you for the influential role you played in inspiring us and even other companies on how to support customers and how customers support customers!
Keep learning, and see you in the Community!
Related Content
sohe_6_trends_thumbnail.png