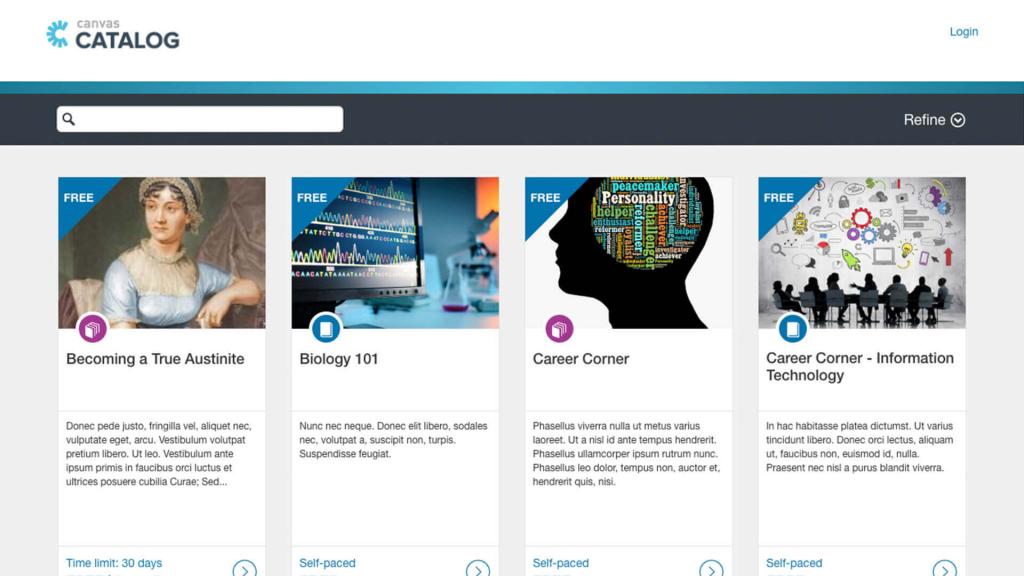 Skills-based learning your way
Canvas Catalog is a modern virtual storefront for your school or business. Add your courses, continuing education programs, or professional development into an attractive online marketplace and let Catalog do the rest. Check out these 4 solutions for your course marketplace and see how Canvas Catalog can take your skills-based learning initiatives to the next level.
1. Self-pace through course selection and registration
Self-registration and self-paced courses make for smooth student sailing. Enrollment, payments, and certificates are all handled automatically in the system, freeing administrators from tedious tasks and extra paperwork. Once your branded, customizable courses and programs are built, Canvas Catalog handles everything else. Students can view course progress in customized dashboards, alleviating ambiguity and barriers to success.
2. Integrate with your existing payment gateway
Canvas Catalog integrates with most payment systems for a seamless experience for students, teachers, and administrators. Create promo codes for paid listings and sell your courses at scale, view account reports, and access the API. There is no need to set up an additional payment gateway for your upskill and re-skill programming.
3. Include both free and paid content
In your Canvas Catalog marketplace, you have the option to create both free and paid course options. This expands the reach and diversity of your courses. Looking to earn revenue from certificate programs? We got you covered. Offering free professional development to employees? Catalog can do that too.
4. Offer a variety of scalable, flexible offerings
Set up Catalog to create custom certificates and distribute them appropriately. Create course clusters and offer badges, workshops, trainings, community education, continuing education programs, professional development, and more. If you can dream it, you can offer it in Canvas Catalog.
Open your course marketplace today
With self-paced learning, integrated payments, free and paid content, and flexible offerings - Canvas Catalog is your all-in-one, skills-based learning solution. Interested in learning more? Click here.
"Creating a sustainable distance learning platform is part of the wider strategic agenda for Hull College Group. Catalog was a natural choice as it presents an easily editable, robust delivery platform. Canvas and Catalog together provide the perfect partnership to allow us to deploy new and exciting online programmes and accredited courses."
—Graham Raddings at Hull College Group
Related Content
MeasuringWhatMattersSOA.png

StrikingtheRightBalance.png

WhatisAndragogyThe AdultLearningTheory.jpg