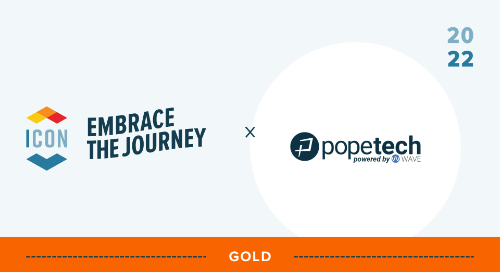 Fix Accessibility Issues with Canvas LMS & PopeTech
When Canvas courses are accessible, students with visual, auditory, cognitive, or physical disabilities can focus on what matters, learning.
On the other hand, when they are inaccessible, students with disabilities have to spend time just trying to navigate and access the content. That's why course accessibility is so important - it makes sure everyone is able to learn.
Canvas has a built-in Accessibility Checker instructors and admins can use to make their courses more accessible. It's a great to start to finding and fixing common errors quickly.
Issues the Accessibility Checker finds
Canvas's Accessibility Checker finds 12 accessibility issues including these common ones:
Missing alternative text
Image filename as alternative text
Large and small text contrast
Empty table header
Skipped heading level
Even though the Accessibility Checker doesn't find all the issues automatic accessibility testing can currently find, it's still a great start to getting more students focused on learning.
Use the Accessibility Checker
Anyone who can edit content in Canvas can access the Accessibility Checker. It'll be on any editable content like pages, assignment descriptions, quiz descriptions, and syllabi.
To access the Accessibility Checker, edit the content. Then, you'll see the Accessibility Checker icon below the editable region.
Watch this demo to see how to fix contrast, alternative text, and table issues using the Accessibility Checker.
Pope Tech's Accessibility Dashboards and Accessibility Guide
With Canvas's built-in Accessibility Checker, everyone has access to an easy-to-use accessibility tool.
But, like we talked about earlier, the Canvas Accessibility Checker finds 12 different accessibility issues. While this is a great start, and a good built-in tool for accessibility checking, schools that need accessible courses will want more than what the Accessibility Checker can do.
That's why Pope Tech created a more comprehensive solution, which includes their Accessibility Guide plus Accessibility Dashboards for admins and instructors.
Liesl Boswell, an Instructional Designer and Accessibility Consultant in higher education, uses Pope Tech's Accessibility Guide and said, "I believe Pope Tech's Accessibility Guide is the most accurate tool I've tested on the market to create those accessible Canvas pages."
With Pope Tech, admins and instructors don't just have an Accessibility Guide to help fix issues. They also have Accessibility Dashboards, which give them data unique to their role, so they know where to take action.
Watch the video below to learn more about Pope Tech's Accessibility Dashboards and Accessibility Guide.
Related Content
A Guide to Digital Literacy and Citizenship Important Strategies and Lessons .png

Instructure_Teacher_Appreciation_Week.jpg